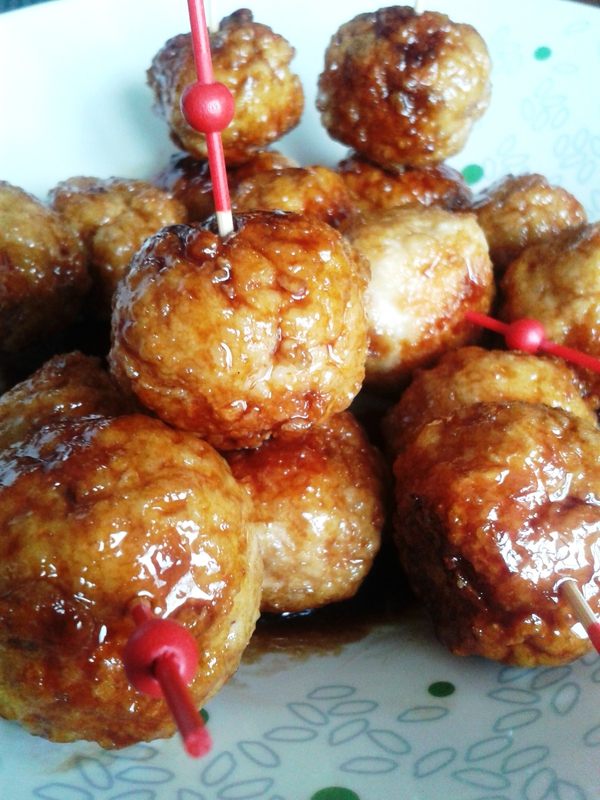 Tu koné les Tsukune ? Hahaha ! En fait, vous êtes sûrement comme moi, vous connaissez ces petites boulettes de poulet japonaises, vous les adorez, même, mais vous ne saviez tout simplement pas qu'elles s'appelaient "Tsukune", joli petit nom nippon qui signifie "malaxer puis modeler" (faire des boulettes, quoi !). Ce qui me fait particulièrement craquer, c'est cette petite sauce sucrée-salée bien sirupeuse et exotique à souhait ! Bon, c'est sûr, il faut avoir les ingrédients chez soi (saké, mirin, sauce soja) mais si ce n'est pas le cas, on les trouve assez facilement en hyper, nul besoin d'aller au fin fond du 13ème chez Tang frères. La recette est vraiment bien, on retrouve exactement le goût des boulettes du restau japonais. Je l'ai d'ailleurs trouvée dans ma toute nouvelle tablette Qooq : je ne sais pas si vous en avez déjà entendu parler, mais ce sont des tablettes Androids classiques avec navigation internet, applications Google Play et tout le toutim dans lesquelles sont chargées plus de 3000 recettes interactives ! L'objet en lui-même a été conçu pour une utilisation en cuisine avec écran traité anti-éclaboussures et un pied intégré qui permet de le poser et le lire facilement sur le plan de travail. C'est génial, je suis un peu accro depuis que je l'ai sauf que c'est un vrai souci car il ne m'a été prêté que pour une durée d'un mois. Dur, dur ! :( En tous les cas, une bien belle idée de cadeau de Noël pour un(e) cuisinier(e) débutant(e) ou confirmé(e) ! (et je précise que je n'ai pas d'intérêt financier dans l'affaire ;-) )
Tsukune? What's that ? Haha, actually you are probably just like me : you are familiar with these delicious chicken meatballs, you have probably eaten hundreds of them but you simply didn't know their cute little name : tsukune (a japanese verb that means "kneading and shaping"). What really cracks me up with these meatballs, in addition to their cute size and shape, is the sweet and sour sauce, so syrupy and exotic ! Yummy ! Of course you need to have soy sauce, sake and mirin in your pantry but even if it is not the case, they are quite easy to find in large supermarkets or asian grocery stores. The recipe is really good, you can trust me ! I have found it on my new Qooq tablet. It is an android multimedia tablet "filled" with more than 3000 exclusive and easy recipes and Chefs tips. The tablet in itself is beautiful and has been designed to find its place in the kitchen : it is moisture resistant and has an antisplash screen and an integrated stand. More info here. I have no financial interest in that company, I just think it is a great christmas gift for cooks, whatever their level...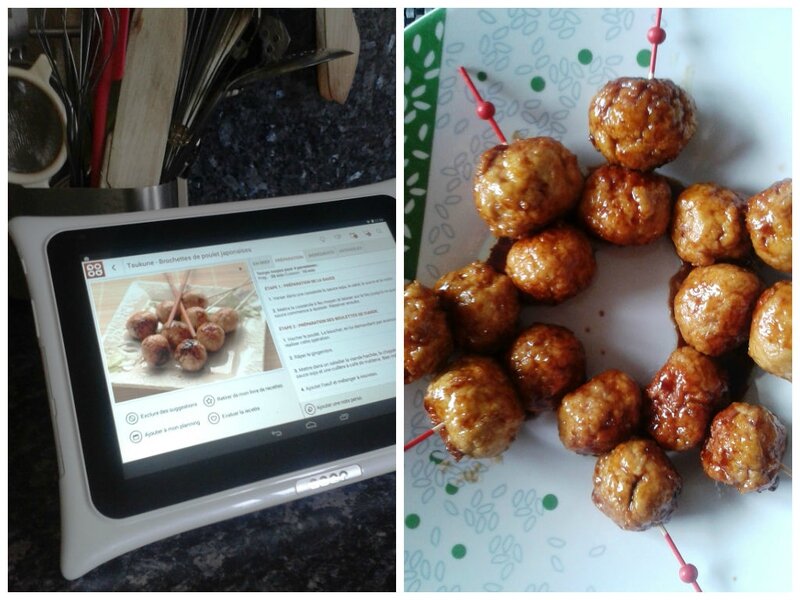 Tsukune, brochettes de poulet japonaises
Recette de la tablette Qooq V3
Pour 16 à 18 boulettes :
Tsukune :
400g de blancs de poulet, hachés
2 oeufs entiers (après test, pour moi, un seul suffit)
4 C à soupe de panko ou de chapelure normale
2 c à café de gingembre frais râpé
2 c à café de sauce soja
6 c à café de maïzena
2 c à café d'huile de tounesol
Piment oiseau (facultatif)
Sauce Yakitori :
4 c à soupe de sauce soja
4 c à soupe de saké (prenez celui où il est écrit "saké for cooking")
2 c à soupe de sucre en poudre
2 c à soupe de Mirin

Préparez les boulettes : Dans un grand saladier, mélangez le poulet haché, le gingembre râpé, la chapelure, la sauce soja (2 c à café) et deux cuillères à café seulement de maïzena (le reste servira plus tard). Bien mélanger. Ajoutez les oeufs (un seul suffit, à mon avis), continuez à mélanger. (Mon astuce perso : Pour être sûre que tout est bien mélangé, j'ai procédé ainsi : j'ai d'abord haché mon poulet au mixer, puis j'y ai ajouté le gingembre râpé, la chapelure, la sauce soja et la maïzena, j'ai remixé un bon coup. Ensuite l'oeuf et dernier coup de mixer. Cela donne une pâte très homogène et bien lisse). Huilez bien vos mains et formez des petites boulettes d'environ 25g (si vous n'avez pas de balance, faites-les de la taille d'une petite noix). Disposez le reste de maïzena dans une assiette creuse, et roulez-y rapidement les boulettes. Tapotez-les pour ôter l'excédent de maïzena. Disposez-les sur une plaque ou un plateau et mettez au frais un quart d'heure.
Pendant ce temps, préparez la sauce Yakitori : Dans une casserole, versez la sauce soja, le saké, le sucre et le mirin. Faites cuire sur feu moyen jusqu'à ce que la sauce commence à épaissir. Réservez.
Faites cuire les boulettes : faites bouillir une grande casserole d'eau. Quand l'eau bout, sortez les tsukune du frigo et versez-les dans l'eau bouillante en une ou deux fois selon la taille de la casserole et le nombre de boulettes que vous aurez réalisées. Baissez le feu et laissez cuire 2 à 3 minutes. Retirez-les à l'aide d'une écumoire, et posez-les sur du papier absorbant. Chauffez une poêle sur feu vif avec l'huile. Lorsque celle-ci est bien chaude, ajoutez les boulettes et faites les bien dorer de tous les côtés, en remuant la poêle. Versez la sauce Yakitori et continuez à remuer pour bien napper les Tsukune. Parsemez de piment en poudre (facultatif), confectionnez de petites brochettes (max 3 par pic) et servez de suite. Avec une petite salade exotique, cela constituera un repas original et équilibré.
Tsukune, Japanese chicken meatballs
Recipe by Qooq V3
For 16 to 18 meatballs:
Tsukune:
400g (14 oz) chicken breasts, ground

2 eggs (for me, one was enough)

4 tablespoons breadcrumbs (or panko, the japanese breadcrumbs)

2 teaspoons grated fresh ginger

2 teaspoons canola oil (or cooking spray)
Yakitori Sauce:
4 tablespoons Sake (the one made for cooking)

2 tablespoons caster sugar
Prepare the meatballs: In a large bowl, combine ground chicken, grated ginger, breadcrumbs, soy sauce (2 teaspoons) and cornstarch (beware, two teaspoons only, the remaining cornstarch will be used later). Add the eggs (one is enough, in my opinion), and continue mixing. (My personal tip: When I processed the chicken, I then added all other ingredients and processed again, to be sure everything was well combined). Oil your hands and shape the mixture into small meatballs (the size of a small walnut). Arrange the remaining cornstarch (4 tsp) in a small bowl, and quickly roll the meatballs into the starch. Arrange them on a plate or tray and refrigerate for fifteen minutes.
Meanwhile, prepare the Yakitori sauce: In a saucepan, pour the soy sauce, sake, sugar and mirin. Cook over medium heat until the sauce begins to thicken, to get syrupy. Set aside.
Cook the meatballs: In a large saucepan, boil water. Remove tsukune balls from the fridge and put carefully into the boiling water (you may need to do that in two steps, depending on the number of meatballs you have prepared). Lower the heat and leave the meatballs for 2 to 3 minutes in the simmering water. Remove them with a slotted spoon and place them on paper towels. Heat a skillet over high heat with canola oil. When the oil is hot, add the pre-cooked meatballs and brown them on all sides. Pour the Yakitori sauce and stir to coat the Tsukune. Thread 3 meatballs onto small skewers. Serve immediately.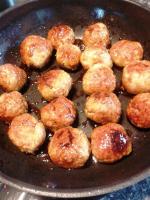 17 novembre 2014

Non, non, ne partez pas ! J'ai lu dans vos pensées : vous avez vu la photo et vous vous êtes dit "ohlala, des pâtes maison, c'est trop compliqué !". Et bien, détrompez-vous : je pensais exactement comme vous jusqu'à ce que je tente l'expérience et je peux vous garantir que même si ,en effet, cela prend du temps, n'importe qui peut y arriver y compris des enfants ! D'ailleurs, c'est une activité manuelle très sympa pour eux car c'est ludique et...assez salissant, il faut bien le reconnaître ! Je vous propose une farce aux champignons...
[Lire la suite]
14 novembre 2014

Contrarily to what you might think, BLT are not, in today's post, the three letters for « Bacon Lettuce Tomato » but for « Bistrot Laurent Tourondel », or how a young French Chef has become the king of a gastronomic empire in the USA. 5 Restaurants in NYC ( BLT Prime, BLT Steak, BLT Fish, BLT Burger and BLT Market at the Ritz Carlton), some in other American cities, successful cookbooks, and so on… Hey, why on earth would he want to go back to France ? His restaurants belong to the "hype" family : trendy decoration, loud music,...
[Lire la suite]
28 septembre 2014

Je pense que quelques petites explications s'imposent, n'est-ce pas ? Tout d'abord, un boulou, qu'est-ce que c'est ? Je pourrais vous répondre, "c'est toute mon enfance", mais cela ne vous avancerait guère. En fait, ces biscuits qui se présentent comme des sortes de pains et qui se découpent en tranches (comme des cantucci italiens), se dégustent à la fin du Grand Pardon (le Yom Kippour), pour rompre le jeûne. On les sert avec de la citronnade, du sirop d'orgeat, parfois du café. On peut même tartiner de...
[Lire la suite]
23 septembre 2014

Comme un Tempura d'Epinards au Miel et au Sésame, et des potirons aussi !Tempura-like Spinach Fritters with Honey and Sesame Seeds, and Pumpkins too ! Even your kids will rave about those spinach hidden under a tempura-like dough and a "blanket" of honey and sesame ! These fritters are traditionnally served for the Jewish New Year in sephardic families and they are so good that I really don't know why reknowned Pastry Chefs are still reluctant to use spinach in their amazingly creative "gâteaux" (cakes) ! Moreover, these fritters...
[Lire la suite]
03 septembre 2014

Recette déjà postée mais d'actualité car je l'ai refaite le week-end dernier et j'en suis toujours aussi fan. Et depuis ce billet...je suis allée en thaïlande plusieurs fois ! A recipe I had already posted, but as I made it last week-end, I though it would be great to re-post it ! And since this post, I finally went to Thailand ! Yeah !! OK, OK, let's face reality : to my great, my immense sorrow, I have never set foot in Thailand, nor in any Asian country. So, for this recipe I had to totally rely on my friend Fred, who swore...
[Lire la suite]
13 mai 2014

Artichauts farcis à la ToscaneTuscan style stuffed Artichoke Bottoms "Once bitten twice shy". I may look like a nice little frog, but I am not that naive ! Let me explain : the last two times I left home for more than a week, my freezer completely lost its mind : it broke down for mysterious reasons (a power outage, maybe ?) and I was welcomed back by a nauseating smell in my kitchen. And while I was craving for my bed, I found myselft emptying the shelves, throwing away all the food (which was brown and soggy, yuck) and...
[Lire la suite]
17 avril 2014

Bonjour ! J'espère que vous avez apprécié cette première soirée du Seder, entourés de tous vos proches et que vous avez été émus comme il se doit à l'évocation des nombreux tourments endurés par nos ancêtres. D'un point de vue plus pragmatique, je vous propose aujourd'hui ma petite sélection perso parmi la liste des entrées, plats, desserts compatibles avec Pessah que j'avais publiée il y a quelques jours. Certains plats auront du riz, d'autres non, selon votre appartenance religieuse. J'espère que vous y trouverez quelques petites...
[Lire la suite]
27 décembre 2013
Il faut que je vous raconte qu'entre la cuisine et moi, cela n'a pas toujours été évident... En fait, pour être parfaitement honnête, j'ai toujours été, pour le plus grand bonheur de ma mère et de mes grand-mères, une très bonne mangeuse ! Toujours curieuse, aimant tout ou presque, n'ayant pas peur d'ingurgiter des quantités impressionnantes de nourriture (sans prendre un gramme, mais ça...c'était avant !), bref la fille rêvée pour toute cuisinière qui se respecte. Mais curieusement, passer derrière les fourneaux ne me...
[Lire la suite]
19 décembre 2013

Décidément, quand j'aime, je ne fais pas les choses à moitié ! Vous connaissez désormais ma toute nouvelle passion pour le chef d'origine israélienne Yotam Ottolenghi. Je vous ai déjà fait connaître sa brioche tressée chocolatée (le fameux Krantz Cake), son gâteau aux clémentines et aux amandes, alors voici enfin une recette salée (mais encore une fois avec des agrumes) : le poulet rôti aux clémentines et fenouil. Je dois dire que ce plat (ainsi que le banoffee destructuré de mon dernier billet) m'a sauvé la vie lorsque...
[Lire la suite]