Soufflés have always incredibly intimidated me. I have always been, you know, that kind of woman who did not like to take risks when cooking for her friends, always making "safe bets" so as not to disappoint her guests...and herself ! Soufflés, a "hit or miss" ?? Me, never ! And the worst part is, as you need to cook and serve them at the very last minute, when you realize that your soufflé is as flat as a pancake, it is too late and you feel very very frustrated ...
But things have changed and after having read a special issue of "Saveurs" Magazine on savoury and sweet soufflés, I felt adventurous and decided to make a 3-cheese soufflé. After 1 or 2 disappointing results and some readjustments, I think I have it, THE recipe for the unmissable cheese soufflé. Please don't think I am being presumptuous, I just want to share with you my victory over my phobia !

Some tips, prior to the recipe :
Eggs have to be at room temperature, so the whites will inflate easily,

Carefully butter and flour the pans

After you have buttered the pans, do not touch the insides with your fingers.Otherwise, the soufflés will not inflate,

Use more whites than yolks (6 whites for 4 yolks),

Never open the oven door or the soufflés will deflate.
So here is the recipe . Enjoy !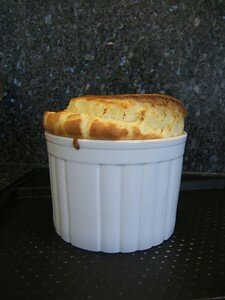 Three-Cheese Soufflé
You need for 6 to 8 individual soufflés or 1 large (makes 4 to 5 servings) :
30cl (1 ¼ cup) liquid whipping cream
3 tablespoons potato starch or corn starch or all-purpose flour
30g (1 oz) unsalted butter
6 egg whites
4 egg yolks
120g (4 oz) grated cheddar
50g (1.8 oz) grated beaufort
50g (1.8 oz) grated gruyère
2 teaspoons freshly grated Nutmeg
Sea salt, freshly ground pepper
Remove the eggs from the fridge and let stand until they are at room temperature.
Separate whites and yolks.
Pre-heat oven 180°C (350°F). Butter and flour 6 individual soufflés pans or a large one (around 8'') .Place them on a baking sheet and refrigerate.
Heat cream and potato starch in a sauce pan (over medium heat), bring to a boil, stirring constantly. Remove the pan
from the heat and add butter. Mix well. Lower the heat. Back on low heat, stir with a whisk until it thickens. Slowly add the eggs yolks, one by one. Mix well.Add the grated cheese little by little. Add nutmeg and season.
This mixture can be 2 or 3 hours ahead of time.
At the last minute, whisk the egg whites with a pinch of salt until they are really stiff (until they stand in peaks).
Out of the fire, combine a third of the whites with the mixture using a whisk. It allows the sauce to be more fluid. Then combine gently the remaining whites using a wooden spatula, stirring in a circular pattern (actually lifting rather than stirring).
This mixture must be cooked immediately. Fill up the buttered and floured soufflés pans to 3/4.
Transfer to a warm oven (at the bottom).Bake 15 to 20 minutes (40 to 45 minutes for a large soufflé). The soufflés rise and turn golden.
Remove from the oven, place each pan on individual plates and serve immediately, with baby spinach salad and balsamic dressing.
For a large soufflé, arrange 2 tablespoons of soufflé on each plate and garnish with the salad aside.