Chestnuts are not exclusive to savory dishes, they also make great desserts. The "chesnuts spread" is wonderfully sweetened and rich and can be a good source of energy for (gourmet) children practicing a sport or before an important exam. This is why this spread is also sold in tubes in France so you can sip it anyplace, anytime…I remember that I used to have 2 or 3 tubes of chestnuts spread in my school bag in case I suddenly felt tired, which, strangely enough, happened very often !
Now it is a total bliss for me to make this cake for my daughters…And all my adult friends have become addicted to it too ! Last but not least, this cake is made in less than 10 minutes (apart from baking time of course).
Chestnuts Fondant Cake
Gâteau Fondant aux Marrons
Pour la recette en Français, contactez-moi !
You need for a 9-in round-cake pan:
- 4.2 oz (125g) unsalted butter
- 4 eggs
- 17 oz chestnuts spread
- 2 tbsp all-purpose flour
- "adult" version : 2 tbsp of rum.
Remove the eggs from the fridge and let stand until they are at room
temperature.
Separate whites and yolks.
Pre-heat oven 180°C (350°F). Butter and flour the cake pan .Place it on a
baking sheet and in the fridge.If your pan is made with silicon, it is not
necessary to grease it.
Melt the butter in your microwave, 1 to 2 minutes over medium power.
In a bowl, mix the melted butter with the chestnuts spread, using a spatula.
Then add the yolks, one by one. Mix well.
Add the flour and mix again.
In another bowl,whisk the egg whites with a pinch of salt until stiff .
Combine the whites with the chesnuts mixture, still using a spatula.
Add the rum if desired.
Combine them stirring in a circular pattern (actually lifting rather than stirring).
Fill up the buttered and floured pan with the mixture. Transfer to a warm oven
and bake 40 to 45 minutes. Remove from the oven.
This cake is a delight, served at room temperature with hot chocolate coulis.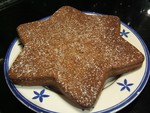 Which form do you prefer ?