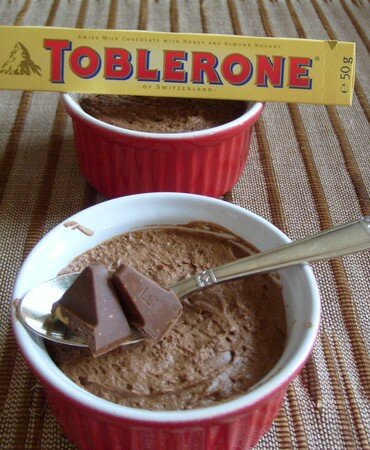 It's been a long time (months, actually) since I was looking for an original chocolate mousse. I had tried white chocolate mousse ( a bit nauseating, but that is my very personal opinion), very very dark chocolate, any kinds of flavours (rum, grand-marnier, brandy, even bailey's), when I saw the Toblerone recipe in Pascale Weeks' cookbook . By the way, this book had been offered to me last december for my birthday, and it contains many great recipes (both simple and creative).
Here it was , THE chocolate mousse recipe that would satisfy the entire family.Moreover, I have to confess that I love Toblerone Chocolate. I am sure you do, too ! These one-of-a-kind triangular shape treats, enriched with honey and almond nougat, are to die for, aren't they ? Did you know that the name "Toblerone" was a contraction of "Tobler" (the manufacturer's family name) and "torrone" which is an italian nougat specialty ? And that the very first toblerone came into market in 1908, in Bern Switzerland ?
The following recipe is super simple, and will take only 25 minutes for the greatest pleasure of all your family members. The consistency is very firm and the almond nougat bites are very pleasant in the mouth.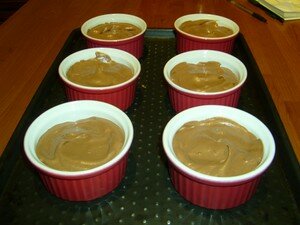 Toblerone Chocolate Mousse
Mousse au Toblerone
Pour la recette en Français, contactez-moi !
You need for 6 servings :
25cl (1 cup) cold liquid whipping cream
200g (7 oz) milk toblerone (the beige carton)
50g (1.8 oz) dark chocolate
3 egg whites
1 pinch of salt
Put a large bowl, and the liquid cream in the freezer for about 20 minutes.
Melt the 2 chocolates over a double boiler. Mix until a smooth consistency.
Beat the very cold whipping cream in the cold bowl until stiff (you obtain a whipped cream, or Chantilly).
Beat egg whites with a pinch of salt, until they stand in peaks.
Combine the egg whites with the melted chocolates, then the whipped cream . Carefully mix, lifting rather than stirring. Pour in individual ramequins and refrigerate for at least 3 hours.