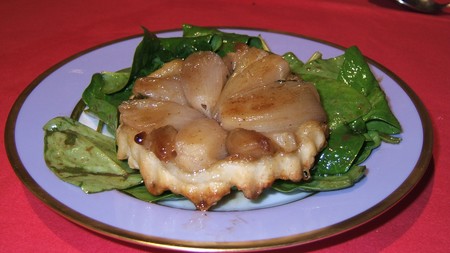 Shallots are often thought to be another variety of onion, but they are actually a species of their own.The shallot is so valued by connoisseurs that there are regular attempts to pass-off products which are not, in fact, true shallots.
On January 10th 2006, the European Court of Justice decided in favour of Traditional shallot producers who were defending their product in the face of the appearance of seed varieties which possess different growing characteristics as well as substantially different taste qualities (coming mainly from Holland). Victory, but with a downside: in the same judgement, the court declared that the French order of 17th May 1990 is incompatible with the Treaty of Rome !!
The fight, therefore, must continue. For the moment, the 1990 order is still in place and furthermore we can rely on the Traditional shallot logo shown below.
Source : Prince de Bretagne Press release.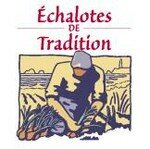 Tatin Shallots and Fresh Basil Tartlets
Pour la recette en Français, contactez-moi !
You need for 6 servings :
2 puff pastries
900g (1.9 lbs) traditional shallots
1 bunch of fresh basil
2 or 3 cloves garlic
70cl (3 cups) milk
4 or 5 sugar cubes
50g (1.7 oz) unsalted butter
Olive oil
Salt/Pepper
You need 6 tartlet pans
Pre-heat oven 180°C (350°F). Peel the shallots, cover them with the milk in a pan and bring
to a boiling point.Continue cooking during 10 minutes. Remove the shallots and put them on
absorbing paper. Clean them with the absorbing paper.
In a skillet, heat the butter and the sugar cubes until they melt (medium heat). Add the shallots,
cook them over medium heat during 30 minutes, until golden and melty. Remove them and season.
Meanwhile, make a "pistou" : Coarsely chop the garlic and the basil, place them in a food
processor, add 3 tbsp olive oil and mix slowly. Season.
Cut the 2 puff pastries into 6 small circles (those circles have to be a bit larger than the tartlet pans).
Arrange the shallots in the pans, overlapping them in a circular pattern, over the bottom of the round
pans. Season and cover with the pesto, using a pastry brush.
Place the sheets of pastry over the top of the molds. Pat down, seal the edges so that the pastries
fit the molds. Evenly pierce the pastries with a fork.
Place the tartlets in the oven and bake for 15 to 20 minutes, or until the pastries are golden brown.
Remove the tartlets from the oven. Place a plate over the top of each mold. Quickly and carefully
invert the two. Tap the bottom of the mold to loosen the mixture. Remove the mold.
Serve hot with baby spinach salad and balsamic dressing.