Recette en français en bas de page !
"Pastilla" is originally a sweet savory Moroccan dish filled with pigeon meat (yes, the bird) and almonds.
Now the word "pastilla" has become quite common (at least in France) and describes any sweet savory dish using brick or phyllo individual pastries.
I found this recipe in a great cookbook (alas, only available in French) called "Epatez vos amis" which literally means "impress your friends" and it is true that each time I have made it, my guests were astonished by the union of sweet pears and the savory aromatics of rosemary and blue cheese !
Now that I am conversant with the pastilla "folding" technique (see the pictures below), I use it with other fillings like, for example, sun-dried tomatoes/goat cheese and "Herbs de Provence". To die for!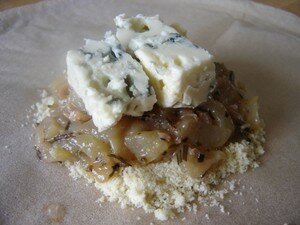 Blue Cheese, Pear and Rosemary "Pastilla" Pastry
You need for 6 servings :
6 Pears
50g (1.7 oz) Salted Butter
2 tablespoons Honey
3 sprigs Rosemary, cleaned, leaves
1 handful Freshly Chopped Walnuts (+ some for the decoration)
6 sheets of Brick Pastry (middle-eastern groceries) or Phyllo Pastry
6 tablespoons Almond Powder
200g (7 oz) gorgonzola cheese (or any good blue cheese)
6 tablespoons Extra Virgin Olive Oil
Sea Salt and Freshly Ground Pepper
6 handfuls baby spinach salad
Balsamic Dressing :
3 tablespoons Balsamic Vinegar
1 teaspoon Lemon Juice
1 teaspoon Mustard
8 tablespoons Extra Virgin Olive Oil
Sea Salt and Freshly Ground Pepper
Preheat oven 200°C (400°F). Peel the pears and cut them into small dices.
In a skillet, heat butter over medium heat, add honey and let the mixture caramelize.
Add pear dices and stir frequently until tender (about 5 minutes).
Add chopped rosemary and walnuts. Season and stir until liquid evaporates.
Arrange one sheet of brick on a cutting board. Spoon one tablespoon of almond powder
in the center, in a circular shape (2.5 inches diameter).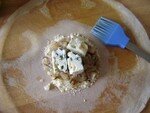 Arrange the pear mixture on top of the almond powder.
Put some gorgonzola cheese on top of the pears.
Using a pastry brush, oil the sheet of brick, all around the center.
Using a knife, make 8 "strips" from the center to the edges of the brick (like sunrays).
Close the brick, folding the "strips" on the pear/gorgonzola. Do the same with the
5 remaining pastries.
Arrange the 6 pastries on a baking sheet already covered with parchment paper.
Bake at least 8 to 10 minutes, or until golden brown.
Add some chopped walnuts as a decoration and serve with baby spinach salad and balsamic
dressing.
Recette en français :
Pour 6 personnes:
6 Poires assez fermes à la cuisoon
50g de Beurre demi sel
2 CS de miel liquide
3 brins de romarin, nettoyés
1 poignée de cerneaux de noix (+ u peu pour la déco)
6 feuilles de brick (rayon "pâtes à tarte" au supermarché)
6 à 12 CS de poudre d'amandes
200g de Gorgonzola ou Roquefort (ou même chèvre frais)
6 CS Huile d'Olive de qualité
Sel et Poivre du moulin
6 poignées de pousses d'épinard
Vinaigrette Balsamique :
3 CS De vinaigre Balsamique de Modene
1 CC de jus de citron
1 CC de moutarde de Dijon
8 CS d'huile d'olive de qualité
Sel et Poivre du moulin
Préchauffer le four à 200°C. Peler les poires et les couper en petits dés.Concasser les noix et
hacher finement les feuilles de romarin.
Dans une poêle, chauffer le beurre et le miel jusqu'à ce que le mélange caramélise.
Ajouter les dés de poires, et remuer jusqu'à ce qu'ils soient tendres
(5 à 10 minutes selon les poires). Ajouter le romarin et les noix.
Asaisonner et continuer à remuer à feu assez fort jusqu'à ce que le liquide s'évapore.
Placer une feuille de brick sur un plan de travail ou une planche à découper.
Placer 1 à 2 CS de poudre d'amandes au centre, en rond.
Placer les poires cuites sur le dessus du cercle d'amandes.
Placer 2 ou 3 morceaux de gorgonzola sur le dessus.
A l' aide d'un pinceau à patisserie, huiler le contour de la feuille de brick.
Puis découper 8 "rayons de soleil" autour du mélange central.
Rabattez les "rayons" sur le mélange, un par un.
Répétez l'opération avec les autres feuilles de brick.
Placez les 6 pastillas sur une plaque à patisserie recouverte de papier sulfurisé.
Faire cuire à four chaud de 8 à 10 minutes ou jusqu'à une belle couleur dorée.
Servez dans un joli plat avec quelques cerneaux de noix en déco et de la salade de pousses
d'épinard à la vinaigrette balsamique.