A Recipe celebrating Franco-Canadian Friendship...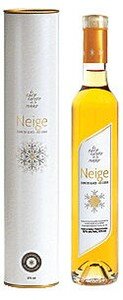 Recette en Français en bas de page !
Last November, we happened to have 2 friends from Quebec for lunch; being very nice and particularly well-behaved, they came with a specialty from their homeland : A bottle of Neige, a "Cidre de Glace" (Ice Cider) . It was quite amusing : the week before, I had the opportunity to taste this sweet alcoholized beverage at a Cocktail Party in Paris (held by an american, with guests from the USA, Canada and France). I had found it absolutely de-li-cious, so I was quite hysterical when I unwrapped my friend's gift ...
Ice Cider is a beverage produced through the alcoholic fermentation of the juice of pressed frozen apples ! The production meets high standards like "no added sugar", "no artificial flavour or color", "no artificial freezing of the apples", and many others. It is exclusively produced in Quebec.When I first sipped "Ice Cider", I thought "mmh, beautiful golden color" then "wow, reminds me of caramelized apples". Actually, It tastes like an "apple Sauternes" (if it existed).
So, today I was in a "Quebec" state of mind, feeling quite blue about my honeymoon in Canada (centuries ooops 12 years ago) and I decided to google "Cidre de Glace". That's how I came across this great recipe from a Quebecoise, in her blog called "Banlieusardises".
Duck Magrets with Ice Cider and Fresh Rosemary
Recette en Français en bas de page !
You need for 6 servings :
3 Duck Magrets (Breasts)
3 Shallots, finely minced
8 tbsp Ice Cider (Can be substituted with Sauternes)
3 sprigs Fresh Rosemary, leaves, finely chopped
1/2 cup chicken broth
30g (1 ounce) unsalted butter
Coarse Salt
Remove half the fat from the skin of the duck breasts and dry them with absorbing paper. Score the skin in a crisscross pattern with a sharp knife. Be careful not to cut the flesh.
Season with salt and pepper and place them in a skillet, skin side down, over medium heat.
Cook until skin is brown and crispy. Lower temperature, turn magrets and cook over low heat for 5 or 6 minutes.
Remove the duck from the skillet, wrap with foil paper and transfer to an ovenproof plate. The flesh is still rare, this is normal : you will heat the duck magrets for 10/12 minutes before serving them (while your guests are eating their appetizers). Remove the fat from the skillet. Cook the shallots over medium heat, until golden.
Deglaze with the Ice Cider. Add rosemary and chicken broth. Reduce on medium heat until syrupy. Add butter, whisk vigourously. Season.
Before serving, heat the magrets in the warm oven (400°F) for 10-12 minutes, cut them into slices and arrange them on the plateswith the Ice Cider sauce on top, sauteed mushrooms and a sweet potato gratin on the side.
Recette en Français :
Pour 6 personnes :
3 magrets de canard
3 échalotes finement émincées
8 Cs de Cidre de Glace (peut être remplacé par du Sauternes)
3 brins de romarin frais, feuilles finement émincées
10 à 15 cl de bouillon de poulet
30g de beurre doux
Gros Sel
Retirez la moitié de la peau du magret dans l'épaisseur et séchez avec du papier absorbant. Incisez la peau en croix avec un couteau fin. Attention à ne pas inciser la chair. Assaisonnez des 2 côtés et placez dans une poêle chaude, côté peau.
Faites cuire jusqu'à ce que la peau soit dorée et croustillante, puis retournez le magret. Encore 5 à 6 minutes de cuisson puis retirez les magrets de la poêle. Transférez dans un plat allant au four, enveloppés dans du papier aluminium.Retirez la graisse de la poêle. Faites-y dorer les échalotes, déglacez avec le Cidre de Glace.
Ajoutez ensuite le romarin hâché et le bouillon de poulet. Faites réduire puis terminez avec le beurre. Remuez bien à l'aide d'un fouet.
Juste avant de servir (au moment où vos invités dégustent leur entrée), terminez la cuisson des magrets au four à 200°C pendant 10-12 minutes. Ainsi, ils seront tendres et chauds. Coupez-les en tranches fines, servez dans chaque plat avec un mélange de champignons sautés et un mini-gratin de patates douces.