As promised, a "guided visit" of an unknown Paris neighborhood : Bercy Village. This place is very popular among Parisians (specially cinema lovers as it hosts the largest multiplex cinema in the city) but yet little visited by foreign tourists. Bercy Village is certainly not a spot for Paris first-timers, but if you are already familiar with the "City of Lights", it is well worth a visit.
A very easy access
Even though located in the extreme South-East part of Paris (in the 12th arrondissement), BV is very easily accessible from Central Paris, thanks to our brand new metro line, the Meteor (line 14). Have you heard of "Le Meteor" ? It is a high speed, super modern and super safe metro line, with no driver ! That means the end of our notorious strikes, that used to "poison" our urban life now and then.Moreover, if you seat at the very top of the train, you'll have the feeling that you actually are the driver ! Great fun for kids (and young-at-heart adults) !
It will take only 10 minutes from Central Paris ("Madeleine" station to "Cour Saint Emilion" stop, where Bercy Village is located).More info on line 14 here.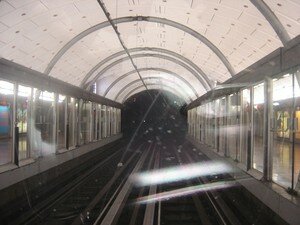 Metro line 14, high speed metro with no driver.
I was seated at the very front and felt like I was driving the metro !
"Cour Saint Emilion", nice shopping and restaurants
Named after a famous wine, "Cour Saint Emilion" is a pedestrian street with renovated old wine "chais" (storehouses). They were built in the XIXth century on both sides of a rail, used to carry the wine barrels. The architecture is typical from the "industrial" trend at the end of the XIXth century characterized by millstone walls, the use of old-style bricks, and the huge interior metallic frameworks. Now, each storehouse hosts a trendy restaurant or an elegant boutique.
Some of my favourite stores : Oliviers&Co (olive oils and derived products), Côté Maison (beautiful selection of dinnerware), La Cure Gourmande (amazing biscuits and candy store). Great shops for kids too with "Fnac Eveil et Jeux" (books, games) and "Nature et Découvertes".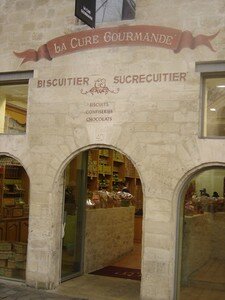 The rail is now a pedestrian street with nice boutiques like Oliviers&Co, la Cure Gourmande and many others...
Recommanded restaurants : My favourite is "Chai 33", not that it is excellent, but it is above average with a fusion-like food. The decor is great and the service efficient.The sandwiches and paninis at "le Buffet d'Italie" are very good. What I appreciate the most here is that all restaurants have great terraces and ...great people-watching !! You can have just a drink at most of the restaurants.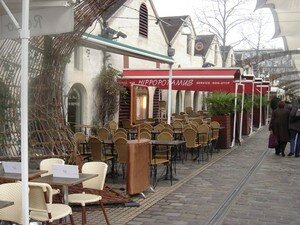 Each restaurant has its own terrace.
UGC Bercy, the greatest movie theater in Paris
Located at the very bottom of Cour Saint Emilion, the multiplex cinema UGC Bercy has it all : giant screens, digital sound, as well as a nice café and a restaurant : Bert's.You can actually order "take -away" food and eat it in your theater seat, but very few people do that. All the movies are displayed in the original language, with french subtitles. So if you want to experiment a good movie in Paris, there is no language barrier here !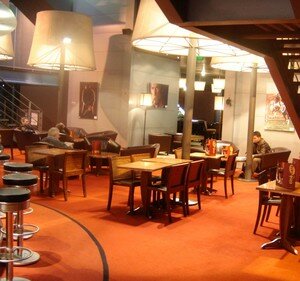 Café and restaurant at the multiplex UGC Bercy
Parc de Bercy, a nice promenade
A stone throw from Cour Saint Emilion. One of Paris largest park "aménagé" since Haussmann period. 35 acres of plane-trees, centenary chestnuts trees, a real vegetable garden, rose and orange gardens and...a vineyard !!
A hidden Jewel : Museum of Fairground Arts
Last but not least. This museum presents a collection of restored merry-go-rounds, fairground shops and attractions, from one of the biggest collections of fairground arts in the world.It is well worth a visit in itself !
It is a private museum so you need to make a reservation to visit it with a guide. Diane, the guide, is extremely knowkedgeable and fun but she only speaks French. Do not worry about that, I have been there twice, and each time, there were english-speaking tourists in the group, they had great fun because it is an intereactive museum (and also because they found bilingual visitors who made translations for them) : you can touch and play with the attractions. So, what about a nice ride on the bicycle merry-go-round ?? Totally magic !
Click on the pictures to enlarge them !
Museum of Fairground Arts/Musée des Arts Forains : 53, avenue des Terroirs de France 75 012 Paris.
Phone: +33 (0)1 43 40 16 22 Fax: +33 (0)1 43 40 16 89
Booking for groups : +33 (0)1 43 40 16 15

N.B : Don't forget to vote for my 3-Cheese Soufflé ("Hay Hay it's Donna Day #9" ). More details here .
N.B : N'oubliez pas de voter pour mon Soufflé aux 3 fromages (""Hay Hay it's Donna Day #9").Plus de détails ici.