Recette en français en bas de page !
When I was a child, I was not fond of gingerbread. Oddly enough, my twin brother was crazy about it. Who said that twins think alike ? Now, my tastes have changed and I truly enjoy these little spiced slices of bread, especially in savory dishes.
Last Saturday, we had "important" guests : my husband's best friend (of 30 years!) and his gorgious israelian-born wife, plus another couple. So I had to "mettre les petits plats dans les grands" (make a very special dinner for them). The problem with writing a food blog is that everyone thinks that you actually cook like a Chef and that you never miss anything, that all your recipes are superb and beautifully presented. But that is not true : I try to do my best but in no way could I compare myself to a professional Chef. Nonetheless, I had a big pressure on my shoulders. I don't know why, "gingerbread crumble" immediately came to my mind. It is original and quite "chic" in savory dishes.
I prepared the following menu :
"Hubby-made" Pina Colada
Pear, Blue Cheese and Rosemary Pastillas
Gingerbread-crusted Cod fillets, mini "gratins dauphinois",
heart-shaped sauteed zucchinis,
Pistachio Financiers to be served with coffee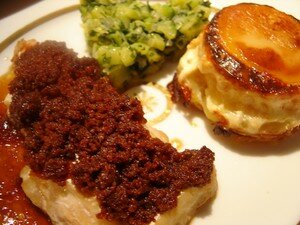 Gingerbread-crusted Cod fillets, mini "gratins dauphinois
You need for 6 servings :
6 skinless, boneless Cod fillets, thick
For the gingerbread crumble :
10 slices stale gingerbread (If ever the gingerbread was not "stale", you can bake the slices
in a warm oven for 2 to 3 minutes and let them cool at room temperature)
3 teaspoons caraway seeds
3 pinches Cayenne Pepper
3 teaspoons all-purpose flour
3 oz soft salted butter
For the ginger/soy sauce :
2 tablespoons cassonade (cane sugar)
8 tablespoons soy sauce
2 tablespoon Mirin (chinese cooked wine)(optional)
4 tablespoons Saké (japanese rice alcohol)
4 tablespoons fresh grated ginger
4 tablespoons olive oil
For 6 Mini gratins dauphinois :
5 medium size potatoes
1 1/2 cup liquid whipping cream
6 handfuls grated cheese (gruyere)
Prepare the mini-gratins : peel the potatoes, clean and pat dry then cut into thin slices.
Arrange 4 to 5 slices at the bottom of a silicon muffin pan, add some grated cheese, cover with some other potato slices to the top.
Sprinkle again some grated cheese at the very top and pour liquid whipping cream in the "empty spaces".
Bake in a 400°F preheated oven during 20 minutes (check with a knife if the potatoes are cooked).
Carefully "un-mold" the gratins.
Prepare the spiced crumble : Mix the caraway seeds and the ginger bread (cut into pieces) in a food processor to obtain a powder. In a large bowl place the flour, the ginger bread powder, the cayenne pepper and the soft butter. With your fingers, work the ingredients until it resembles coarse breadcrumbs. If you use a food processor, the butter must be cold and cut into small dices. Chill until ready to use.
Make the ginger/soy sauce : In a plate, assemble cane sugar, soy sauce, sake, mirin, ginger and olive oil.
Arrange the cod fillets in the marinade during 30 minutes and remove them. Pour the marinade in a skillet. Heat 1 or 2 minutes over high heat, stirring with a spatula. When syrupy, stop cooking the marinade. Transfer the marinated cod fillets to a pastry sheet covered with parchment paper. Top them with the spiced crumble.
You will cook them at the last minute (when your guests are enjoying the starters) during 10-15 minutes in a hot oven (180°C or 350°F).
The crumble must be golden brown.Beware, the crumble can "burn" very fast, so cover them with foil paper if you notice that the gingerbread crust tends to get brown too fast.
Note : Heart-shaped zucchinis : I just cut 3 large zucchinis into small dices, then sauteed them with minced shallots and flat-leaf parsley.
Cabillaud en Crumble de pain d'épices, mini gratins dauphinois.
Pour 6 personnes :
6 dos de cabillaud assez épais
Pour le Crumble de pain d'épices :
10 tranches de pain d'épices rassis (s'il n'est pas rassis, le faire cuire à four chaud
2 à 3 minutes, puis le laisser refroidir à température ambiante)
3 cc de graines de Carvi
3 pincées de piment de cayenne
3 cc de farine
90g de beurre demi sel.
Pour la sauce gingembre/soja :
2 CS de cassonade
8 Cs de sauce soja
2 CS de Mirin (vin cuit chinois, facultatif)
4 CS de Sake (alcool de riz japonais)
4 CS de gingembre frais râpé
4 CS huile d'olive
Pour 6 Mini gratins dauphinois :
5 pommes de terre à gratin de taille moyenne
30 cl de crème liquide
1 paquet de gruyère râpé.
Faites les mini gratins : pelez et nettoyez les pommes de terre, et coupez-les en tranches plutôt fines. Mettez 4 à 5 tranches au fond de chaque alvéole d'un moule à muffin en silicone, salez, couvrez de gruyère, puis encore quelques couches de pomme de terre jusqu'en haut de l'alvéole. Salez et recouvrez encore de gruyère râpé puis faites couler de la crème liquide dans les interstices, quasiment jusqu'en haut de l'alvéole. Enfournez dans un four chaud à 200°C pendant 20 minutes (vérifiez la cuisson à l'aide d'une lame fine). Démoulez avec précaution.
Préparez le Crumble épicé : Dans un mixer, mixez les tranches de pain d'épices (coupées en morceaux) et les graines de carvi jusqu'à obtention d'une poudre. Placez cette poudre dans un bol, y ajouter la farine, le piment de Cayenne et le beurre mou.
Travaillez avec les doigts jusqu'à obtention d'un aspect « chapelure grossière ». Si vous la faites au robot, assurez-vous que le beurre soit froid et non mou. Placez ce Crumble au frais.
Faites la sauce gingembre/soja : dans une assiette creuse, assemblez la cassonade, la sauce soja, le Sake, le Mirin, le gingembre râpé et l'huile d'olive. Placer les cabillauds dans cette marinade pendant 30 minutes, puis les retirer. A la dernière minute, vous placerez la marinade dans une poêle et la réchaufferez jusqu'à ce qu'elle soit sirupeuse.
Posez les dos de cabillaud sur une plaque à pâtisserie recouverte de papier cuisson, et recouvrez le dessus d'une couche épaisse de crumble.Vous les ferez cuire à la dernière minute pendant 10 à 15 minutes au four chaud (180°C). Les dos doivent être cuits mais fondants et le crumble doré/marron. Attention, il brûle assez vite alors recouvrez de papier alu si vous voyez que le crumble brunit trop vite.
Note : Pour les courgettes (3) en forme de coeur, je les ai juste coupées en tout petits dés, fait sauter avec des échalotes et du persil plat émincés, puis assaisonnées.