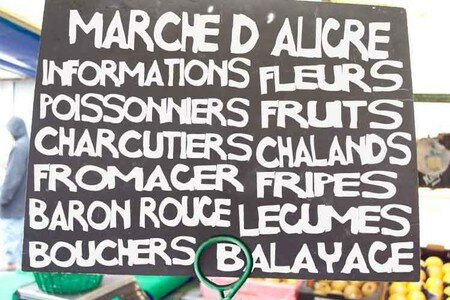 copyright : marchéd'aligre
Overall, The East side of Paris is not a favorite spot for tourists. I understand that first-timers tend to focus on the famous must-dos and must-sees of the Capital, but I consider that not visiting l'"Est Parisien" is missing the Real Paris.
I am quite familiar with the 12th arrondissement and particularly the Place d'Aligre and its surroundings. I really love that part of the city, it is very lively, cosmopolitan and full of excellent gourmet shops, wonderful bars and restaurants and there's always something happening there.
Let's start the visit with the Marché d'Aligre
How to access there ? Metro line 8, exit at "Ledru Rollin" station.You will find yourself on Rue du Faubourg Saint Antoine, an interesting street in itself with lots of shops (international as well as French brands) but do not hesitate to visit the numerous little covered "passages" along this street with plenty of workshops (carpenters, cabinetmakers,…) . Very charming...

Then take rue d'Aligre on your left, that will lead you to Place d'Aligre where the market is.
Marché d'Aligre is one of the most typically Parisian markets. It is made up of two parts : the covered market called "Marché Beauveau" and the open-air market on the square d'Aligre with produces, flea market,…There are both overcrowded, well supplied and very cosmopolitan : you will find many produces from Africa and Asia. Aligre is known for its cheap prices, but you have to be careful about the freshness of the produces.
After the market visit, you will probabbly need a break, for that you will have to choose between several cafés with wonderful terraces. Now, this is where you have to go for a great people-watching (many gorgeous "bobo*" Parisians among Aligre customers, lol!). At some cafés or wine bars, you can have a glass of wine with a wine-barrel as a table and listen to live bands (during spring and summer).
Market open from tuesday to friday, from 9 am to 1 pm then from 4 pm to 7.30 pm
Saturday from 9 am to 1 pm , then from 3.30 pm to 7.30 pm
Sunday from 9 am to 1.30 pm
Le Baron Rouge, my favourite wine bar in the neighborhood.
Goumet shops around the market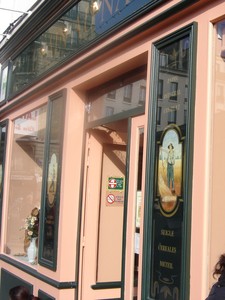 One of the most famous Parisian bakery is just across the market : Moisan, known for its organic bread.

Moisan : 5 place d'Aligre, 75012 Paris
Boucherie des Provinces (Butchery) , on rue d'Aligre is famous for its charismatic owner, Mr Dru. He will advise you about the best meat of the day ("today, you have to buy Veal ribs, they are at their best") .
Boucherie des Provinces, 20 rue d'Aligre, 75012 Paris.
A few meters from the market, in front of Trousseau Square, a new bakery has recently opened : Blé Sucré.

The owner used to be Pastry Chef in a famous high-end hotel in Paris (Le Bristol) and Wow, his desserts are fabulous.

He proposes cheap menus (1 sandwich, 1 dessert, 1 drink for 5.50 euros).His wife is behind the cashier and she is an absolutely delightful person !
Blé Sucré : 7 rue Antoine Vollon, 75012 Paris
Restaurants :
Two of them are located on Rue Cotte, very close to the market.
La Gazzetta : This trendy restaurant has a new (swedish) chef and the reviews are much better now ! The food is a mix of mediterranean and asian recipes. About 30 euros per person.
La Gazzetta : 29 rue de cotte, 75012 Paris
Sardegna a Tavola : tiny, overcrowded, smokey, noisy, so-so service but Great Italian (from Sardegna) Food !
I went there once and had wondeful pasta with grated poutargue (fish roe, also called "mediterranean caviar) and it was to die for ! Actually, this restaurant, despite its drawbacks, is a lot of fun !
Sardegna a Tavola : 1 rue de cotte, 75012 Paris
Le Square Trousseau : A bit smokey and noisy too, but an institution in the Eastern part of Paris.A wonderful terrace in spring and summer. A bit expensive, though.
Le Square Trousseau : 1 rue Antoine Vollon, 75012 Paris
Le Bar à thé : non-smoking restaurant, great selection of teas and pastries.
Si senor : nice spanish tapas and wines. The chef, Valentin, is an authentic spanish-born.
Both restaurants are located on 9, rue Antoine Vollon, 75012 Paris and both have (small) terraces overlooking Square Trousseau.
A bit further (5 minutes walk), is my Favorite restaurant in the neighborhood : le Pause Café. I have been there 4 or 5 times and have never been disappointed. Each time, I wanted to ask his recipes to the Chef, but was too shy to actually do it !! The Pause-Café looks more like a café than an actual restaurant and the owners describe their restaurant as a "cantine de quartier" (neighborhood joint) and that is so true ! No chichi there, an efficient service; a very pleasant covered terrace and the food…Yummy !
The food choices are quite short, which, for me, is an excellent indication about the freshness of the produces. You can have salads or quiches or you can choose from the "plats du jour" on the blackboard. I advise you to do the latest, you will not be disappointed. I had a veal rib, with cider sauce, baked apples and potatoes, the best green beans ever, the rib was huge and it was absolutely wonderful ! My daughter chose a beef fillet with French fries. Look at the pictures, don't they look great. ?
As a dessert, we shared a very simple but really incredible lemon-curd Tart. The pastry was home-made and tasted great and the lemon curd was to die for !
Le Pause-Café : 41 rue de charonne, 75011 Paris.

From Aligre Market, go back to rue du Faubourg Saint Antoine, then take a left and walk 5 minutes until you cross rue de charonne.
* Bobo is a contraction of two words : bourgeois and boheme (bohemian). It describes wealthy Parisians who often have intellectual jobs (movie directors, photographers, artists,..) and who have specific consuming habits (for example, they are passionate about ethic shops and organic food).