copyright sobewine&food festival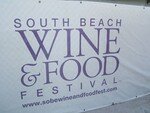 Miami…We stayed 2 days there for our lattest vacations, before departing for a week-long cruise with NCL (great cruise, BTW). It really was not enough time : We had already stayed in South Beach 2 years ago and rarely had we seen such a warm atmosphere, very "latina" : the perfect climate, dozens of cafés and restaurants with great terraces along Ocean Drive (what a name!), loud music everywhere : in the streets, the shops, the cars, and most important : Spanish language spoken by the vast majority of locals. Sometimes, we simply forgot that we were in the USA, we had the feeling that we were in a South American beach resort !
Moreover, you know what ? While I was there, the "South Beach Wine&Food Festival" was being held, just in front of our hotel, under big white tents on the beach !! I was not aware of that ! Alas, I begged, I cried, I even tried my sexiest smile : no way, all the tickets were sold out ! Boo Hoo ! What was left for me was to look at (and to hear) all those people having fun WITHOUT ME, drinking precious wines, enjoying fabulous recipes prepared by TV Star Chefs like Emeril Lagasse, Rachael Ray , Giada de Laurentis and many others…I'll get my revenge next year !
Today, I propose you to prepare a Mojito Cocktail, which is the most popular cocktail in South Beach. It was also the Great Ernst Hemingway's favorite. He finished his life in Florida with, as my husband says, more alcohol than actual blood in his veins…Too sad…
Miami, nous y sommes restés 2 jours pour ces dernières vacances, suivis une croisière d'une semaine dans les Petites Antilles. Ahlala, ce n'était vraiment pas suffisant : j'avais déjà eu l'occasion de séjourner il y a deux ans dans le quartier de South Beach (pointe sud des plages) et j'avais énormément apprécié l'ambiance chaleureuse, très latine qui y régnait : le climat paradisiaque (25° à 30° C en février), les cafés et restaurants avec terrasses qui se succèdent le long de Ocean Drive (déjà, rien que le nom, rhaaa lovely), la musique Latina à fond, partout : dans la rue, les boutiques, les voitures et surtout la langue espagnole parlée par une très large majorité. C'est bien simple, on oublie complètement que l'on est aux USA, on se croirait dans une station balnéaire quelque part en Amérique du Sud.
En plus, vous savez quoi, juste au moment où nous étions là-bas, se tenait le Festival « Wine&Food » de South beach, là, juste devant notre hôtel, dans d'immenses tentes blanches sur la plage ! Hélas, j'ai eu beau faire des pieds et des mains, décrocher mon plus beau sourire, rien à faire, tout était complet !! Ah, désespoir. Il ne me restait plus qu'à regarder (et surtout entendre) tout ces gens boire des alcools prestigieux, se régaler de divines créations culinaires (concoctées par des Chefs inconnus chez nous mais superstars aux USA comme Emeril Lagasse, Rachel Rae et Giada de Laurentis). Bon, j'ai déjà noté les dates pour l'année prochaine et j'y retourne ! (euh, enfin si mes finances me le permettent).
Je vous propose aujourd'hui une recette de « Mojito », qui est LE cocktail le plus bu à South Beach et, pour l'anecdote, qui était le préféré de cet écrivain remarquable et regretté Ernst Hemingway. D'ailleurs, sauf erreur de ma part, il a terminé sa vie à Key West, au Sud de Miami. Comme dirait mon mari, il avait probablement plus d'alcool que de sang dans ses veines…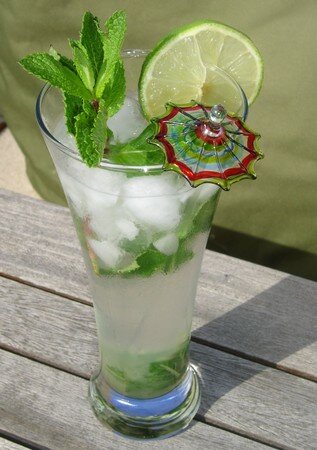 Recipe for 1 person (recipe from drinksmixer website)
1 1/2 oz light rum
3 fresh mint sprigs
2 tsp sugar
juice from 1/2 fresh lime
Club soda
In a tall thin glass, crush part of the mint with a fork to coat the inside. Add the sugar and lime juice and stir thoroughly. Top with ice. Add rum and mix. Top off with *chilled* club soda (or seltzer). Add a lemon slice and the remaining mint, and serve.
Recette pour 1 personne (recette de 1001 cocktails)
- 6 cl de rhum cubain
- 1/2 citron vert
- 2 cuillères à café de sucre
- 3 brins de menthe avec leurs feuilles
- eau gazeuse (perrier)
Préparez la recette du cocktail Mojito directement dans le verre : Ecrasez les feuilles de menthe légèrement hâchées avec le sucre dans le verre à l'aide d'un pilon en y ajoutant le jus d'un demi citron. Remplir le verre à moitié de glace pilée et ajoutez le rhum. Mélangez et complétez avec de l'eau gazeuse... Décorez avec des feuiiles de menthe et une rondelle de citron vert. A votre santé !