Dos de cabillaud en crumble de pain d'épices
Mini-coulants au Chocolat, Coulis de Mangues Fraîches
Voici le dernier menu concoté par mes soins pour mes invités. L'entrée et le plat ont déjà été publiés sur mon blog (il n'y a qu'à cliquer dessus pour les recettes détaillées), mais je vous livre la recette des mini-coulants au chocolat et coulis de mangue fraîche. La petite astuce, afin que l' intérieur du gâteau soit coulant, est tout simplement de mettre du chocolat râpé à mi-hauteur du moule avant la cuisson. Tout bête mais très efficace ! Il faut aussi bien évidemment respecter le temps de cuisson à la minute près et effectuer des tests au préalable car cela dépend vraiment de votre four. Pour moi, c'est 11 minutes pile/poil (pas 10 : trop peu cuit, pas 12 : pas assez coulant). Je vous assure que ces mini coulants sont à mourir ! Et l'association avec le coulis de mangue fraîche est tout aussi jolie pour l'oeil qu'agréable au palais !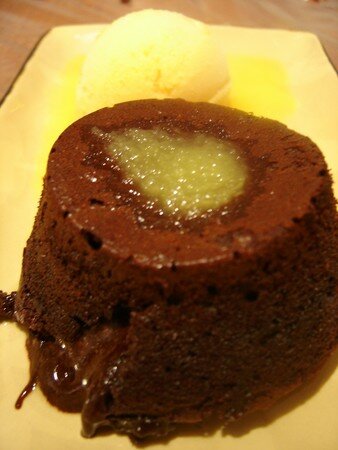 Individual Fudgy Dark Chocolate Cakes, Fresh Mango Coulis
You need for 6 servings :
150g (5 oz) dark chocolate
4 eggs
90 to 100g (3 oz) granulated sugar
70g (2.5 oz) all purpose flour
125g (4 oz) unsalted butter
50g grated chocolate
Mango Coulis :
1 ripe Mango (if not ripe, it will be almost impossible to make a coulis)
2 tablespoons lemon juice
4 tablespoons orange juice
2 tablespoons granulated sugar
You need silicon molds (6 muffins) or 6 individual ramequins (buttered and floured)
Make the Mango coulis : peel the ripe mango, remove the pulp and blend it.Add lemon juice, orange juice and sugar.Blend again. Press the mixture through a sieve.Refrigerate.
Melt chocolate and butter on half power in a microwave oven during 2 or 3 minutes (gently mix every minute).
In a medium bowl, whip the eggs and sugar with a hand mixer, until they are pale yellow. Then add flour. Mix again and add melted chocolate with a rubber spatula. Mixing the melted choclate with a rubber spatula gives a beautiful dark colour to your cakes. If you mix it with a hand mixer, some "air" (oxygen) will get into the mixture and the cake will not be as dark as desired.
Arrange the mold or ramequins on a baking sheet. Pour half the batter into each mold, then 2 teaspoons of the grated chocolate. Add the remaining half of the batter (to the 3/4). Let cool and refrigerate.
30 minutes before serving, pre-heat oven 200°C(400°F). When oven is warm, bake the molds for about 11 minutes. They have to be fudgy. Remove from the oven, unmold very carefully on a clean baking sheet and transfer on each plate, using a flat spatula. Serve warm with Mango coulis on top and Mango (or coconut) sherbet aside.
Petits Coulants au Chocolat Noir, Coulis de Mangues Fraîches
Pour 6 personnes:
150g chocolat noir au moins 60%
4 oeufs entiers
90 to 100g sucre en poudre
70g de farine ordinaire
125g de beurre doux
50g chocolat râpé
Coulis de Mangue:
1 Mangue bien, bien mûre (très important, sinon on ne peut faire un coulis convenable)
2 CS de jus de citron
4 Cs de jus d'orange
2 CS de sucre en poudre
1 moule à muffin en silicon, ou 6 ramequins bien beurrés et farinés
Préparez le coulis de mangue : pelez la manque et retirez le noyau central. Mixez la chair dans un mixer electrique. Ajoutez les jus de citron et d'orange, ainsi que le sucre et re-mixez. Passez cette chair de mangue au travers d'un chinois ou d'une passoire et réservez au frais.
Faites fondre le chocolat en morceaux (150g) et le beurre au micro-onde ou au bain-marie selon vos préférences. Au Micro-ondes, j'utilise la puisssance moyenne (500W) et je fais fondre une minute et je mélange, puis une autre minute et je re-mélange.
Dans un saladier, battez les oeufs et le sucre jusqu'à une couleur jaune pâle. Ajoutez alors la farine. Battez encore. Puis enfin, ajoutez le chocolat-beurre fondus, mais mélangez avec une spatule et non pas le mixer electrique. Si vous utilisez un mixer lorsque vous ajoutez le chocolat, cela fera entrer de l'air (de l'oxygène) dans votre mélange et cela éclaircira votre gâteau au final, alors que si vous mélangez avec une spatule, vous obtiendrez un beau coulant bien foncé.
Disposez le moule à muffins ou les ramequins sur une plaque à pâtisserie. Remplissez chaque alvéole (ou ramequin) jusqu'à la moitié. Marquez une pause et disposez 2 cuillères à café de chocolat râpé au centre, puis continuez à ajouter la pâte jusqu'au 3/4 de l'alvéole (ramequin). Réservez au frais.
30 minutes avant de les servir, préchauffez votre four à 200°C. Lorque le four est chaud, faites cuire les coulants 11 minutes. Sortez-les du four, démoulez-les délicatement sur une plaque propre et transferez-les à l'aide d'une spatule plate dans chaque assiette. Servez de suite avec le coulis de mangue autour ainsi qu'un sorbet (mangue ou coco) sur le côté.
Gingerbread-crusted Cod Fillet, mini "gratins dauphinois"
Individual Fudgy Chocolate Cakes, Fresh Mango Coulis
Above is the menu I cooked last week-end for my guests. The appetizer and the main dish have already been posted on my blog (just click on them for the detailed recipe), so let me share my "fudgy chocolate cake/fresh Mango Coulis" recipe with you ! The little tip for real fudgy-melty cakes is to add some grated chocolate in the middle of the batter before baking them...As simple as efficient ! And also, baking time is the key : for this, you have to make some tests before, so you can adjust it to a perfect result : from one minute to another, your cakes can pass from uncooked (hard to unmold) to overcooked (not fudgy) ! My baking time is 11 minutes sharp, but yours can be slightly different...These cakes are really to die for and the Mango Coulis is a great addition : the orange color is great with the dark brown of the chocolate and the sweetness of the mango balances the bitterness of the dark chocolate.