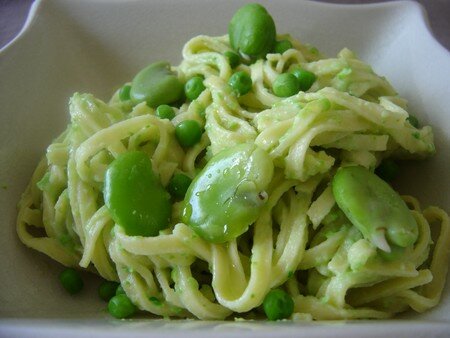 My first Pasta recipe on my blog ! Why so late ? Maybe because I pathetically suffer from a total lack of imagination when it comes to preparing an original sauce for pastas, preferring safe (and-my-daughters-favorite) bets like home-made tomato sauce and grated cheese ? I feel so ashamed…Strangely enough, I love to eat a good pasta dish in specialty restaurants, but I don't really like to cook them at home…Someone has a good Freudian explanation ? I would love to hear it ! So jump on that "springlike" pasta recipe, because my little finger told me that they will be quite rare on this blog…
C'est ma première recettes de pâtes sur ce blog ! Pourquoi si tard ? Peut-être parce que je manque totalement d'imagination quant à la préparation de sauces originales, me cantonnant souvent au duo archi-classique (et unanimement réclamé par mes filles) sauce tomate maison/ fromage râpé ? J'ai honte…Autant j'adore déguster de bonnes pâtes au restaurant, autant ce n'est pas ce que je préfère cuisiner…Si l'un(e) de vous a une explication Freudienne qui tienne la route, je suis preneuse…Alors profitez bien de cette recette de pâtes très printanière, car, sauf révélation divine sur le tard, elles seront assez rares…

Tagliolini with Fava beans and Green Peas Cream
For 6 to 8 servings
21 oz fresh tagliolini pastas
14 oz fresh fava beans
7 oz fresh green peas
5.3 oz feta or ricotta cheese
6 tablespoons Extra Virgin Olive Oil
1 tablespoon Coarse Salt
Sea Salt
Ground Pepper
Fill a large pan with water and 1 tablespoon coarse salt. Bring to a boil.
Peel the fava beans and the peas. Blanch them 2 to 3 minutes in the salted boiling water. Remove and drain.
Reserve 2 tablespoons of both fava beans and peas. Mix the remaining vegetables in a food processor with ½ cup water. Add feta or ricotta and mix again. Add some more water if necessary (if too thick). Season with salt and pepper and 3 to 4 tablespoons olive oil. Transfer the cream to a large mixing bowl.
Cook the tagliolini the way you use to cook pastas, and when « al dente », remove them and drain. Mix the pastas with the fava and peas cream . Season again if necessary and tranfer to a nice plate. Garnish with the reserved fava beans and peas.

Tagliolini à la crème de fèves et de petits pois
Pour 6 à 8 personnes (source Magazine Atmosphères)
600g tagliolini frais
400g de fèves
200g de petits pois
150g de feta (ou de ricotta)
6 CS d'huile d'olive vierge extra
1 Cs de gros sel
Sel
Poivre du moulin

Faites bouillir une casserole d'eau avec une CS de gros sel. Ecossez les fèves et les petits pois et blanchissez-les dans l'eau bouillante salée. Egouttez-les.
Réservez 2 Cs de fèves entières et de petits pois pour la déco. Mixez le reste avec un peu d'eau (10 cl) jusqu'à obtention d'un mélange crémeux. Incorporez la feta ou la ricotta coupée en dés et un peu d'eau encore au besoin. Re-mixez. Assaisonnez selon votre goût et ajoutez 3 à 4 CS d'huile d'olive. Transférez dans un saladier.
Faites cuire les tagliolini, égouttez-les lorsqu'ils sont al dente et mélangez-les à la sauce crémeuse fèves/petits pois. Servez dans un plat de service et décorez des petits pois et fèves réservés.
Rejoignez-moi sur Facebook !Join me on Facebook !