This recipe is one of the first I posted on my blog. It was more than 3 months ago (already!) and I thought it deserved more than the few readers I had at that time. So I decided to post it again, with the hope that more people will have the chance to enjoy it. It is a very very easy recipe, that will delight your guests' eyes and palates. I learnt this recipe during a cooking class at "L'Atelier de Fred" more than 2 years ago. Since the day we first met, Fred has become a TV star thanks to his show "les Nouveaux Explorateurs" on the French Cable Channel "Canal Plus". But, despite his new notoriety, he has stayed just like he was : one of the most adorable men on earth ! His next show, if you happen to be in Paris soon, will be broadcasted on April 1st at 4.55 pm Paris time and is about his gourmet discoveries in Brasil.
P.S : Sorry for the ugly pictures !
Cette recette est l'une des toutes premières que j'ai publiée sur mon blog. En toute modestie, je trouve qu'elle mérite mieux que les 12 lecteurs et demi qui l'ont découverte à l'époque, lol !! C'est pourquoi je souhaite la partager avec vous à nouveau car elle est vraiment très très facile et elle comblera à la fois les yeux et les papilles de vos invités. Je l'ai découverte lors d'un cours de cuisine chez Fred Chesneau, il ya plus de 2 ans : Fred donne des cours de cuisine incroyables à Paris et est depuis devenu une star de la TV grâce à l'émission "Les Nouveaux Explorateurs" de Canal Plus. Ne ratez pas la difusion de son gourmet-reportage sur le Brésil le 1er avril à 16h55 (et le 7 avril en clair pour ceux qui, comme moi, qui n'ont pas d'abonnement à C+).
Recette en français en bas de page !
P.S : Désolée pour les photos moches comme tout !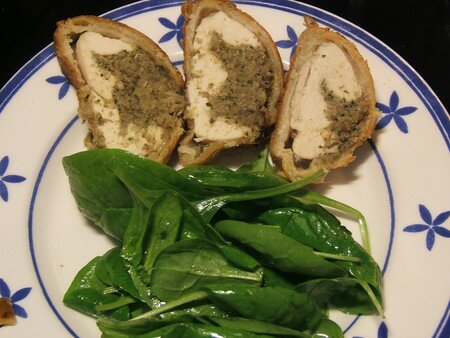 Stuffed Chicken breasts "à la Fred"
You need for 6 servings
4 skinless and boneless chicken breasts
500g ( 1 lb) fresh mushrooms, brushed clean
200g (0.4 lb) canned or vacuum packed chestnuts
2 onions
2 sliced cloves garlic, finely minced
A bunch of fresh flat-leaf parsley, finely chopped
2 sheets, good-quality fresh puff pastries
2 egg yolks
Extra Virgin Olive Oil
Sea salt and freshly ground pepper
Heat oven 200° celsius (400°F).
Sauté the chestnuts in a pan with 2 tablespoons of olive oil.
Transfer them to a small bowl and, using a fork, mash them.
Finely chop the mushrooms and the onions. Heat a skillet with olive oil over medium-high heat.
Add the mushrooms and the onions and, once most of the liquid evaporates, add 2 olive oil tablespoons
and continue cooking.
Add garlic, salt and pepper at your convenience.
Add finely chopped parsley and transfer to a food processor. You obtain a coarse purée.
Take one breast and incise it from top to bottom (like a surgeon would do with a stomach !!)
and also in the inside .
It is hard to explain, but the objective is to have room inside the breast to stuff it.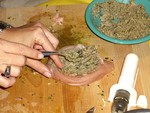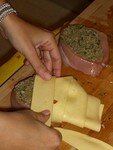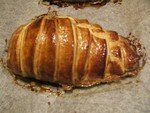 click on the pictures to enlarge them !
Stuff the inside with the chestnuts first, then the mushrooms mixture.
Then close the breast with your hands. Roll out the puff pastry .
Place it on a work surface.Cut the puff pastry in large strips.
Take one by one 3 strips and wrap them around the chicken breast as if you wanted to "mummify" it.
Beware, the puff pastry (and your hands!) has to be cold in order to manipulate it easily, so put it
in the fridge and use them one by one, leaving the others in the fridge until they are used.
Glaze with egg yolk, so you will have a nice golden color after cooking.
Do the same with the 3 other breasts.
Place the 4 wrapped chickens on a baking sheet and bake in the oven 30-35 minutes.
Remove from the oven. After showing your guests the cooked wrapped chickens
(they arebeautiful and your guests will be impressed !), cut them into slices,
using a bread knife.
2 or 3 slices per person.
Then spoon some mushroom sauce on top
(obtained with the remaining mushroom mixture and some heavy (double) cream).
Serve with potato purée or baby spinach salad.
Blancs de Poulets farcis "à la Fred"
Pour 6 personnes
4 poitrines de poulet, dans peau et sans os
500g de champignons frais de Paris, nettoyés
200g de marrons en boîte ou sous vide
2 oignons
2 gousses d'ail pelées et émincées
1 bouquet de persil plat émincé
2 pâtes feuilletées toutes prêtes (230 à 250g chacune)
2 jaunes d'oeufs
Huile d'Olive extra Vierge
Sel marin et poivre du moulin
Chauffez le four à 200°C.
Faites sauter les marrons dans une poêle avec un peu d'huile d'olive. Transférez vers un saladier et écrasez-les à la fourchette.
Emincez les oignons et les champignons et faites-les revenir dans une poêle avec un peu d'huile d'olive, jusqu'à ce que toute l'eau soit rendue. Lorsqu'il n' y a plus d'eau dans la poêle, ajoutez l'ail et le persil (rajoutez un peu d'huile d'olive si necéssaire). Continuez un peu la cuisson, puis transférez tout cela dans le bol d'un mixer electrique.
Mixez jusqu'à obtention d'une purée grossière. Il faudra, au vu de la quantité, probablement procéder en 2 fois. Mettez cete purée dans un saladier.
Prenez une poitrine de poulet et incisez-la dans la longueur, sans la percer dans le fond. Une fois que votre lame est dans le poulet, incisez pour créer de la place sur le côté aussi.
Farcissez chaque poitrine avec de la purée de marrons au fond, puis la purée de champignons par-dessus.
Fermez la poitrine farcie avec vos mains.
Déroulez la première pâte feuilletée et coupez des bandes larges (environ 4-5 cm). Prenez 2 ou 3 bandes de pâte, une par une, dans votre main et enroulez-la autour d'une poitrine farcie. Comme si vous vouliez "momifier" le poulet. Renouvelez l'opération avec chaque poitrine. La pâte feuilletée doit être vraiment froide pour faciliter cette manoeuvre délicate.
Dorez les feuilletés avec du jaune d'oeuf battu et placez-les côte à côte sur une plaque à pâtisserie recouverte de papier cuisson. Enfournez pour 30 à 35 minutes. Sotez-les du four et coupez-les en tranches épaisses avec un couteau à pain. Servez 2 à 3 tranches par invité et de la sauce sur le côté (obtenue avec le reste de farce aux champignons revenus à la poêle avec de la crème fraîche épaisse).