Please don't misunderstand me, there is nothing mischievous in this chococolate mousse recipe : no alcohol, nor aphrodisiac ingredients (a pinch of grated ginger would have been very appropriate, though). No, it is simply the use of very dark chocolate and powdered coffee beans that makes this chocolate mousse way too strong for our loved children's palates…
Je vous rassure de suite, rien de trivial dans cette mousse au chocolat : pas d'alcool, aucun ingrédient aphrodisiaque (quoiqu'une pincée de gingembre aurait été très sympathique, ma foi). Non, simplement l'utilisation de chocolat très noir et de grains de café broyés rend cette mousse beaucoup trop corsée pour les palais de nos chérubins…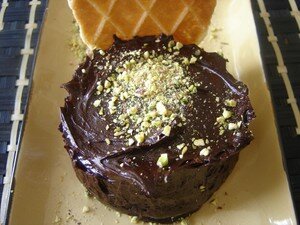 Decadently Dark Chocolate Mousse
For 6 servings
9 oz Dark Chocolate (at least 70% cocoa)
3.5 oz coffee beans
6 egg whites, room temperature
3 egg yolks
1.7 oz granulated sugar
Separate whites and yolks.
Put the coffee beans in a food processor and mix until you obtain a thin powder. Transfer this powder to a skillet and heat it over low heat. This will bring out all the flavours of freshly ground coffee. Set aside.
Melt chocolate in a « bain-marie » or the microwave over medium power. When melted and smooth, let cool a few seconds then add egg yolks (If you add the yolks when the chocolate is hot, they will cook).
Whip the whites with a pinch of salt, until they are stiff. They have to stand in peaks. Add sugar and continue beating.
Fold a third of the whites into the chocolate-yolks mixture. Mix until smooth. Add the remaining whites, very carefully, lifting rather than stirring. Finaly add the coffee powder, mix again and refrigerate at least 2 hours.
Mousse au Chocolat Noirissime
Pour 6 personnes
250g de Chocolat noir à 70% de cacao
100g de grains de café
6 blancs d'œufs à température ambiante (ils montent mieux)
3 jaunes d'œufs
50g de sucre semoule
Mixer les grains de café et les faire revenir quelques instants à sec à la poêle, sur feu doux. Cette « torréfaction » fait fortement ressortir les arômes du café. Réserver cette poudre « torréfiée ».
Faire fondre le chocolat au bain-marie ou au micro-ondes puissance moyenne. Laisser tiédir un peu et ajouter délicatement les jaunes un par un.
Monter les blancs en neige avec une pincée de sel, jusqu'à ce qu'ils soient bien fermes. Ajouter le sucre et continuer à battre.
Incorporer un tiers des blancs au mélange chocolat-jaunes, afin de rendre le mélange onctueux, puis les 2/3 restants avec délicatesse, en soulevant l'appareil. Intégrez les grains de café broyés et mélangez.
Réservez au frais au moins 2 heures.