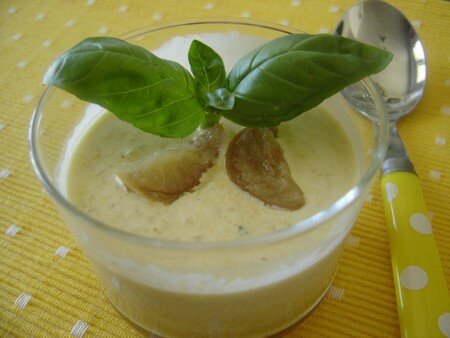 Before anything, I would like to share my excitment with you : my Strawberry and Mango Tartare recipe has been mentionned in « Le Monde.fr » on May 4th. "Le Monde" is the most famous newspaper in France and its internet version has many many readers too. I found out about it quite perchance, noticing a very unusual peak in my statistics that day. If you have a look at the article, there is a link to my recipe under the word « fraîcheur" (freshness).
Now, back to topic, today I have a yellow recipe for you ! Why yellow ? Simply because it is the theme of a food event organized by Barbara from "Winos and Foodies". I found it amusing and the result of my very own brainstorming is a "Yellow Bellpepper and Preserved Lemon Cold Soup".
Avant toute chose, je souhaiterais partager avec vous ma fierté. Bon, pas de quoi non plus faire une danse du ventre,là, tout de suite, mais figurez-vous que ma recette de Tartare de Fraises et Mangue a été citée dans la rubrique « la Toile gourmande » du Monde.fr du 4 mai. Je m'en suis rendue compte en constatant un pic inhabituel (mais vraiment inhabituel !) dans mes statistiques. Vous pouvez lire l'article ici, un lien vers ma recette se cache derrière le mot « fraîcheur ».
Bon, maintenant, retour aux choses sérieuses, une recette fraîche et jaune aujourd'hui. Pourquoi jaune ? Tout simplement car c'est le thème du « food event » organisé par Barbara de « Winos and Foodies » . J'ai trouvé ce petit challenge rigolo et voici le fruit de ma réflexion : une Soupe Froide de Poivrons Jaunes et Citrons Confits. Après dégustation, l'association poivron et citron confit s'est révélée très harmonieuse. Bon appétit !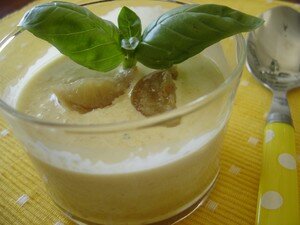 Soupe Froide de Poivrons Jaunes et Citrons Confits
Pour 6 personnes
4 poivrons jaunes
5 petits citrons confits (épiceries orientales ou cachères)
2 échalotes
15 cl de crème liquide
2 CS d'huile d'olive
Du Basilic frais pour la déco
Faites griller les poivrons coupés en deux (et pépins retirés) dans un four chaud (275°C), sur une grille, et côté peau jusqu'à ce qu'ils soient noirs. Retirez-les du four et enfermez les quelques instants dans un sac plastique afin qu'ils soient plus aisés à peler. Pelez-les.
Dans une poêle, faites revenir les 2 échalotes pelées et émincées quelques instants dans l'huile d'olive chaude. Ajoutez poivrons jaunes coupés en lanières. Faites revenir 1 à 2 minutes, recouvrez d'eau juste à niveau. Transférez cet appareil dans un saladier et mixez avec un mixeur-plongeur. Ajoutez la crème liquide et 2 citrons confits dont vous aurez retiré les pépins. Mixez encore et assaisonnez. Laissez refroidir à température ambiante et réfrigérez au moins 2 heures.
Coupez les 3 citrons confits restants en quartiers (et retirez les pépins).
Dans chaque bol, servez un peu de soupe froide, décorez avec 2 ou 3 quartiers de citrons confits et une pluche de basilic.
Yellow Bellpepper and Preserved Lemon Cold Soup
For 6 servings
4 yellow bellpeppers, cleaned and halved
5 small preserved lemons (kosher or middle-eastern groceries)
2 shallots
2/3 cup liquid whipping cream
2 tsp olive oil
Some fresh basil for the decoration
Roast the bellpeppers halves in a hot oven (475°F), on a grill and skin side up. Bake until they get black. Remove from the oven and put in a plastic bag, they will be easier top peel. After 2 or 3 minutes, remove from the plastic bag and peel them.
In a skillet with hot olive oil, cook the shallots until translucent, then add the yellow bellpeppers (already cut into small pieces). Sauté for 1 to 2 minutes, then cover with some water. Mix and transfer all in a mixing bowl. Blend , using a hand blender. Add the liquid cream and 2 preserved lemons (halved, seeds removed). Blend again and season. Let cool at room temperature and refrigerate at least 2 hours.
Quarter and unseed the 3 remaining preserved lemons.
In each soup plate, pour some soup to the 2/3, decorate with 2 or 3 preserved lemon quarters and one sprig of basil.