I make my own Green Curry Paste, which I am quite proud of. But I have to admit that I have not even tried to do the same with the Red Curry Paste. Maybe it is because the ingredients are, for me, far less appealing than the armfuls of fresh herbs needed for its Green Counterpart ?! In a few hours, I will meet a group of foodbloggers in our Parisian Chinatown (the 13th arrondissement), so I might very probably be tempted to buy the "ad-hoc" ingredients, who knows...
Je fais moi-même ma pâte de Curry Vert et j'en suis assez fière mais j'avoue que je n'ai jamais tenté l'expérience avec le Curry Rouge. Peut-être qu'à la lecture des ingrédients, ceux-ci m'on semblé nettement moins affriolants que les brassées d'herbes fraîches de son cousin vert ! ?
Dans quelques heures, je serai à Chinatown avec une douzaine de bloggeuses, peut-être serais-je alors tentée d'acheter les ingrédients "ad-hoc" afin de me lancer dans l'aventure…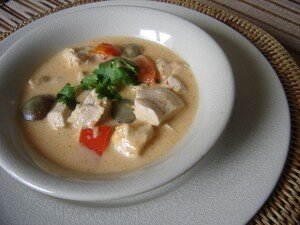 Red Curry Chicken
For 6 servings :
6 large chicken breasts, boneless and skinless
1 red bellpepper, cored and sliced
½ eggplant, diced (if you can find baby asian eggplants, it is even better)
10 cherry tomatoes, halved,
2 small asian corn
2 sprigs asian or european basil
2 tablespoons freshly grated ginger
2 tablespoons vegetable oil
2 teaspoons red curry paste (adjust accordingly to your taste)
2 cans (3 1/3 cups) coconut milk, shaken
2 tablespoons fish sauce
2 tablespoons lime juice
4 or 5 lime leaves
Salt, pepper,
Steamed Thaï rice for 6
Cook the rice in arice-cooker or the way you are familiar with.
In a wok, heat the vegetable oil over medium heat.Add the red curry paste and simmer for 2 minutes. Add grated ginger. Stir in the coconut milk cans. Cook over medium heat for 4 to 5 minutes, stirring frequently.
Add the diced chicken breasts and let cook 5 more minutes. Add all the vegetables (bellpepper, eggplant, cherry tomatoes, baby corn), and, when cooked, stir in fish sauce, lime juice, lime leaves and basil leaves.
Do not worry of you have a lot of liquid, it has to look like a soup.
Serve very hot with steamed rice.
Curry Rouge de Poulet
Pour 6 personnes :
6 beaux blancs de poulet sans peau, sans os, en dés
1 poivron rouge, nettoyé, cloisons ôtées, coupé en gros dés
½ aubergine en petits dés (si vous trouvez les mini aubergines asiatiques, c'est encore mieux)
10 tomates cerises, coupées en moitié
2 petits maïs nains (facultatifs), coupés en moitié
2 brins de basilic chinois ou européen
2 CS de gingembre frais râpé
2 CS d'huile de tournesol
2 cc de pâte de curry rouge
80 cl (2 canettes) de lait de coco
2 CS de sauce de poisson
2 CS de jus de citron vert
Quelques feuilles de citronnier
Sel, poivre du moulin
6 petites tasses de riz blanc thaï.
Préparer le riz dans un rice cooker ou selon vos habitudes.
Dans un wok, verser l'huile et la faire chauffer sur feu moyen. Ajouter la pâte de curry rouge et laisser frémir 2 minutes. Ajouter le gingembre râpé. Verser les 2 canettes de lait de coco et laisser cuire pendant 4 à 5 minutes en remuant.
Ajouter le poulet en dés et faire cuire encore 4 minutes.
Ajouter les légumes (poivron, aubergine, tomates cerise, maïs nains) puis, quand ils sont cuits, la sauce poisson, le jus de citron vert, les feuilles de citronnier et de basilic.
Ne vous inquiétez pas si vous avez beaucoup de liquide, cela doit ressembler à une soupe.
Servez très chaud avec le riz vapeur.