She made her own birthday cake ! A future foodblogger ?
Elle a fait son propre gâteau d'anniversaire ! Une future bloggeuse ?
Beware, fellow foodbloggers ! A new competitor has arrived ! When I was 4, the only thing I was interested in was to give and receive hugs from my Mummy. But my little one has decided some days ago that "when I am big, I want to be a cook" (I swear this is true !). So, let me introduce you to her very first recipe; she made her own birthday cake ! She wanted "a heart-shaped cake made with Toblerone Chocolate, with plenty of little hearts on top, so that it looks nice". I just helped her to melt chocolate and roll out the almond paste. Happy Birthday, my sweet love ! Or should I say "happy birthday, Chef" ?!
Attention, les filles (et les garçons), la relève arrive ! A 4 ans, moi je ne pensais qu'à faire des câlins à ma Maman, mais ma p'tite louloute, elle, a décrété que, « pour mon métier, quand ze serai grande, ze ferai la cuisine » (véridique !). Et bien, elle démarre fort, je vous présente sa première œuvre : son propre gâteau d'anniversaire ! « Ze veux un gâteau en forme de cœur, avec du Sokola Toblerone et des cœurs dessus pour faire zoli ». Je l'ai juste aidée à faire fondre les chocolats et à étaler au rouleau la pâte d'amandes. Joyeux anniversaire, mon petit cœur ! ou plutôt devrais-je dire "Chef" ??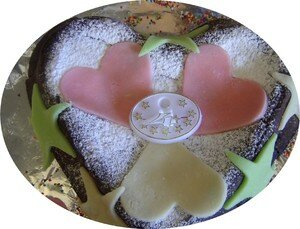 Toblerone Chocolate Cake
7 oz milk toblerone (the beige carton)
1.8 oz dark chocolate
7 oz unsalted butter
5 eggs
2 tablespoons all purpose flour
no sugar, the toblerone is sweet enough
For the decoration : some colored almond paste
Spread the almond paste to a thin layer on a working surface, using a rolling pin.Cut some decoration pieces using funny (heart-shaped or star-shaped) cutters.
Butter and flour a round or heart-shaped cake pan..
Pre-heat oven 375°F.
Melt the 2 chocolates over a double boiler or in the microwave over medium power (2 minutes). Mix until a smooth consistency.
Combine the eggs, one by one, with the melted chocolates. Carefully mix after each egg. Add flour and mix again.
Pour the batter in the cake pan, bake for 25 minutes.
Remove from the oven, unmold and let cool on a rack.
Arrange the almond paste forms on top.
Gâteau au Chocolat au Toblerone
Pour 6/8 personnes :
200g de Toblerone au lait (carton jaune)
50g de chocolat noir
200g de beurre doux
5 œufs entiers
2 Cs farine
pas de sucre, le toblerone est assez sucré
Pour la déco : de la pâte d'amande en couleur.
A l'aide d'un rouleau à pâtisserie, étalez la pâte d'amande. Découpez des éléments de décoration à l'aide d'emporte-pièce selon votre inspiration.
Beurrer et fariner un moule à gâteau.
Préchauffer le four à 190°C. Faire fondre les chocolats et le beurre au bain-marie ou au micro-ondes, 2 minutes puissance moyenne. Bien mélanger. Ajouter les œufs entiers un par un en mélangeant bien à chaque fois (avec une cuillère en bois de préférence). Ajouter la farine et re-mélanger.
Verser l'appareil dans le moule beurré et fariné, faire cuire 25 minutes.
Dès la sortie du four, démouler et laisser refroidir sur une grille.
Positionner les formes en pâte d'amande sur le dessus du gâteau.