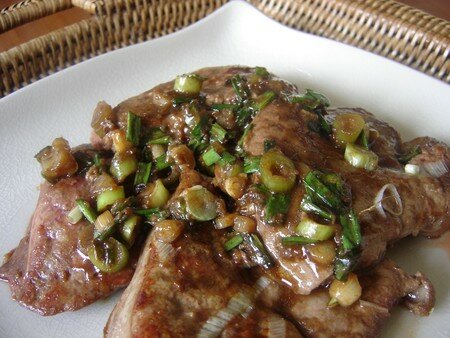 Actually, I am cheating a little bit : this recipe is not really an authentic chinese recipe but rather an eurasian one : in fact, calf's liver is used a lot in Italian and more specifically in Venetian Cuisine ! And regarding Scallions and Ginger, it immediately came to your mind that they are among the star ingredients in Asian Gastronomy. So today, let us disrupt established cooking rules ! …Well, if you really feel uncomfortable with that, you can make the same recipe with chicken, far more consensual…
En fait, je triche un peu, il s'agit d'une recette métissée aujourd'hui : en effet, le foie de veau est plutôt réputé pour ses déclinaisons italiennes, voire même vénitiennes. Quand au gingembre et au Sésame, il ne vous a pas échappé qu'ils sont les dignes héritiers de la gastronomie asiatique. Allons, allons, n'ayons pas peur de bouleverser l'ordre établi, une fois de temps en temps. Ceci dit, si ce métissage vous perturbe vraiment trop, vous pouvez bien évidemment décliner cette recette avec des foies de volailles (plus fréquemment utilisés par les vietnamiens) ou des blancs de poulet plus consensuels…

Sauteed Calf's liver with Scallion and Ginger
For 6 servings :
6 calf's liver slices, membrane removed, ½ inch thick
3 scallions
3 tablespoons canola oil
1 tablespoon Sesame seeds
Marinade :
3 tablespoons soy sauce
2 tablespoons freshly grated ginger
1 tablespoon Mirin
2 teaspoons Sesame Oil
1 ½ tablespoons brown sugar
2 tablespoons olive oil
Rinse the liver slices and pat dry with paper towels. Season on both sides with salt and pepper.
Trim and slice the scallions, 1/2 inch thick.
In a mixing bowl, assemble all marinade ingredients. Add the livers and let marinade for 15 minutes. Drain and reserve the marinade.
In a wok, warm the canola oil. When oil is hot, lay the slices in the pan and sear for 2 minutes on each side. Transfer to a plate and keep warm.
Using the same wok, pour the marinade and the scallions. Stir for 2 minutes over high heat and remove from the heat.
Serve at once each calf 's liver slice topped with the sauce.
Side-dish suggestion : 1.1 lb Green Asparagus seared in a wok with 3 tablespoons minced shallots, 2 tablespoons soy sauce, 1 tablespoon sesame oil and 2 teaspoons chili oil.
Sprinkle some sesame seeds over the livers and the asparagus.
Foie de Veau sauté à la Ciboule et au Gingembre
Pour 6 personnes :
6 tranches de foies de veau de taille moyenne, membrane retirée
3 ciboules
3 CS d'huile de tournesol
1 CS de graines de sésame.
Marinade :
3 CS de sauce soja
2 CS de gingembre frais râpé
1 CS de Mirin
2 cc d'huile de sésame
1 ½ CS de sucre brun
2 CS d'huile d'olive
Rincer les tranches de foie et les essuyer à l'aide de papier absorbant . Assaisonner des 2 côtés.
Peler et émincer les ciboules.
Dans un saladier, mélanger les ingrédients de la marinade. Ajouter les tranches de foie et faites mariner 15 minutes. Egoutter et réserver la marinade.
Faire chauffer un Wok sur feu vif avec l'huile de tournesol. Quand celle-ci est bien chaude, disposer les tranches de foie et saisir environ 2 minutes de chaque côté. Transférer dans un plat et garder au chaud.
Dans ce même Wok,verser la marinade et les ciboules émincées. Mélanger pendant 2 minutes sur feu vif, puis retirer du feu.
Servez immédiatement en recouvrant les foies d'un peu de sauce.
Suggestion de légume : 500g d'asperges vertes sautées au Wok avec 3 CS d'échalotes émincées, 2 CS de sauce soja, 1 CS d'huile de sésame et 2 cc d'huile de chili.
Décorez les foies et les asperges avec des graines de sésame.