Have you heard of Ken Hom ? He's a famous Chef with Cantonese origins but raised in Arizona. I have been the happy owner of his cookbook "Ken Hom's quick Wok" for years. It contains super fast and super simple asian recipes. He started his cooking career as a "commis" in his uncle's restaurant then his numerous stays in Berkeley and France turned him into a successful Chef.
In a totally different topic, I found out yesterday that a famous culinary journalist, Julie Andrieu, mentionned my blog in her radio show. You can listen to the show here (in french only) and she mentions my calf's liver recipe in the last 2 or 3 minutes of her show. What a surprise again ! I remember very well that Julie was a model for me some years ago, when I was expecting my elder daughter. I was watching her TV shows every week ! If you want a comparison with a US Chef, let's say that she is as famous (and gorgious) as Giada de Laurentiis…
Connaissez-vous Ken Hom ? C'est un Chef d'origine Cantonaise mais qui a grandi en Arizona. Cela fait plusieurs années que je possède son livre « Cuisiner au Wok » qui recense quantités de recettes simples (par définition, le Wok est un mode de cuisson ultra-rapide) et superbement relevées d'épices et herbes fraîches exotiques. Il a commencé comme commis dans le restaurant de son oncle, puis ses études à Berkeley et enfin un voyage à Paris ont parfait son éducation gastronomique. C'est maintenant une superstar aux USA et en Angleterre. Comme quoi, la passion est toujours récompensée…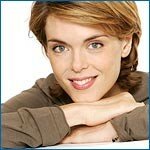 Dans un tout autre registre, j'ai découvert en rentrant tard de week-end hier soir que Julie Andrieu avait parlé de mon blog et de ma recette de Foie de veau au gingembre dans son émission d'hier ! Alors là, je suis plus qu'honorée car Julie est réellement une des premières, avec Fred Chesneau, à m'avoir donnée envie de cuisiner. Mais elle, je n'ai jamais eu le plaisir de la rencontrer… Je m'en souviens comme si c'était hier, j'étais enceinte de ma fille aînée et je regardais ses recettes sur Téva. Merci Julie !! Vous pouvez entendre l'émission ici, la partie me mentionnant se situe dans les 2 ou 3 dernières minutes !!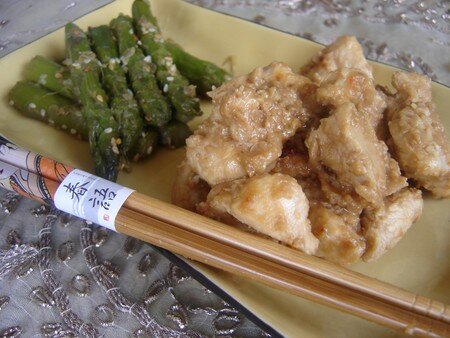 Chicken with home-made Satay and asian-style Asparagus (Ken Hom)
For 6 servings :
6 chicken breasts, skinless and boneless
canola oil
Marinade
6 tablespoons soy sauce
2 tablespoons Mirin
salt and pepper
Home-made Satay Sauce
4 tablespoons peanut butter
2 tablespoons garlic, chopped
2 teaspoons chili oil
3 tablespoons white rice vinegar
4 tablespoons soy sauce
2 tablespoons brown sugar
3 teaspoons hot water
sel, poivre
Sauteed asparagus
1.1 lb green asparagus, cleaned and peeled
3 tablespoons chopped shallots
2 tablespoons soy sauce
1 tablespoon sesame oil
2 teaspoons chili oil
Cut the chicken into big dices. In a mixing bowl, toss them with the marinade ingredients. Let marinade at room temperaure duing 20 minutes.
In an electric mixer, purée all the sauce ingredients. Heat the wok with canola oil (1 ½ tablespoon) until it « smokes » a little bit. Then add the chicken. Sauté for 5 minutes, lower the heat to medim heat and incorporate the satay sauce. Sauté for 5 more minutes. Season and arrange in a large plate. You can arrange them on skewers with some sauce in small bowls.
Clean the wok and heat the oil. Sauté the asparagus with the shallots, soy sauce, sesame oil and chili oil. Continue until the asparagus are "al dente" (a knife must easily cross them). Season and sprinkle some sesame seeds on top.
Poulet au Satay Maison et ses Asperges sautées à la chinoise (Ken Hom)
Pour 6 personnes :
6 blancs de poulet
Huile d'arachide
Marinade
6 CS de sauce soja
2 CS de mirin
sel, poivre
Sauce Satay
4 Cs de beurre de cacahuète
2 CS d'ail hâché
2 cc d'huile de chili
3 CS de vinaigre de riz blanc
4 CS de sauce soja
2 Cs de sucre brun
3 cc d'eau chaude
sel, poivre
Asperges sautées
500g d'asperges vertes nettoyées et pelées
3 CS d'échalotes émincées
2 CS de sauce soja
1 CS d'huile de sésame
2 cc d'huile de chili
Découper le poulet en gros dés. Dans un saladier, mélangez-les avec les ingrédients de la marinade pendant 20 minutes à température ambiante.
Dans un mixer électrique, réduire tous les ingrédients de la sauce en purée. Sur feu vif, faire chauffer le Wok avec l'huile d'arachide (1 ½ CS). Quand l'huile est chaude, ajouter le poulet. Faire sauter 5 minutes. Baisser à feu doux et incorporer la sauce Satay. Faire sauter encore 5 minutes. Rectifier l'assaisonnement. Verser dans un grand plat de service. Vous pouvez aussi les présenter en brochettes avec la sauce en "dip" dans des mini-ramequins.
Nettoyer le Wok, chauffer l'huile. Faire sauter les asperges avec les échalotes, ajouter la sauce soja, l'huile de sésame et l'huile de chili. Continuer sur feu moyen jusqu'à ce que les asperges soient « al dente ».Décorer avec des graines de sésame