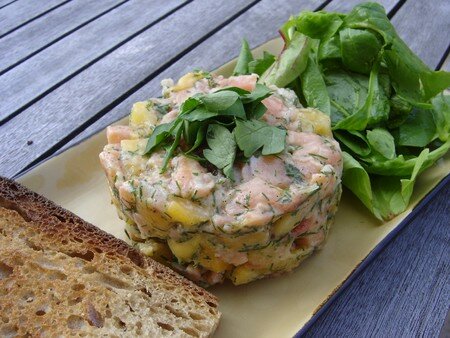 You probably know what "Tartare" means. But in case some of you wonder what I am talking about, let me explain this : the word Tartare, in cooking, means that the ingredients are served raw and coarsely ground or chopped into small dices. The most famous Tartare is the very French "Steak Tartare" made with raw beef, and seasoned with capers, parsley and onions and a raw egg yolk. Read Emeril Lagasse's recipe. Definitely a must-eat while in Paris. For that, I recommend Le Grand Colbert (high-end brasserie) or Chez Paul (no-frills bistrot). But today, my version is made with raw salmon, mango and dill. The seasonning is very simple and adds a pleasant vanilla flavour.
En ce moment, j'ai envie de faire simple…Après la Tarte aux Fraises basique de chez basique, je vous propose un Tartare de Saumon qui se prête bien au retour des températures clémentes. J'y ai néanmoins ajouté de la mangue, car vous avez probablement constaté que les mélanges sucrés salés ont toute mon affection !! J'ai en général un peu de mal avec l'aneth, mais dans cette recette, elle a un vrai rôle à jouer tout en sachant se faire –relativement- discrète !
Another appetizer recipe with Mango.
Autre recette sucrée-salée avec de la Mangue.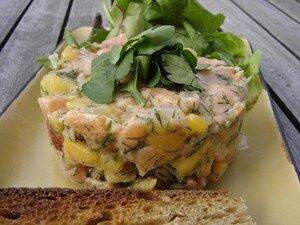 Salmon Tartare with Mango and fresh Dill
For 6 individual Tartares :
500g (1.1 lb) salmon fillets, skinless and boneless
3 tomatoes
1 ripe mango
2 shallots
1 bunch of fresh dill, cleaned and dried on absorbing paper
6 handfuls baby spinach or mixed greens salad
Tartare dressing :
The juice of one lemon
6 or 7 tablespoons olive oil
1 vanilla bean
salt, pepper
Peel the tomatoes : To peel tomatoes easily, remove their stem and make a cross shaped incision on their bottom. Then put the tomatoes in a pan filled with boiling water.Let 15 seconds, remove them and put them in a bowl filled with cold water and ice cubes. The tomatoes will then be very easy to peel . Remove the seeds.
Peel the mango.
Finely chop the shallots and the fresh dill (reserve 6 sprigs for the decoration).
Cut the salmon fillets, the tomatoes and the mango into small dices. Mix all 3 ingredients with the shallots and dill. Reserve.
Prepare the dressing : Cut the vanilla bean lenghtwise and scrap the seeds from the beans, using a sharp knife. Arrange them in a small bowl, then add the lemon juice and olive oil.Season and whisk.
In a the mixing bowl containing the salmon mixture, stir in the dressing. Mix carefully, taste and season if necessary and set in the fridge at least 2 hours.
Divide the Tartare into 6 portions and arrange them on the plates, using a ring. Serve with the baby spinach salad aside.
Decorate with vanilla beans and dill sprigs and serve with golden crisp slices of bread..
Tartare de Saumon à la Mangue et à l'Aneth
(Source Cyril Lignac)
Pour 6 Tartares individuels :
500g de filets de saumon, peau et arêtes retirées
3 tomates
1 mangue mûre
2 échalotes
1 bouquet d'aneth fraîche, nettoyée et séchée dans du papier absorbant
6 pincées de salades de pousses d'épinard ou de mesclun
La sauce pour le Tartare :
Le jus d'un citron
6 ou 7 CS d'huile d'olive
1 gousse de vanille
sel et poivre du moulin
Pelez les tomates en retirant leur pédoncule et en formant une incision à leur base, puis en les plongeant 15 secondes dans l'eau bouillante. Après les avoir retirées avec une écumoire, les plonger dans un saladier rempli d'eau et de glaçons. Là, les tomates seront très aisées à peler.
Retirer les pépins .
Peler la mangue.
Hacher finement les échalotes et l'aneth, en réservant néanmoins 6 brins pour la déco.
Couper le saumon, la mangue et les tomates en tout petits dés, de même taille si possible. Disposez dans un saladier et ajoutez les échalotes et l'aneth. Réservez.
Préparez l'assaisonnement : Dans une tasse, mélangez l'huile d'olive, le jus de citron et les graines de la gousse de vanille (récoltées en incisant la gousse et en grattant avec un couteau fin). Salez, poivrez, mélangez bien à l'aide d'un mini-fouet. Ajoutez au mélange saumon-mangue-tomate. Mélangez, goûtez, et rectifiez l'assaisonnement si nécessaire. Réservez au frais au moins 2 heures.
Répartir le Tartare dans 6 assiettes, servir avec le mesclun assaisonné de vinaigrette balsamique et décorer avec les brins d'aneth.