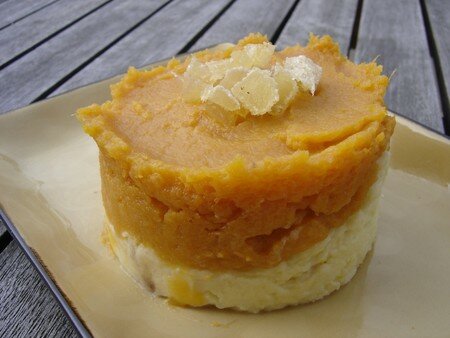 I don't know about the other countries, but here, in France it is very trendy for restaurants to propose "regressive" desserts on their menu. Let me explain : desserts using candies from our childhood. For instance, mousses made with artificial marshmallow strawberries, Tiramisus with melted Caramel/chocolate bars, or even M&M's tartlets !! … But for me, the best regressive food was the one I used to eat at primary school !! Especially the potato purée !! I love it, wether it is a basic purée, or shepherd's pie, or stuffed with ground beef and fried,Yummmmmy !! But how could I serve a potato purée to my guests without offending them ? I found a little trick : I make a very chic 2 colours purée using both sweet potato and regular potato, with a nice presentation . And voilà, then I can enjoy my sinful purée...
En ce moment, la mode est aux desserts régressifs type Tiramisu aux Carambars (Dieu que cela doit être bon !!), Mousse de fraises Tagada, coulis de réglisses Haribo, etc mais pour moi la vraie régression (sans moquerie aucune), c'est la nourriture de la cantine et particulièrement la purée de pommes de terre. A l'instar de Chouchou/Gad Elmaleh et son « J'adooooore les sushi », moi je pourrais tout aussi passionnément déclarer ma flamme à une assiettée de purée !! Je l'aime sous toutes ses formes : basique, brandade, hachis Parmentier, pommes duchesse et même en croquettes avec de la viande hachée à l'intérieur (que l'on appelle les « banatages » dans ma tribu). Mon dilemme : comment servir de la purée à mes invités sans passer pour une sauvageonne ? Je crois avoir trouvé une sorte de parade : je la sers en duo avec de la patate douce et présentée dans un cercle afin de faire ressortir les 2 couleurs. Et bien, je vous garantis que cette purée bicolore fait beaucoup d'effet. Et pendant que vos invités s'extasient sur votre soi-disant créativité, vous, vous pouvez vous laisser aller à votre pêché mignon…
2 colors potato purée
For 6 individual Potato purées, as a side-dish :
500g (1.1 lb) potatoes (Bintje or Mona Lisa)
500g (1.1 lb)sweet potatoes
100g (3.5 oz) unsalted butter (half for each purée)
8 tablespoons milk (4 tablespoons for each purée)
salt and pepper
Peel the potatoes, cut them into large dices.Put the dices in 2 separate pans (yellow in one pan, sweet potatoes in another one), in boiling water, during 20 minutes or until the blade of a sharp knife can easily cross the dices. Once cooked, mash the potatoes in 2 separate bowls, using a presse-purée (potato masher). Add half the milk and half the butter in each bowl .Transfer each purée back in a pan and you will heat them on very low heat at the last minute. Taste them and season.
In each plate, arrange a ring. First arrange 2 tablespoons of yellow purée and top with the sweet potato purée. The sweet potato has to be on top, otherwise the purée will collapse. Remove the ring : the purée will have a nice round shape.
Petite purée bicolore
For 6 petites purées individuelles, en accompagnement :
500g de pommes de terre à purée type Bintje ou Mona Lisa
500g de patates douces
100g de beurre doux (50g pour chaque purée)
8 CS de lait (4 CS pour chaque purée)
salt and pepper
Peler les pommes de terre, les couper en gros dés. Disposer les dés dans 2 casseroles différentes, recouvrir d'eau froide à niveau, saler et amener à ébullition. Faire cuire jusqu'à ce qu'un couteau à lame fine traverse facilement les dés de pommes de terre.
Une fois cuites, retirer l'eau de cuisson et laisser refroidir quelque peu.
Passer séparément les pommes de terre au presse légumes dans un saladier. Transférez de nouveau les purées dans deux casseroles séparées. Disposez la moitié du beurre et du lait dans chaque casserole. Vous chaufferez les purées à feu doux à la dernière minute. Goûtez et assaisonnez.
Présentez dans des cercles en mettant la purée jaune sous la purée orange (l'inverse aurait des effets désastreux, la patate douce étant moins dense que la patate classique, le cercle s'écroulerait).