Goat Cheese, Sundried Tomatoes and Pine Nuts "Brick" Pastries
Bricks de Chèvre, Tomates Séchées et Pignons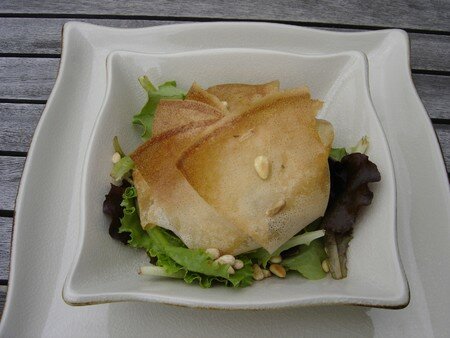 Since I discovered the folding technique for pastillas, I have "used" it a lot, both for savory and sweet dishes (try it with slowly cooked pears, ginger and roasted almonds slices and tell me what you think of it...). I permanently have sheets of bricks in my fridge : they are so helpful for last minute invitations ! You just need to have a quick look at your pantry and/or fridge to find a nice filling, bricks are so easy to please ! You can make blue cheese, walnuts and pear combos, or greek cheese, pine nuts and fresh mint : All tasty, all easy ! Today, may I suggest a very Provençal version ?
Depuis que j'ai découvert la technique de pliage des feuilles de bricks en « pastillas », je la conjugue à toutes les sauces : pour des entrées rapides comme pour des desserts (essayez donc avec une compotée de poires au gingembre et des amandes effilées et vous m'en direz des nouvelles). La feuille de brick est vraiment la complice de la cuisinière impulsive qui lance des invitations de dernière minute Un petit coup d'œil au frigo et l'on trouvera forcément quelques ingrédients ad-hoc pour farcir ces jolies feuilles qui n'attendaient que cela ! Aujourd'hui, je vous propose une combinaison très « sudiste » qui, je l'espère, vous consolera un peu de cette grisaille estivale…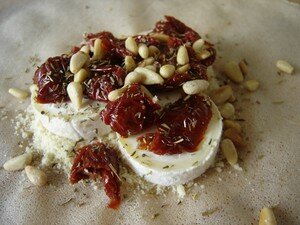 Goat Cheese, Sundried Tomatoes and Pine Nuts "Brick" Pastries
For 6 servings:
6 sheets of brick pastry (can be replaced by phyllo)
6 « crottins de chavignol » (goat cheese balls) cut heightwise into 3 slices
18 sundried tomatoes, each cut into 3 pieces
1.7 oz roasted pine nuts (roasted in a dry skillet until golden)
6 tablespoons almonds powder
Some herbes de provence
Some olive oil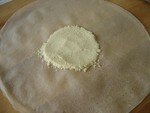 1- Arrange one tablespoon of almond powder in the center of the brick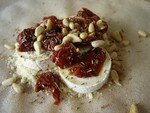 2- Top with 3 slices of goat cheese, the sundried tomatoes and the pine nuts. Sprinkle over with some Herbes de Provence.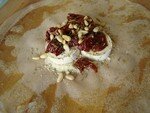 3- Oil the edges of the sheet using a pastry brush and olive oil. Using a knife, make 8 "strips" from the center to the edges of the brick (like sunrays).Close the brick, folding the "strips" on the cheese and tomatoes. Do the same with the 5 remaining pastries.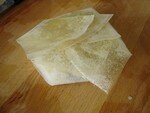 4- Bake in a warm oven (350°F) for 8 to 10 minutes or until golden. Et Voilà !!


Brick de Chèvre, Tomates séchées et Pignons
Pour 6 personnes :
6 feuilles de brick
6 crottins de chavignol assez hauts, coupés en 3 dans la hauteur
18 tomates séchées, coupées en 3 morceaux
50g de pignons torréfiés à sec dans une poêle
6 CS de poudre d'amandes
Des herbes de provence
De l'huile d'olive
1- Déposer une CS de poudre d'amandes au centre de la feuille de brick
2- Disposer les 3 tranches de chèvres, les morceaux de tomates séchées et les pignons rôtis. Saupoudrer d'herbes de provence.
3- Huiler le pourtour de la brick à l'aide d'un pinceau et d'huile d'olive. Couper 8 « rayons de soleil » larges autour du centre. Rabattre les rayons sur la préparation, les uns après les autres.
4- Faire cuire 8 à 10 minutes (bien surveiller) au four préchauffé à 180°C. Et Voilà !!