Lime and Lemongrass Rum Punch
Punch au Citron Vert et à la Citronnelle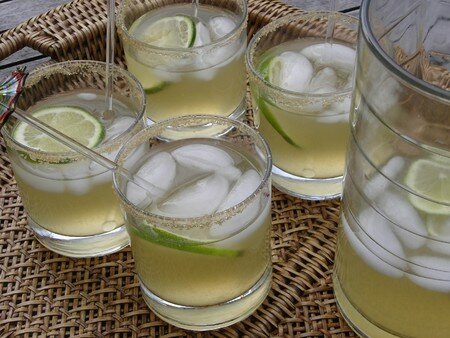 I have no idea how I managed to have a dozen limes in my fridge…Actually I know : I buy limes everytime I go to the market, forgetting that I already have some at home ! I really can't help it, I see limes, and hop ! I have to buy them, they exert a fatal attraction over me !! So, what was I going to do with them ? I found the perfect answer : LIME PUNCH ! And it will also finally allow me to develop my "Drinks" category, which has been counting only one poor lonesome Mojito Cocktail for about 3 monthes !
A recipe found in the British magazine "delicious." (May 2007), sent to me by Dianne in a parcel exchange between european bloggers. My verdict : Surprisingly refreshing and thirst-quenching; and the lemongrass adds a subtle and pleasant asian touch.
Que faire avec une dizaine de citrons verts sur les bras ? (Je n'y peux rien, chaque fois que je vais au marché, j'en achète, c'est plus fort que moi). Un Punch au citron vert, qui en plus, me permettra (enfin) d'étoffer ma catégorie « boissons » qui ne comptait qu'un pauvre Mojito esseulé !
Recette repérée dans le magazine britannique « delicious. », envoyée par Dianne lors d'un échange de colis entre bloggeuses européennes. Verdict : étonnement frais et désaltérant; la citronnelle apporte une discrète touche de sophistication toute asiatique.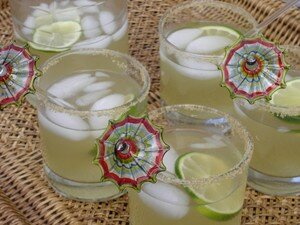 Lime and Lemongrass Rum Punch
Pour 6 servings :
4 limes (juice of 3 + 1 cut into thin slices)
2 lemongrass stalks, roughly chopped
2/3 cup golden rum
2 1/2 oz granulated sugar
soda water

In a pan, put 1 cup cold water, sugar and the chopped lemongrass stalks. Heat gently until sugar dissolves. Reserve and let cool at room temperature.
Strain this liquid into a large jug. Add the lime juice, the rum and top up with soda water.

Refrigerate the jug.
When ready to serve, fill the glasses with ice cubes and slices of lime. Pour over the rum punch. Enjoy !!
Punch au Citron Vert et à la Citronnelle
Pour 6 personnes :
4 citrons verts (le jus de 3 + un coupé en fines rondelles)
2 bâtons de citronnelle fraîche, pelée et coupée en tronçons
15 cl de Rhum brun
75g sucre en poudre
eau gazeuse

1- Dans une casserole, disposer 25cl d'eau froide, le sucre et les tronçons de citronnelle et faire chauffer à feu doux jusqu'à dissolution du sucre. Réserver et laisser refroidir (cette pause permet de faire infuser la citronnelle).
2- Faire passer ce « sirop » à travers un chinois, directement dans une carafe. Par-dessus, ajouter le jus des 3 citrons verts ainsi que le rhum. Ajouter de l'eau gazeuse fraîche jusqu'à hauteur de la carafe.
3- Réserver la carafe au frais.
4- Au moment de servir, garnir chaque verre de glaçons et d'une rondelle de citron vert. Verser la boisson bien fraîche. Dégustez !