Apricot and Grated Chocolate Loaf
Cake aux Abricots et Râpé de Chocolat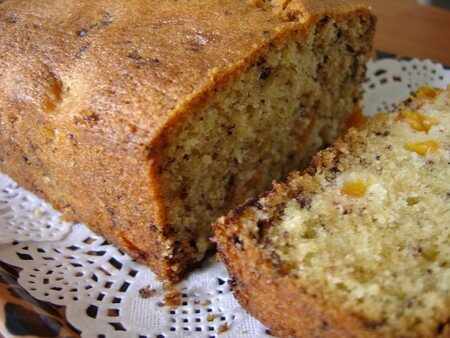 Lefovers again !! With the approach of holidays, I limit my food shopping to the bare minimum and I do my best to feed my little family with what is available in my fridge and my pantry. Yesterday I had grated chocolate left from a fudgy chcocolate cake, 4 poor almost rotten ahem-"ripe" little apricots, and salted butter that was dangerously getting close to its expiration date (who said I wanted to poison my family?). What else than a cake could I make ? Surprisingly enough, all ingredients seemed to enjoy each other's company and felt young at heart again, and the cake really tasted good. And for those of you who find the use of salted butter in a sweet cake quite "odd", I can tell you that it worked like a charm ! So well in fact that I have decided to make all my sweet cakes with salted butter from now on !
Encore des restes à recycler ! Avec l'approche du départ en vacances, je limite les courses au strict minimum vital et je me creuse les méninges pour nourrir ma petite famille avec les aliments à dispo. Hier, il me restait du chocolat râpé rescapé d'un fondant au chocolat, 4 abricots très fatigués, et du beurre salé proche de sa date d'expiration. Un gâteau s'imposait et ma foi, le résultat n'est pas mal du tout. Je peux même ajouter que le beurre salé donne un petit arrière goût corsé qui n'est pas déplaisant du tout. D'ailleurs, j'ai décidé de faire tous mes futurs cakes sucrés avec du beurre salé !!
Apricot and Grated Chocolate Cake
For 8 servings :
7 oz all purpose flour + some for the pan
7 oz salted butter + some to grease the pan
7 oz granulated sugar
1 tablespoon vanilla sugar
4 eggs
4 or 5 apricots, thinly diced
1.8 oz grated dark (bittersweet) chocolate
1 tablespoon baking powder
1 pinch of salt
Preheat oven 400°F. Butter and flour a 9 by 5 in- loaf pan, if not made with silicon.
Melt the butter over medium power in the microwave (1 to 2 minutes). Separate whites and yolks. Combine flour and baking powder in a bowl.
In a large bowl, beat the yolks with both sugars until pale yellow. Add the melted butter, mix. Add the flour/baking powder mixture and stir again.
Beat the whites with a pinch of salt until stiff, and fold them in the above batter. Mix carefully (lifting with a spatula, rather than mixing). Add the apricot dices and grated chocolate.
Pour the batter into the loaf pan, level the surface with a spatula. Bake for 15 minutes at 400°F, then lower the heat to 340°F for 30 additional minutes (total baking time is 45 minutes). Check with a knife (the blade inserted in the center must come out clean).
Remove from the oven, let cool before unmolding on a rack. Serve with mango coulis, it's yummy (yes, I also had mango coulis left !).
Cake aux Abricots et Râpé de Chocolat
Pour 8 personnes :
200g de farine
200g de beurre salé + un peu pour beurrer le moule
200g de sucre
1 sachet de sucre vanillé
4 œufs
4 ou 5 abricots coupés en petits dés
50g de chocolat noir râpé
1 sachet de levure chimique
1 pincée de sel
Préchauffer le four à 200°C. Beurrer et fariner le moule à cake s'il n'est pas en silicone.
Faire fondre le beurre salé à feu doux ou au micro-ondes. Séparer les blancs des jaunes d'œufs. Mélanger la farine avec la levure.
Dans un saladier, battre les jaunes avec les 2 sucres jusqu'à blanchiment. Ajouter le beurre fondu, mélanger. Ajouter le mélange farine/levure
Battre les blancs en neige ferme avec une pincée de sel. Incorporer délicatement au mélange précédent. Incorporer les dés d'abricots et le chocolat râpé.
Verser la préparation dans le moule à cake. Lisser le dessus. Laisser cuire 15 minutes à 200°C puis baisser à 170°C pendant les 30 minutes restantes.
Laisser tiédir avant de démouler sur une grille. Délicieux avec du coulis de mangues (oui, ça aussi il m'en restait !).