Date of Lunch : mid-june 2007
Résumé en français : Cadre magnifique, service impeccable et sympatique, plats à tomber à la renverse. Un moment d'exception pour une addition qui peut être "raisonnable" si l'on vient pour le déjeuner en semaine. Vivement recommandé pour une occasion particulière (nous y étions pour notre anniversaire de mariage).

The Chef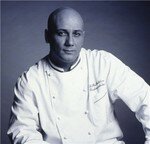 Fréderic Anton has started his career with Gérard Boyer at les Crayères, then he became Joel Robuchon's Chef de Cuisine. He's been Le Pré Catelan's Chef since 1997, was Meilleur Ouvrier de France in 2000 , obtained 2 michelin stars in 99 and his third in 2007, at the age of 39 !!
The Food
We chose the 140 euros menu and it was the absolute perfection. Of course it was pricey but so worth every single bite. It is a moment of pure bliss that you have once or twice in your life.Too bad again that Hubby did not allow me to take pictures :-(

First the waiter comes with a cart full of different kinds of breads and you can choose as many as you want.
2 different kinds of butter were served (salted and unsalted) and both Hubby and I were amazed how "carameley" both butters tasted. I really wonder how they do that...
We started with a glass of Champagne ( a Gosset 99), served with 3 kinds of nuts (cashews in paprika, hazelnuts in caramel and sesame seeds, and pecans in curry).

Then we were served an amuse-bouche consisting of cold onion foam in a warm pea soup. The taste was absolutely incredible, you could guess that the very best produces were used. And the foam was not bland as in the new trendy restaurants, it really tasted like onion !!
Our appetizer was étrille (small crab) and tourteau (large crab). The étrille was stuffed with its own flesh and a light sauce, and coated with a fine coral jelly and caviar. In another plate, we had a fennel soup in which were floating 2 tourteau rolls wrapped in seaweed and topped with orange sauce.

Then we had langoustine (kind of small lobster) : one in the form of a ravioli in an olive oil broth, topped with a pepper and mint foam, 3 others in a different plate, wrapped in brick pastry (kind of phylo pastry), that you could dip in 2 sauces (asian style sauce with roasted peanuts, and lettuce-based sauce ).

Followed by ris de veau for me (veal sweetbreads) and rack of lamb for Hubby. I don't even have words to describe what an explosion of flavours my ris de veau was. I had 2 nice pieces, with morel sauce on side and a cinnamon flavoured celery purée served apart. A pure delight ! On the edges of the celery purée plate, the Chef displayed tempura fried edible flowers (capucine and garlic flowers). It was gorgious and excellent.

Then a full cart of cheese (about 30 different sorts). I had 4 kinds of cheese : a maroille, an époisse, a fresh goat cheese and a brie. All wonderful and made by local cheese artisan, of course. Served with wonderful breads again.

The dessert was around the coffee theme. It was a nice verrine ( small glass) filled with different layers of coffee sabayon, chocolate ganache, crème brulée ice cream, and roasted almonds. But the best part, was that the verrine itself was actually edible because made with crystallized sugar. So you could eat both the containt and the container. Isn't it great ??

We finished with a cart of "all you can eat" mignardises (fruit tarlets, candied fruits, chocolate ganaches, different kinds of nougats,...) that we enjoyed with our expresso coffee.

The wine
We started with a glass of Champagne (Gosset 99), which was excellent. For the rest of the meal, I had mineral water while Hubby enjoyed a nice glass of white wine.
The customers and the decoration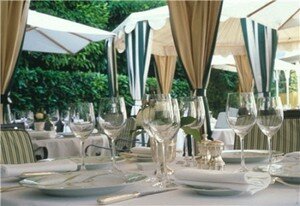 The decoration is very chic. Le Pré Catelan is settled in a beautiful historic mansion in the middle of our "Central Park", le Bois de Boulogne. Please allow yourself to arrive half an hour in advance to stroll in Le Précatelan Garden where you will probably see children and their parents playing soccer together. As well as The Shakespeare Theater (an open air theater in a beautiful setting).
The atmosphere is quite formal and Chic. But we did not feel intimidated. Half customers were businessmen.
The Service
Outstanding. Very professional and classy but yet friendly and smiling. We could easily chat and joke with them and they seemed to sincerely appreciate it.

The choice and the Cost
For lunch you have the choice between the "A la Carte" selection (if you can afford it), or 3 menus : 75 euros (only on weekdays), 140 and 180 euros. Beware that all 3 menus are "tasting menus" so you cannot choose what you want. But they are flexible enough to change one item if you don't like it (hubby changed his "ris de veau" for a "rack of lamb").
As a conclusion
Simply the best meal I have had for years !! The perfect place to celebrate a special event (we were there to celebrate our 12th wedding anniversary).. I particularly recommend to go there for lunch because you will have plenty of time to enjoy the atmosphere, the service and of course the food. And the menus are cheaper, specially on weekdays. On beautiful days, you can eat on their wonderfully peaceful terrace.

Practical Information
Their website : http://www.precatelanparis.com/
Route de Suresnes- Bois de Boulogne-75016 Paris. Tél : 01 44 14 41 00
Closed sunday evening, Monday (high season), sunday and monday (low season).
Beware : restaurant closed in august and september 2007 for renovation.