Little « burger » snacks with Tuna and Preserved Lemon Paste
Petits Feuilletés « burger » à la pâte de Thon et Citron Confit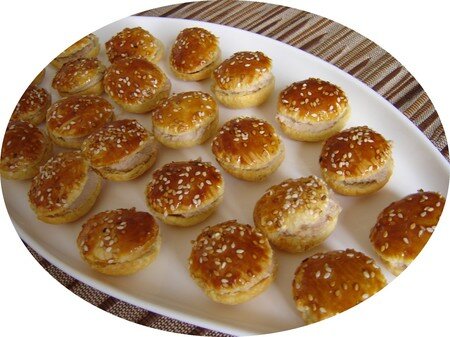 When I was a kid, my family used to drive from Paris to the South of France every year in early july. It was a 10 hour drive, my 3 brothers and I were packed like sardines on the rear seats and this journey was a real nightmare (did I mention that my father's car had no air conditioning ?) except for one thing : lunch break !! Ah, it was the best moment, for we could both finally stretch our legs and enjoy my Mum's fabulous sandwiches made with Italian bread specially bought in Belleville district and stuffed with tuna and preserved lemon !! Sometimes, Mummy would add grated boiled eggs. Now that I am myself a mother, I have perpetuated this tradition and I always make identical sandwiches each time we have a long flight or drive. The tuna mixture can be spread on savoury mini tartlets as a snack, or to stuff cherry tomatoes, or even in mini-burger pastries like on the following recipe.

Lorsque j'étais enfant, toute la famille (6 personnes) partait dans le Sud de la France pour les vacances d'été. Nous prenions la voiture et c'était parti pour plus de 10 heures de route, serrés comme des sardines à l'arrière et nous chamaillant sans cesse ! Nous partions à l'aube (réveil à 5 ou 6 heures du mat) et nous attendions tous avec impatience Le Grand Moment de cette escapade, le déjeuner !! Pour nous dégourdir les jambes, certes, mais surtout pour croquer dans les sandwiches divins de ma mère : avec du pain italien acheté à Belleville et une garniture faite de thon et de citron confit ! Ahlala, quel délice. Maman rajoutait parfois des œufs durs râpés. Je perpétue cette tradition, car lorsque ma petite famille prend l'avion ou la voiture, je concocte les mêmes sandwiches. Cette farce peut aussi servir pour l'apéro sur des mini-tartelettes de pâte brisée, pour farcir des tomates cerises ou dans des mini-burgers feuilletés (idée de la talentueuse Valérie) comme ici. Après avoir goûté cette garniture, vous ne regarderez plus les sandwiches au thon de la même façon…
Little « burger » snacks with Tuna and Preserved Lemon Paste
For 25 baby burgers, 2 in- diameter each :
1 store-bought puff pastry, refrigerated or frozen and thawed
5 oz albacore canned tuna
2 to 3 preserved lemons, medium size
2 tablespoons sesame seeds
1 egg yolk
2 tablespoons olive oil
Salt and pepper
Preheat oven 350°F.
Unroll the puff pastry, and cut about 25 small circles using a small cookie cutter. Arrange the small circles on a pastry sheet lined with parchment paper.
Glaze with egg yolk, and sprinkle sesame seeds over the pastries. Bake from 10 to 15 minutes in warm oven (keep an eye on them).
Remove from the oven, and half each pastry thickwise, very carefully.
Using an electric mixer, blend tuna, preserved lemons (seeds removed) and olive oil until you obtain a thick paste.
Stuff the baby burgers with the tuna mixture. Serve at once.
Petits Feuilletés « burger » à la pâte de Thon et Citron Confit
Pour 25 baby burgers, 5 cm diamètre chacun :
1 pâte feuilletée prête à dérouler de 250g
150g de thon en boîte, au naturel
2 à 3 citrons confits de taille moyenne
2 CS de graines de sésame
1 jaune d'oeuf
2 Cs d'huile d'olive
Sel et poivre
Préchauffer le four à 180°C.
Dérouler la pâte feuilletée et à l'aide d'un petit emporte-pièce (ou une petit verre retourné), découper des cercles d'environ 5 cm de diamètre. Les disposer sur une plaque à pâtisserie recouverte de papier sulfurisé.
Badigeonner les cercles avec du jaune d'œuf battu, saupoudrer de graines de sésame et mettre au four chaud. Faire cuire de 10 à 15 minutes (à surveiller).
Retirer du four et couper chaque cercle gonflé en deux dans l'épaisseur (avec délicatesse).
Dans un mixer électrique, mixer le thon, les citrons confits (pépins retirés) et l'huile d'olive jusqu'à obtention d'une pâte.
Farcir les feuilletés de cette pâte. Servir rapidement.