Yes, yes, I know I have been a very bad girl, the worst foodblogger ever, I left you for more than a month !! I can't believe I did that, but I have to admit that a blog detox is necessary from time to time, specially when one is having a great time in the USA and Mexico (more details in a few days). I have been back for more than a week, but can you believe that I had to wash and iron more than 250 pounds of clothes ??? Ah, California is heaven (or hell ?) for serial shoppers like my husband and I (and for the first time, my teenage daughter, who seriously fell in love with Abercrombie). Your malls and factory outlets are really something !!
Oui, oui, je sais, j'ai été nulle, lamentable, en dessous de tout : je vous ai lâchés pendant plus d'un mois !! En partant, j'étais très angoissée de laisser mon bébé-blog tout seul à Paris, puis les jours passant, j'ai éprouvé un sentiment de liberté totale : une petite cure de blog-desintox fait quand même (j'ai un peu honte de l'avouer) un bien fou !! Je suis rentrée depuis une semaine mais me croirez-vous si je vous dis que j'ai dû laver et repasser plus de 110 kilos de linge ??? Ah, c'est cela les USA, le shopping là-bas est dément ; nous sommes partis avec 3 valises et revenus avec 5 !! Je vous raconterai plus en détail notre escapade californienne et mexicaine, je suis notamment revenue avec de supers adresses d'hôtels.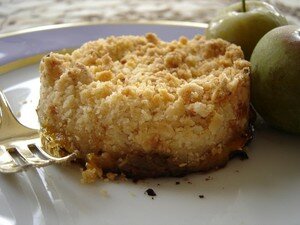 Individual Green Plum Crumbles
You need for 6 to 8 servings :
1 cup all-purpose flour
1 cup almonds powder
½ cup brown sugar
¾ cup (1 ½ sticks) unsalted butter, room temperature
2 1/4 pounds green plum (reine-claude), halved, pitted
1 tbsp unsalted butter
1 tbsp honey (I used orange blossom honey)
1 teaspoon ground Cinnamon (optional)
½ teaspoon ground nutmeg (optional)
vanilla ice-cream
You will need 6 baking rings (3'' diameter x 2.4'' height)
Pre-heat oven 350°F.
In a skillet over medium heat, cook the plums with 1 tablespoon of butter and 1 of honey for 2 or 3 minutes.Add cinnamon and nutmeg according to your taste.
In a large mixing bowl, assemble the sugar, flour, almonds powder and then butter. Using your fingertips, mix them until it resembles coarse breadcrumbs.
Line a baking sheet with parchment paper. Arrange the empty cooking rings on the baking sheet. At the bottom of each ring, arrange 2 or 3 tablespoons of plums, then top with two tablespoons of the crumble.
Bake until crumble is crisp and golden brown on top (40 minutes in my oven).
Remove from the oven, let cool 20 minutes and remove the rings carefully. Serve with vanilla ice-cream.
This post is dedicated to my maternal grand-father, David Elie, who left us forever on august 14th. He will always be remembered as a great « bon vivant ».
Mini-Crumbles de prunes (reine-claude)
Pour 6 à 8 crumbles :
100g de farine ordinaire
100g d'amandes en poudre
50g de sucre
80g de beurre doux, à température ambiante
1 kilo de reine-claudes, coupées en moitié et noyau retiré
1 CS de beurre doux
1 CS de miel liquid (miel d'oranger par exemple)
1 cc de poudre de cannelle (facultatif)
½ cc de noix de muscade râpée (facultatif)
Glace à la vanille
Vous aurez besoin de 6 à 8 cercles de cuisson (8 cm diamètre x 4.5 hauteur)
Préchauffez le four à 180°C.
Dans une poêle, faites chauffer la CS de beurre, et faites revenir pendant 2 à 3 minutes les prunes. Ajouter le miel, et selon votre goût, la cannelle et la noix de muscade.
Dans un grand saladier, mélanger du bout des doigts le sucre, la farine, la poudre d'amandes puis le beurre. Mélanger jusqu'à ce que ce mélange ressemble à du sable. Au besoin, rajouter du beurre (si mélange trop sec), ou de la farine (si trop humide).
Etalez du papier cuisson sur une plaque à pâtisserie, disposez les cercles de cuisson vides, les uns à côté des autres. Dans chaque cercle, versez 2 à 3 CS de prunes cuites, puis 2 CS de pâte à crumble.
Faire cuire jusqu'à ce que le crumble soit bien doré (dans mon four, il a fallu 40 minutes).
Sortez du four, laissez refroidir 20 minutes, puis retirez délicatement les cercles.
Servez avec une bonne glace à la vanille.
Ce billet est dédié à mon grand-père maternel, David Elie, qui nous a quittés le 14 août dernier, mais dont nous garderons toujours l'image d'un authentique bon vivant …