Les vacances sont bel et bien terminées, la rentrée plus qu'entamée et vous êtes probablement déjà cre-vés… A tous ceux qui ont le sentiment que ces instants de farniente sont fort lointains et déjà stockés dans la boîte à archives, le site 750g vous propose une piqûre de rappel. Souvenez-vous, ces petites salades que vous dégustiez au bord de la calanque, ces grillades avec LA sauce maison qui change tout ou encore ces spécialités grecques ou mexicaines qui vous ont tant enchantées…Postez une recette de cuisine de vacances sur votre blog et rendez-vous sur le site de 750g pour découvrir toutes les modalités de ce chouette concours. Surtout que le jeu en vaut la chandelle : le gagnant se verra proposer un cours de cuisine à 4 mains avec Laurence Salomon et Laurent Trochain et sa recette -quelque peu revisitée- sera mise à la carte du restaurant étoilé de ce dernier (dans lequel vous serez d'ailleurs invité(e) avec un accompagnant). Les autres recettes récompensées gagneront un livre de Laurence Salomon ou un tablier et une manique à l'effigie du film « le goût de la vie »... Bon, ben c'est pas tout ça, mais moi j'ai une recette mexicaine à préparer. A bientôt et soyez nombreux(ses) à participer !!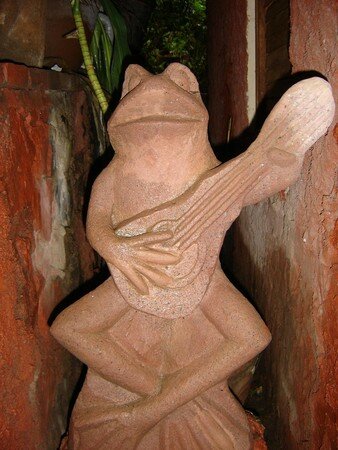 Quite amusing that the statue in front of my hotel bedroom in Mexico was actually a frog !
Statue de grenouille devant ma chambre d'hôtel au Mexique. Rigolo, non ?
F
or my english-speaking friends, the post above is about a recipe contest organized by "750g" website. The objective is to post about your favorite holiday recipe. It can be sweet or savory, an appetizer, main dish, snack, breakfast, dessert, well, whatever you want as long as it is linked to a holiday souvenir. But if you are not fluent in french, alas, you can not take part in the contest. So, I would just like all of you and in particular, Susan, Dianne, Robin, Cynthia, Kevin, Rosa, Kimberly, David, Chris, Johanna, Corey and Deborah, to post about your favorite holiday recipe (only if you want to and have time, of course !!). Well, now I have to go back to my kitchen, I have a tex-mex recipe to think about !!