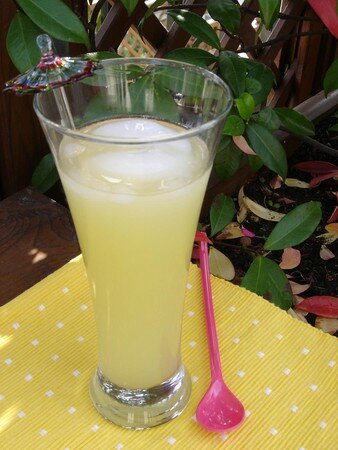 My friend Robin is in Paris, yeah !…Now this is a nice virtual friendship that has become a real one. We met "for real" last year in NYC for a memorable picnic in Central Park. Last week, she did make the trip to Paris. Meanwhile, we both have created our blogs. So, last tuesday I took her to my fav' part of Paris : the Aligre Market and its neighborhood. She wanted to see all the places I had mentionned on my blog in a specific post about "my off the beaten path Paris".
I am sure you are thinking "OK, nice story, but what does it have to do with lemonade ???". Well, that day, after having pounced on Moisan pastries, gotten drunk at "Le Baron Rouge" wine bar, I took her to "le Pause Café Bastille" where her travelling companion Chris ordered a lemonade.
Robin : "Mmmm, this lemonade is a bit too tart for me"
Me : "Tart ??? What do you mean ? Tart, like in « apple tart » ???"
Robin, laughing out loud : "hahaha ! yes, it is spelt the same way, but it also means « sour »!!"
Me : "Ahhh, OK, one learns everyday…"
This is how this funny misunderstanding made me want to share my "non-tart" lemonade recipe with you…
Mon amie Robin est à Paris… En voilà une jolie histoire d'amitié virtuelle devenue bien réelle : Robin et moi avons amicalement « flashé » l'une sur l'autre dans un forum anglophone de voyageurs. Nous nous sommes rencontrées « pour de vrai » l'an dernier lors d'un pique-nique mémorable à Central Park, New York et cette année, c'est elle qui a fait le déplacement. Entre-temps, nous avons toutes les deux créé nos blogs. Mardi dernier donc, je lui ai fait visiter mon quartier parisien préféré : le marché d'Aligre et ses alentours : elle voulait voir tous les endroits évoqués dans l'un des mes billets sur ce quartier pittoresque.
Bon, mais quel rapport avec la limonade, me direz-vous ? J'y viens, j'y viens, patience…Après nous être goinfrées de viennoiseries à la boulangerie Moisan, puis saoulées au Bar à vin « le Baron Rouge », je l'ai emmenée déjeuner au Pause-Café Bastille où son compagnon de voyage Chris, a commandé une citronnade.
Robin, en anglais : "Mmmm, this lemonade is a bit too tart for me"
Moi : "Tart ??? What do you mean ? Tart, like in « apple tart » ???"
Robin, morte de rire : "hahaha ! yes, it is spelt the same way, but it also means « sour »!!"
Moi : "Ahhh, OK, one learns everyday…" *
Cette petite discussion m'a donc donné envie de vous faire partager ma recette de la citronnade, garantie « pas tart » du tout !! Mon petit secret : une touche de jus d'orange et d'eau de fleurs d'oranger !
* = Robin : "Mmm, cette citronnade est un peu trop « tart » à mon goût ». Moi : « Tart ? tu veux dire, « tart » comme dans « Tarte aux Pommes » ???. Robin, morte de rire : « Tart » en anglais veut aussi dire « acide » !! Moi : « Aaaah, d'accord, on en apprend tous les jours !! ».

My Home-made Lemonade
For about 4 cups :
3 3/4 cups mineral water
The juice of 6 limes
The juice of 1 lemon
The juice of half an orange
1 tbsp orange blossom water
3 tbsp granulated sugar
Pour the water in a sauce pan and add the sugar. Heat over low heat until sugar is dissolved. Let cool at room temperature for 5 minutes.
In an empty bottle of plastic, pour the juice of the lemons (limes and regular lemon) and of the orange, using a funnel. Add the "sirupy » water. Carefully close the bottle with its lid, and mix well. Add the orange blossom and mix again. Taste and add water or sugar according to your taste.
Refrigerate and serve in a nice carafe with some ice cubes (not too many as to not dissolve the taste).
My tip : in order to obtain as many juice as possible from the limes, "massage them", rolling them strongly on the working surface, before cutting and squeezing them.
Citronnade Maison
Pour un peu plus d'1 litre (4 personnes) :
90 cl d'eau minérale
Le jus de 6 citrons verts
Le jus de 1 citron jaune
Le jus d'une demie orange à jus
1 CS d'eau de fleurs d'orangers
3 CS de sucre en poudre
Verser l'eau et le sucre dans une casserole. Faire dissoudre le sucre dans l'eau à basse température. Laisser refroidir 5 minutes.
Dans une bouteille en plastique vide, verser le jus des citrons jaune et verts et de la demie orange, à l'aide d'un entonnoir. Verser l'eau sucrée, bien mélanger après avoir rebouché la bouteille. Ajouter la CS d'eau de fleurs d'orangers. Bien mélanger à nouveau. Goûter et rectifier la quantité d'eau et de sucre selon le degré d'acidité que vous souhaitez.
Conserver au frais et servir dans une jolie carafe avec quelques glaçons (pas trop pour ne pas diluer le goût).
Astuce : pour obtenir le maximum de jus de vos citrons verts, il faut bien les masser avant de les couper et les presser.