As said in a previous post, the Eastern part of Paris is still little known by tourists, but it has gotten better since a couple of years. The Canal Saint Martin area is, like the Aligre Market area, a residential neighborhhod, full of "bobos" and an interesting mix of ethnic communities. I enjoy both of them very much…My husband's pharmacy is close to the Canal, this explains why I am familiar with it.
If you go there, you might feel like you had seen it before : well, one of the bridges upon the Canal is featured in the movie "Amélie" (she throws stones on the water from the bridge).
Historically, The Canal was first imagined by Louis XIV, but the works only started under the reign of Napoleon the Ist. In the early 70's the Canal was threatened of destruction in order to make a highway but the then minister Of Culture André Malraux was opposed to its destruction as well as the people living around the Canal (the "riverains" in french).
When my friends Robin and Chris were in Paris last week, we spent a full day there. We first met at metro "Louis Blanc", took an expresso on a terrace and then lead our way to "rue Louis Blanc" towards the Quai de Valmy.
This is a really enjoyable promenade, you just have to walk along the canal and you will see the Canal's nine locks, beautiful trees, lovely shadowed "squares" (tiny parks), iron footbridges, 2 swing bridges and some trendy boutiques and restaurants.
The barges and the locks : The "bateaux-mouches" on the Seine are worl famous, but have you heard about the barges on the Canal Saint Martin ? Well, I have been told that the cruise is way too long (2 hrs ½) and is a real exercise of patience, but if you feel in a lazy and slow mood, you could probably enjoy it .More info here .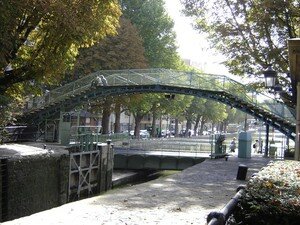 3 iron footbridges and 2 swing bridges
One of the trendy cafés and restaurants along the Canal.The name of that café refers to a Marcel Carné's movie called "Hotel du Nord" (1938) in which a French actress, Arletty, pronounces a famous sentence, from one of the Canal's bridges and with a view on "Hotel Du Nord" on her back : "Atmosphère, atmosphère, est-ce que j'ai une gueule d'atmosphère ?" (atmosphere, atmosphere, do I look like an atmosphere?" ). Actually, the canal and its surroundings were entirely reconstructed on set , but as you can see on the picture above, the Hotel du Nord still exists "for real" but is now "only" a restaurant-bar.
Atmosphère Café : 49 rue Lucien Sampaix, 75010 Paris. Tél : 01 40 38 09 21.
Hôtel du Nord (bar/restaurant) : 102 quai de jemmapes, 75010 Paris. Tél : 01 40 40 78 78
window of the bakery "du pain et des idées"
An excellent bakery : Du Pain et des Idées : a traditionnal bakery, with an old style baker, Christophe Vasseur. No cakes there, but an excellent bread and great viennoiseries like white peach "chausson", or chocolate/banana pastry, all made with fresh fruits. He is one of the few bakers who still make their own yeast to leaven their breads.
Du Pain et des idées : 34 rue Yves Toudic, 75010 Paris. Tél : 01 42 40 44 52
Quirky Boutiques
"Antoine et Lili" is an icon there, as well as Stella Cadente (a fashion designer, beautiful and classy clothes, very expensive). A&L is a great place to find amusing gifts fro your friends (if they like flashy colours).Stella Cadente is especially for you if you like lace, plums, pearls,…very feminine fashion.
Antoine et Lili : 95, quai de valmy 75010 Tél : boutique 01 40 37 41 55
Stella Cadente : 93 quai de Valmy, 75010 Paris. tél : 01 42 09 28 00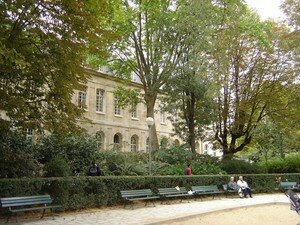 Square Villemin
A nice square that used to be a convent (yes, with nuns) and later, a military hospital. The convent was founded in the 17th century by Marie of Medicis. It was supposed to be destroyed in the 70's to build condos, but once again the inhabitants of the 10th strongly protested against the real estate project and saved the convent and its park !!
Square Villemin : 4-6 rue des Récollets, 75010 Paris.

"le verre volé" wine bar
Our lunch break
With Chris and Robin, we are already like an old couple (I know, we are three, but I really can't use the expression "menage à trois", can I ?) and we have our little habits : first a wine bar, then lunch in a restaurant.
We went to "Le Verre Volé" wine bar, took a good glass of wine with a small cheese platter, then had lunch at "Et dans mon coeur il y a" ("and in my heart there is…" : don't you think that name is amazing, specially for a restaurant ?) : a beautifully decorated restaurant with cheap menus for lunch (I heard it is much more expensive in the evening).

"Et dans mon coeur il y a..." restaurant

We chose the 16 euros formula, consisting of a main dish, a dessert and a drink (soda, water or a glass of wine). I had a duck parmentier (duck topped with potato purée) served in a beautiful staub plate, and for dessert a pineapple carpaccio that was "caramelized" on top, just like a crème brulée. Robin and Chris had a cod brandade and a fondant chocolate cake. Service was prompt and smiling. The waiters were "ugly" (just a private code between Robin and I to mean that actually they were the total opposite of "ugly", lol !!).
Le verre Volé : 67 rue de Lancry, 75010 Paris, tél : 01 48 03 17 34
Et dans mon coeur il y a : 56 rue de Lancryt, 75010 Paris, tél : 01 42 38 07 37
Sorry Folks, "Et dans mon coeur..." has closed and is now a Thaï restaurant that I would not recommend since I had there my worst thaï lunch with bad service.
Other restaurants in the area, with good reviews :
Chez Prune 71, Quai de Valmy 75010 Paris Tél: 01 42 41 30 47
La Cantine de Quentin : 52 rue Bichat, 75010 Paris, tél : 01 42 02 40 32

Did not have time to visit but worth seeing :
Hopital Saint Louis and its Henri IV courtyard.
Please feel free to read my friend Robin's posts about our day together at the Canal Saint Martin area :
1- A Stroll around Canal Saint Martin
2- Our tour continues