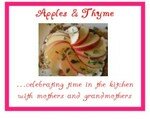 Among all my sweet recipes, this one has a privileged place in my heart, it is the one I cherish the most : this recipe has been in my family for more than 3 generations (and 2 different countries), it is an heirloom handed down from mothers to daughters. And I am very proud to say that my daughter has promised me to share this recipe with her descendants; Phew, what a relief, I feel I have done my homework!
Did my grandmother create it ? I don't know, but one thing is certain: I have never seen it in any other family.
Enough secrecy now, the recipe I am talking about is a chocolate cake. But of course, not an ordinary chocolate cake: one made with tea-biscuits!
It is quite bewildering to see how those ugly, charmless and above all, tough biscuits can be transformed into the most scrumptious, almost indecent fudgy chocolate cake! Fascinating, totally fascinating…
We make this chocolate cake for all the family's birthdays (yes, all, children, parents, grandparents, cousins,…) so that makes about 25 times a year ! Do we get bored? No-no-no! Did we ask permission or only their opinion of our husbands before imposing this tradition: are you kiddding?
Neddless to say that the only time I dared making another birthday cake (which I was quite proud of, actually), I got some bitter comments from both my mother and grandmother: "Did you lose our family recipe? " (translation: did you lose your mind ?), "where are my glasses, I can't see Our cake" (translation : I'd rather be blind rather than being insulted like this).
Oh, well, I guess everyone experiences family pressure…I can't complain, this one is not too bad…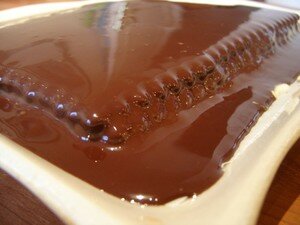 Tea-Biscuit Chocolate Cake
For a large rectangular birthday cake (serves 12)
To be made one day ahead of time
48 square tea biscuits
2 cups expresso coffee (room temperature)
120g (4.2 oz) granulated sugar
120g (4.2 oz) unsalted butter, at room temperature, until "soft"
4 eggs, at room temperature
200g (7 oz) dark chocolate (mine is baking chocolate from Lindt)
25cl (1 cup) liquid whipping cream
1 tbsp grand marnier (optional)
In a mixing bowl, mix egg yolks and sugar until pale yellow. Then add "soft" butter.
Mix well, using a whisk (or an electric mixer if you find it easier).
Whip the egg whites until stiff. Combine them carefully with the "buttery" mixture until smooth.
Cover a large rectangular plate with parchment paper.
Pour the coffee in a soup plate (1 cup first, and when empty, the second cup).
Add grand marnier in the coffee plate if desired. Soak 12 teabiscuits in the coffee,one by one, and place them side by side, in a single layer, making a rectangular shape (3 biscuits * 4 biscuits)(on the pictures I have made a smaller one : 3*3 biscuits).Beware, if the coffee is hot, the biscuits will collapse.
Cover with a third of the mixture. Repeat with the other biscuits 3 times (2 more layers of 12 bicuits each, each covered with a third of the mixture, but the 4th layer (the top layer) must not be covered with cream, it will be covered with melted chocolate).
Melt chocolate and liquid cream. I do it in the Microwave oven, 2 or 3 minutes on medium power. You can use a double boiler if you prefer.
Cover the cake (top and sides) with the melted chocolate cream. Do not worry if the chocolate spreads everywhere in the plate : after one night in the fridge, the chocolate will be more "solid" and you will be able to cut the sides properly.
Let stand one hour at room temperature then in the fridge for the night.
To be served cold, with Champagne (it's a birthday cake, after all!).
Pour un grand gâteau (4 biscuits de large x 3 biscuits de long), 12 personnes :
48 Petits Brun Extra (paquet bleu et argent, ce sont les meilleurs)
2 grosses tasses de café fort à peine tiède
120g de sucre en poudre
120g de beurre « pommade »
4 œufs à température ambiante
200g de chocolat noir amer
25cl de crème liquide
1 CS de grand-marnier
Séparer les blancs des jaunes d'œufs. Dans un saladier, mélanger les jaunes d'œufs et le sucre jusqu'à ce que le mélange blanchisse. Ajoutez alors le beurre pommade.
Bien mélanger avec un fouet ou un batteur électrique. Montez les blancs en neige ferme.
Mélanger les blancs à l'appareil précédent, avec précaution.
Recouvrez un grand plat rectangulaire de papier sulfurisé ou cuisson.
Versez la moitié du café tiède dans une assiette creuse. Ajoutez le grand-marnier si vous le souhaitez. Trempez 12 petits bruns très rapidement dans le café, un par un, et disposez-les à plat dans le plat rectangulaire, côte à côte. Vous formez un rectangle de 4 biscuits de long sur 3 biscuits de large (sur la photo, j'ai fait un gâteau carré de 3 x 3 biscuits).
Recouvrez cette première couche de biscuits d'un tiers du mélange œufs/beurre.
Recommencez l'opération pour les 2 couches suivantes.Disposez une 4ème couche de biscuits trempés, mais ne les recouvrez pas de crème.
Faite fondre le chocolat en morceaux avec la crème liquide (au micro-onde ou au bain-marie).
Recouvrez la dernière couche de biscuits de ce chocolat fondu (le dessus et les côtés).
Ne vous inquiétez pas si le chocolat se disperse dans le plat.
Laissez à température ambiante pendant une heure puis une nuit au frigo.
Le lendemain, coupez les côtés du gâteau afin de bien faire apparaître les différentes couches.
Décorez selon votre fantaisie.