Some years ago, no self respecting housewife would have dared serving a soup to her guests. That would have clearly been a "faux-pas" and her friends would have thought of a total lack of respect. Yes, soup was too rustic a dish to cross the family circle in the strict sense.
However, these days, there is not a single trendy restaurant which does not feature a soup, velouté or crème, hot, cold or even frozen on its menu ! Some restaurants actually only serve soups !!
Chidhood soups, welcome back !! But do not forget ze little creative touch that will be greatly appreciated…
Il y a encore peu de temps, nulle maîtresse de maison qui se respecte n'aurait osé servir une soupe à ses invités. Cela aurait été vu d'un mauvais œil par ses convives qui auraient pensé à un manque de considération flagrant. « elle nous prend pour des sauvages ou quoi ?? ». Aujourd'hui, pas un restaurant branché ne manque de proposer qui son velouté, qui sa crème, du chaud, du froid et même du glacé !! Alors, oui et ouf, c'est le grand come-back des soupes de notre enfance (après tout, c'est la mode du régressif, non ?), et on n'hésite plus à les servir lors de nos dîners les plus fins…Mais avec une petite pointe de créativité…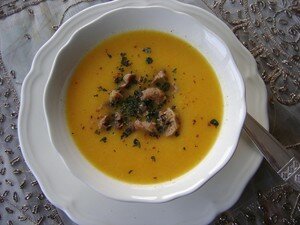 Aniseed Carrot Soup with Chestnuts
For 4 servings
1.4 lb carrots, in big chunks
2 large potatoes, in big chunks
1 onion, minced
2 ½ cups chicken broth
5 to 6 star anises
2 handful cooked chestnuts (available in jars or vacuum packed)
1 tbsp fresh coriander (cilantro), chopped
olive oil
Salt and pepper
Make the Chicken broth.
In a large sauce pan, sweat the sliced onion over medium heat with one tablespoon olive oil and one pinch of salt. Cook until onions are transparent but not do not let them get golden. Add the carrots and potatoes, cook them, stirring constantly, for 3 minutes. Cover the vegetables with the chicken broth. Bring to a simmering point and let simmer until potatoes and carrots are cooked (20 to 30 minutess, check with a knife, it has to cross them easily).
In a pepper ground or a small food processor, reduce the star anises into powder. Stir 1 teaspoon anise powder in the "soup".
Using a dipper, carefully transfer the vegetables and broth in a blender. Blend and add the remaining chicken broth according to the consistency you like. Check the seasoning.
Just before serving, re-heat the soup carefully in a large sauce pan (do not bring to a boil).
Meanwhile, sautée the chestnuts in a skillet with 1 tbsp olive oil. Add the chopped cilantro. Reserve.
In each soup plate, pour some soup, arrange the sautéed chestnuts in the center and a pinch of star anise powder.Serve a once.
Optional : Sprinkle 1 tsp lime juice and zest on top of each plate just before serving. Yummy.
Soupe de Carottes anisées aux Châtaignes
Pour 4 personnes
600g de carottes, coupées en gros tronçons
2 grosses pommes de terre, coupées en gros tronçons
1 oignon émincé
50 cl de bouillon de poulet
5 à 6 étoiles de badiane
2 poignées de châtaignes cuites (en bocal, cela fait très bien l'affaire)
1 CS de coriandre fraîche hachée
Huile d'olive
Sel, poivre
Préparez le bouillon de poulet.
Dans un grand faitout, faites suer les oignons sur feu moyen. Ajouter les carottes et les pommes de terre et faites revenir pendant 2 à 3 minutes. Recouvrez le tout de bouillon. Amenez et maintenez à frémissement jusqu'à ce que les légumes soient cuits (environ 20 à 30 minutes, vérifiez avec la lame d'un couteau).
Dans un moulin à épices ou un petit robot, réduisez les étoiles de badiane en poudre. Saupoudrez une cc de poudre de badiane dans la « soupe ».
A l'aide d'une louche, transférez la soupe dans un blender. Mixez bien et rajoutez progressivement le reste du bouillon jusqu'à la consistance désirée.
Rectifiez l'assaisonnement.
Juste avant de servir, réchauffez la soupe dans le faitout, sans la faire bouillir. Pendant ce temps, faites sauter les châtaignes dans une poêle avec une CS d'huile d'olive. Ajoutez la coriandre hachée, faites revenir quelques instants.
Pour servir, versez la soupe dans chaque assiette creuse, disposez les châtaignes au centre et une pincée de poudre de badiane.
Facultatif : Vous pouvez également arroser d'un filet de jus de citron vert et d'une pincée de zestes. Délicieux.