Verrine Rose pour le "Pink Ribbon Day",
A Pink Recipe for "Pink Ribbon Day"
As I have dreadfully missed all french-speaking events organized to support Breast Cancer Research, I have an opportunity to make it up today thanks to the australian foodblog "ecupcake". The "mission" is to make a pink recipe to coincide with Pink Ribbon Day, which will take place in Australia on october 22nd.
I think I can say, unless I am mistaken, that everyone knows at least one person who has suffered or is suffering from this terrible illness. What is particularly sad is that Breast Cancer seems to become more common in younger women (I know 2 ladies who are not even 40 years old ).
This recipe is my tiny contribution to wish them the strenght and the courage to fight for their recovery.
Ayant honteusement raté les événements gourmands francophones pour aider la Recherche contre le Cancer du Sein, je tente aujourd'hui de me rattraper comme je peux grâce au blog australien « ecupcake » qui nous demande de réaliser une recette rose en l'honneur du Pink Ribbon Day qui aura lieu le 22 octobre dans son pays. Je crois pouvoir dire sans me tromper que chacun(e) d'entre nous connaît une personne de son entourage ou de son voisinage atteinte par cette maladie et ce qui est dramatique , c'est que la moyenne d'âge de ces femmes est de plus en plus basse. Personnellement, les jeunes femmes que je connais qui ont subi ou subissent encore cette épreuve ont moins de 40 ans !
Cette recette est ma très maigre contribution pour leur souhaiter toute la force et le courage nécessaires à leur guérison.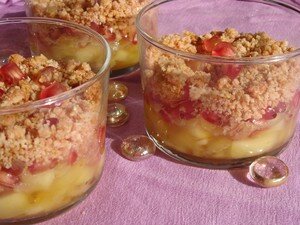 "Compoted" Apples in Quince Jelly and Calvados, Pomegranates and Pink Crumble
For 4 servings
Compoted apples :
1 ½ apple, peeled and diced
1tbsp Calvados (apple liqueur)
4 tbsp quince jelly
Pomegranates :
1 pomegranate, cut and de-seeded
1 tbsp orange blosssom water
Pink Crumble :
1 ¾ oz « biscuits roses de Reims » powdered in a food processor (for non-french cooks, if you cannot find them, substitute with any pink biscuit you can find in your country)
1 ¾ oz almond powder
1 ounce or 1/8 cup unsalted butter at room temperature, cut in dices
Preheat oven 350°F.
Sautee the apple dices in a skillet over medium heat. Add a tbsp water and Calvados, cover and let cook until the apples are "melty". Then add the quince jelly, carefully mix and reserve at room temperature.
In a bowl, arrange the pomegranated seeds, add 1 tbsp orange blossom water and mix.
To make the pink crumble, assemble in a large mixing bowl : biscuit powder, almonds powder and butter. Using your fingertips, mix them until it resembles coarse breadcrumbs. Arrange this coarse powder in a tart pan, then bake for 3 to 5 minutes in the oven. Do not let it get too golden, as it will loose its nice pink color. Remove from the oven and let cool.
When all ingredients are a room temperature, you can fill each glasslike this : first at the bottom, arrange 3 tbsp apples, top with pomegranates and finally cover with the pink crumble. Refrigerate or serve at room temperature, just as you prefer.
This recipe has been submitted for october 2007 SHF event about "drunken apples"

Pommes Compotées en Gelée de Coingset Calvados, Grenades et Crumble Rose
Pour 4 personnes
Pommes en gelée de coings :
1 pomme et demi, pelée et coupée en dés
1 CS Calvados
4 Cs (généreuses) de gelée de coing
Grenades :
1 grenade, pelée et égrenée
1 CS d'eau de fleur d'oranger
Crumble Rose :
50g de biscuits roses de Reims réduits en poudre
50g de poudre d'amandes
30g de beurre doux à température ambiante
Préchauffer le four à 180°C.
Faites revenir les dés de pommes dans une poêle sur feux moyen. Ajouter une CS d'eau, le Calvados et recouvrir. Quand les pommes sont fondantes, ajouter la gelée de coings et mélanger. Réserver hors du feu et laisser refroidir.
Mettez les grains de grenades dans un bol et mélanger avec l'eau de fleur d'oranger. Réserver.
Dans un saladier, mélanger avec les doigts les biscuits rose en poudre, la poudre d'amande et le beurre. Cela doit ressembler à un sable grossier. Disposer cette poudre rose dans un moule à tarte, bien à plat et mettre au four à 180°C pendant 3 à 5 mn (attention, elle ne doit pas trop brunir afin de conserver la couleur rose). Sortir du four et réserver.
Assembler les verrines quand tous les ingrédients sont à température ambiante : Au fond, disposer les pommes compotées, recouvrir des grenades et terminer par une couche de crumble rose. Réfrigérer ou servir à température ambiante, selon votre préférence.