En français, en rouge et plus bas !
I hesitated for a long time whether to write this or not…Here was my dilemma : .the "good girl" in me wanted to share this great moment with you. However the "little devil" in me kept telling me "are you insane ? If you spread the word, you won't be able to book another class for months!!!". The fact that you are reading this shows what side won ! Sigh…I am too good to you…
OK, let's start : upon your arrival, you are greeted by a warm smile …and a good glass of white wine (and it is only 11 am!). A nice way to put everyone at ease.
Then the class goes on in a very casual and laid-back way, and in a funny "frenglish". There were 4 of us that day, 2 Parisiennes, 1 american lady living in Paris and a german (or dutch?) man living in London. A significant part of the class is left to last minute improvisations from the Chef, according to his personal inspirations and what he has available. Overall, we stayed there from 11 am to 4 pm, but time seemed to fly by. Probably because Daniel kept us busy most of the time, peeling, chopping, mixing, talking,…We managed to prepare no less than 6 dishes ! Some of which we snacked on the workstation while making them, and the others eaten in a more formal way, seated around a table.
What about the Master of Ceremony himself ? Well, he is simply adorable and extremely generous. We could feel that he loved sharing his recipes with us. Most surprising of all : he remained humble despite all the media coverage about him !
We learnt many tips, we laughed a lot (yes, the boy has a good sense of humor) and, most importantly, that was a feast for our palates!!
Next time I have guests at home, I will make at least two of his recipes : men will envy my husband, women will despise me, and me, I will be in heaven, hee hee !!
Well, in summary, I will just say "go, run, fly to take a cooking class with Daniel Rose, I can guarantee you will enjoy yourself ! Arm yourself with a lot of patience as the classes sell up quickly and well in advance.
Je me suis longuement tâtée avant d'écrire ce billet. En effet, gros dilemme entre mon côté « brave fille qui veut faire profiter ses amis bloggeurs d'un moment génial » et mon côté sombre qui me répétait à tue-tête : « non, mais ça va pas la tête ?? Si tu propages l'info, tu vas galérer pour trouver une dispo pour y retourner !!! » Vous êtes en train de lire ce billet, vous avez donc compris quel côté a finalement gagné. Aaaaah (gros soupir), ma bonté me perdra…
Allez, je vous raconte : lorsque l'on arrive, on est accueillie par un grand sourire et…un verre de vin blanc ! Petite mise en condition fort agréable dès 11 heures du matin !!
Puis le cours se déroule de façon très informelle et décontractée dans un franglais assez comique : nous étions 4 ce jour-là, 2 françaises, 1 américaine vivant à Paris et 1 allemand (ou hollandais peut-être) vivant à Londres. Une part assez importante du cours est laissée à l'improvisation selon les inspirations de dernière minute de Daniel Rose. Au total, nous sommes restés de 11h à 16h et il semblait que le temps s'était arrêté. Il faut dire que nous n'avons pas chômé, loin s'en faut : nous avons réalisé pas moins de 6 recettes et avons dégusté certaines d'entre elles sur le pouce pendant le cours et les autres de manière plus formelle, assis à table.
Quant au maître des lieux, que dire de lui ?: il est tout bonnement adorable, et extrêmement généreux. On sent qu'il aime partager et qu'il ne compte pas. Ce qui est le plus épatant, c'est qu'il est resté d'une simplicité désarmante malgré sa couverture médiatique d'un autre monde. Nous avons appris plein d'astuces, avons également bien ri (car il a de l'humour aussi) et surtout, nous nous sommes ré-ga-lés !!! A mon prochain dîner, je réaliserai au moins 2 des recettes apprises au cours et alors là, je vais carrément bluffer nos amis : les hommes vont encore dire à mon mari « quelle chance tu as ! » et les femmes vont me maudire…Hihihi.
Tout cela pour dire, armez-vous de patience (délais d'inscription très longs), mais allez-y, cela vaut vraiment le coup !!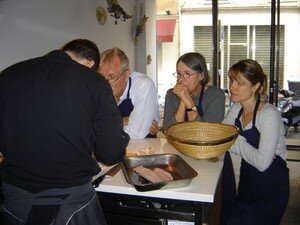 Listening very carefully...Une écoute attentive...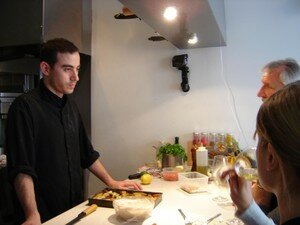 The Chef shows how to do. Démonstration du Chef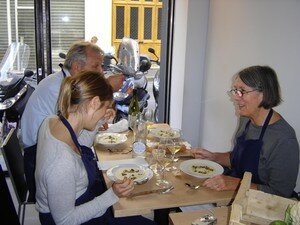 After the effort, time to eat ! Après l'éffort, le réconfort !

Cauliflower Soup, sautéed hazelnuts with chervil and honey.
Velouté de choux-fleurs sans crème, noisettes au cerfeuil et au miel de montagne
Marinated mackerel, poached egg, girolles mushrooms, and granny apple, pomegranates,
chorizo and dried apricot salad, mint and cilantro dressing.
Maquereau mariné, oeuf poché, girolles, petite salade de grenades, radis, chorizo
et abricots secs, sauce menthe et coriandre.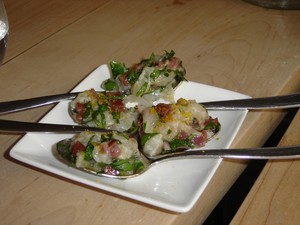 Sea Bass tartare/Tartare de Bar

Sea Bass in a saffroned broth, potato dices, and sundried tomatoes paste/
Bar dans un bouillon au safran, pommes de terre et pâte de tomates séchées.
Pear, Vanilla and Anise Clafoutis, chesnuts and mascarpone cream.
Clafoutis poires, vanille et anis à la Robuchon, quenelle de crème de châtaignes
Not photographed : A "to die for" Amuse-bouche with cauliflower and langoustines.
Non photographié : Un amusebouche avec des langoustines juste poêlées et du chou-fleur cru.

Practical Information/Infos pratiques :
Spring
28 rue de la Tour d'Auvergne
75009 Paris
tel : +33 (0)1 45 96 05 72
Website : http://www.springparis.blogspot.com
Cooking classes on Saturdays.
Call on weekdays from 6 pm to 7.30 pm.
Prices vary according to the number of "guests" (minimum 110 euros/person)
Cours de cuisine le Samedi.
Appelez Daniel en semaine entre 18h et 19h30.
Prix variable selon le nombre de convives (min. 110 euros/personne)