You don't like Cauliflowers? Neither do I!! And this is precisely what makes this post interesting (well, I hope so). I had never tasted cauliflower soup before, and last month I found myself twice in situations where I could not skip it ! The first time, it was during my cooking class with Daniel Rose. As I am a well-behaved person (Thanks Mum and Dad), I courageously decided to taste the soup we had all made together and…wow, a pure delight, it was absolutely fantastic ! This impression was confirmed some days later during a birthday dinner at the Bistrot Niel, in the 17th arr.(numerous guests = a unique menu for all and cauliflower soup was on the list) : Again, how yummy it was ! One feel the taste but not the nauseous smell of the white vegetable, and the flavour is really subtle. Moreover, the texture is creamy (no cream used, though). Ok, you've got it, now I am totally addicted !
Vous n'aimez pas les choux-fleurs ? Moi non plus !! Et c'est justement ce qui rend ce billet intéressant (enfin, je l'espère !). Je n'avais jamais goûté de soupe de chou-fleur, puis le mois dernier, par deux fois j'ai été plus ou moins « obligée » de me lancer. La première fois, lors de mon cours de cuisine avec Daniel Rose : étant bien éduquée, j'ai porté le potage à mes lèvres, et sans faire de grimaces, s'il vous plait ! Et alors là, la Ré-vé-la-tion ! Un pur délice ! Impression confirmée quelques jours plus tard lors d'un dîner surprise organisé pour l'anniversaire de mon père au Bistrot Niel (dans le 17ème): grand nombre d'invités = menu imposé dont un velouté de chou-fleur. Là encore, je n'en suis pas revenue de la délicatesse de cette soupe : on sent le goût du légume, mais l'odeur assez « spéciale » (pour parler poliment) s'efface complètement au profit de la douceur du chou. La texture, très veloutée malgré l'absence de crème, est extrêmement agréable. Et puis, une soupe blanche en hiver, c'est assez classe, je trouve...Voilà, vous avez tout compris, maintenant, je suis accro !!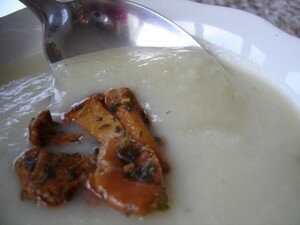 Cauliflower Soup with chanterelles mushrooms and white truffle oil
For 4 servings
1 large cauliflower, florets cut into 3/8'' in.thick slices
1 big onion, minced
2 ½ cups chicken broth
2 handfuls chanterelles mushrooms, cleaned
1 tbsp fresh coriander/cilantro
olive oil
White truffle oil
Salt and pepper
Make the Chicken broth.
In a large sauce pan, sweat the sliced onion over medium heat with one tablespoon olive oil and one pinch of salt. Cook until onions are transparent but not do not let them get golden. Add the cauliflowers, cook them, stirring constantly, for 3 minutes. Cover the vegetables with the chicken broth. Bring to a simmering point and let simmer until cauliflowers are cooked (20 to 30 minutes).
Using a dipper, carefully transfer the vegetables and broth in a blender. Blend and add the remaining chicken broth according to the consistency you like. Check the seasoning.
Just before serving, re-heat the soup carefully in a large sauce pan (do not bring to a boil).
Meanwhile, sautée the girolles in a skillet with 1 tbsp olive oil. Add the chopped cilantro. Reserve.
In each soup plate, pour some soup, arrange the sautéed girolles in the center and one teaspoon of white truffle oil. Serve at once.
Soupe de choux-fleurs aux girolles et huile de truffe blanche
Pour 4 personnes
1 gros chou-fleur, dont vous couperez les fleurettes en tranches de 1 cm d'épaisseur
1 gros oignon, émincé
50cl de bouillon de poulet
2 poignées de petites girolles, nettoyées (chapeau brossé, pieds pelés)
1 Cs de Coriandre frais, ciselé
Huile d'olive
Huile de Truffe Blanche
Sel et Poivre
Préparez le bouillon de poulet.
Dans un grand faitout, faites suer l'oignon émincé sur feu moyen. Quand l'oignon est biien transparent (mais surtout pas doré), ajouter les choux-fleurs et faites revenir pendant 2 à 3 minutes. Recouvrez le tout de bouillon. Amenez et maintenez à frémissement jusqu'à ce que les légumes soient cuits (environ 20 à 30 minutes).
A l'aide d'une louche, transférez la soupe dans un blender. Mixez bien et rajoutez progressivement le reste du bouillon jusqu'à la consistance désirée.
Rectifiez l'assaisonnement.
Juste avant de servir, réchauffez la soupe dans le faitout, sans la faire bouillir. Pendant ce temps, faites sauter les girolles dans une poêle avec une CS d'huile d'olive. Ajoutez la coriandre ciselée, faites revenir quelques instants.
Pour servir, versez la soupe dans chaque assiette creuse, disposez les girolles au centre et une lichette d'huile de truffe blanche.