Sesame-crusted and Seared Tuna Fillets, with Orange-Ginger Sauce
Steaks de Thon mi-cuits en croûtes de sésame et Sauce Orange-Gingembre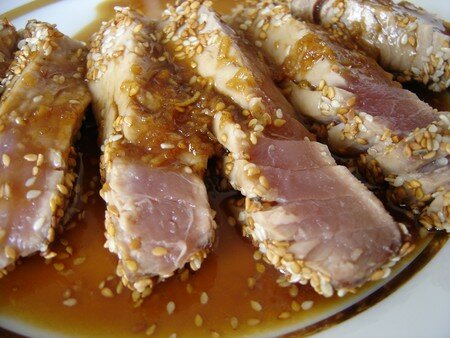 A tasty, healthy and easy recipe, what do you think of that ? Tuna is quite an expensive fish but worth its price, so for those two reasons one has to be very careful about the cooking method in order not to spoil this pricey produce. I particularly recommend to sear the Tuna fillets, in other terms to cook it very quickly in a hot skillet so that the tuna is seared on the outside but not cooked through on the inside. Mmm Yummy. As we say here in France : "Le thon, c'est bon!" (tuna is good), a phrase that has become as famous as your "Where's the beef?". As for the orange/honey/ginger sauce, you will probably be tempted to adopt it for other fish species and you will be right. It tastes great with Cod and Salmon.

Un petit plat riche en saveurs exotiques, bon pour la santé et ultra-simple, cela vous dit ? Le thon est un poisson très goûteux mais attention à la cuisson : il peut très vite être trop cuit et perdre tout son attrait. Pour moi, la meilleure cuisson est un aller-retour rapide dans une poêle bien chaude, afin de laisser son cœur rosé à point. Mmm, un vrai délice. Quant à la sauce sucrée salée, vous verrez que vous serez tentés de l'accommoder avec plein de poissons différents. Je la recommande particulièrement avec le cabillaud et le saumon…
Sesame-crusted and Seared Tuna Fillets, with Orange-Ginger Sauce
You need for 6 servings :
6 Thick Tuna Fillets
8 tablespoons Sesame seeds (I like to mix white and golden seeds)
For the orange/honey/soy sauce :
2 tablespoons liquid honey
8 tablespoons soy sauce
1 cup Orange Juice
4 tablespoons Saké (japanese rice alcohol)
2 tablespoons fresh grated ginger
4 tablespoons olive oil

Make the orange/soy sauce : In a large bowl, combine honey, soy sauce, sake, orange juice, ginger and olive oil. Toss gently. Arrange the Tuna fillets in the marinade during 30 minutes.
In a soup plate, put the sesame seeds (at least two handfuls, you will add sesame seeds little by little according to your needs ). Take a marinated tuna fillet, sprinkle salt over it, then dip it in the soup plate to coat it with the sesame seeds on all sides.Renew the operation with all tuna fillets. Sit in the fridge.
At the last minute (when your guests are enjoying their appetizers), sear the fillets in a hot skillet. As soon as the sesame seeds get golden, turn the fillets. Remove the fillets as soon as they are "just seared on the outside but still pinky in the inside". Lower the heat and add the marinade. Bring to a simmer, and let cook until syrupy. Remove from the heat.
On each plate, arrange one fillet, cut into slices, spoon some sauce on top.
Steaks de Thon mi-cuits en croûtes de sésame et Sauce Orange-Gingembre
Pour 6 personnes :
6 steaks de thon assez épais
8 Cs de graines de Sésame (j'aime bien mélanger des blancs et des dorés)
Pour la sauce Orange/Miel/Gingembre :
2 Cs de miel liquide
8 CS de sauce soja
1 verre de jus d'orange
4 CS de saké
2 CS de gingembre frais râpé
4 CS huile d'olive
Préparer la marinade : mélanger tous les ingrédients de la sauce, dans un grand saladier. Bien mélanger. Ajouter les steaks de thon et remuer avec précaution afin de bien couvrir tous les morceaux de poisson. Laisser mariner 30 minutes.
Au bout de ces 30 minutes, retirer les thons et réserver la marinade. Disposer des graines de sésame dans une assiette creuse. Prendre les filets de thon marinés un par un et les « paner » de tous les côtés avec les graines de sésame.Réserver au frais.
A la dernière minute, quand vos invités en seront à l'entrée, faites sauter les steaks de thon dans une poêle chaude. Aussitôt que les graines de sésame dorent, retourner les steaks et baisser la température. Ajouter la marinade dans la poêle. Amener à frémissement. Retirer les steaks assez rapidement afin qu'ils soient bien rosés à l'intérieur et laisser la sauce cuire jusqu'à ce qu'elle soit sirupeuse.
Dans chaque assiette, servir le steak de thon coupé en lamelles et recouvert de sauce « caramélisée ».
This post is submitted To Sunita for "Think Spice...Think Ginger" event.