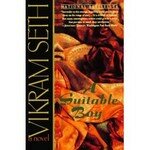 Even though my husband is a great guy, and contrarily to what you -perhaps- have thought while reading my post's title, this recipe is not dedicated to him. In fact, "A suitable boy" is a book I am currently reading and enjoying a lot. It is the story of Lata, a young Indian girl living in Brahmpur (near Calcutta) whose mother, a widow, is obsessed in finding a "suitable boy" for her. But the Novel, wonderfully written by Vikram Seth, is not only about the disobedient young girl and all her tricks to escape her mother's decisions, but is also a gallery of more than 20 funny and picturesque characters. I highly recommend to read this 4-family saga, if you want to have fun, learn many things about the Indian traditions, casts and …gastronomy. Arm yourself with courage; the book has "only" 1212 pages (yikes).
The opening scene is Lata's sister's wedding and the description of the dishes made me crave for Indian Food. I had only one thing in mind: to prepare as soon as possible a good old spicy Curry!! And Voilà!! I am sure that you would have been in the same « Indian state of mind » if you had read names like alu tikki (small spicy potato pancakes), biryani (rice, meat and spices dish), chané ki daal (chickpeas soup), pakora (fritters made with chickpea flour and stuffed with spiced vegetables), samosa (triangular pastry stuffed with spiced vegetables), gajak (sesame-based candy), gulab-jamun (cream cheese balls fried in ghee and coated with syrup), nimbu pani (lemonade), and so on...
Bien que mon époux soit un homme bien sous tous rapports, et contrairement à ce que le titre aurait pu suggérer, mon billet et cette recette ne lui sont pas dédiés. En fait, « Un garçon convenable » est le titre d'un livre de Vikram Seth que je suis en train de lire et dont j'ai souhaité vous parler ici : Lata est une jeune fille de Brahmpur, Inde, dont la mère, veuve, s'est jurée de lui trouver un bon mari. Mais ce roman ne se contente pas d'évoquer les maintes ruses de la jeune fille insoumise pour échapper aux choix de sa mère ; c'est une véritable saga familiale avec pas moins d'une vingtaine de personnages hauts en couleurs et bourrés d'humour. Dépaysement et détente garantis, si vous avez le courage de venir à bout des 1212 pages (glurp).
Le livre s'ouvre sur une scène de mariage, celui de la sœur de Lata, et la description des mets servis lors de la cérémonie m'a tellement alléchée, que je n'avais qu'une idée en tête : nous concocter un bon plat bien épicé comme là-bas ! Si vous aviez lu ces mots, je suis sûre que vous auriez craqué vous aussi : alu tikki (petite crêpe de pommes de terre épicées), biryani (plat à base de riz, viande et épices), chané ki daal (soupe de pois chiche cassés), pakora (beignet de farine de pois chiche fourré aux légumes), samosa (pâté frit en forme de triangle et fourré aux légumes), gajak (sucrerie à base de sésame), gulab-jamun (boulette de fromage blanc frite dans le ghee et trempée dans un sirop de sucre), nimbu pani (citronnade), etc..etc..

Indian Chicken Curry with Coconut Cream

For 4 to 6 servings.
6 chicken breasts, boneless and skinless, cut into large dices
2 tomatoes, peeled , seeded and coarsely cut
1 tsp fennel seeds
1 tsp cardamom seeds
2 star anises
2 medium sized onions, minced
1 tbsp freshly grated ginger
1 tsp powdered red pepper
1 tsp freshly grated nutmeg
2/3 cup water
1 2/3 cup coconut cream
2 tbsp concentrate of tomato
2 tbsp clarified butter (ghee)
the juice of one lime

In a mortar or a spice mill, blend fennel seeds, cardamom and star anises until they are powdered.
Sautée the onions with the clarified butter in a skillet over medium heat.
When onions are a bit golden, add the ginger, the red pepper, the nutmeg and the powdered spices. Mix well until it smells great (and it will, I swear !).
Add the chicken dices and sautée them too until cooked. Finally add the tomatoes.
Pour water and let reduce. Then add the coconut cream and the concentrate of tomato.
Mix well for the sauce to get a nice orange colour. Cook until sauce thickens (about 20 minutes). Season to taste. Serve warm and sprinkle the lime juice at the last minute.
Serve with basmati steamed rice.

Curry Indien de Poulet à la crème de coco

Pour 4 à 6 personnes, tirée de « Cuisine Indienne » chez Maraboutchef.
6 blancs de poulet sans peau, coupés en lamelles assez larges
2 tomates moyennes pelées et concassées
1 cc de graines de fenouil
1 cc de graines de cardamome
2 étoiles de badiane
2 oignons moyens émincés
1 cs de gingembre frais râpé
1 cc de piment en poudre
1 cc de noix de muscade moulue
15 cl d'eau
40cl de crème de coco
2 cs de concentré de tomates
2 cs de beurre clarifié
jus d'un citron vert

Dans un mortier ou un moulin à épices, réduire en poudre les graines de fenouil, de cardamome et les étoiles de badiane.
Faire revenir les oignons émincés dans 2 CS de beurre clarifié, jusqu'à léger brunissement. Ajouter le gingembre, le piment, la muscade râpée et les épices en poudre et mélangez jusqu'à ce que le mélange embaume. Et cela embaume vraiment, croyez-moi sur parole !
Faire revenir les morceaux de poulet dans ce mélange.
Quand les morceaux de poulet sont cuits (blancs), ajouter les tomates.
Puis ajouter l'eau et laisser réduire jusqu'à évaporation complète. Ensuite, mettre la crème de coco et le concentré de tomates. Bien mélanger jusqu'à ce que la sauce aie une belle couleur orangée homogène. Faites un peu épaissir la sauce (environ 20 minutes), goûtez et assaisonnez. Servez très chaud en ajoutant le jus de citron vert à la dernière minute. Accompagnez d'un riz basmati vapeur.