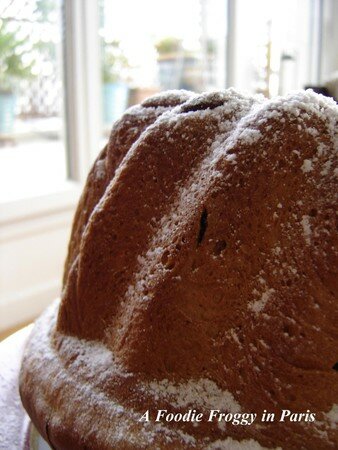 When on travel, I turn into a very naive person. I am the best client for touristy gadgets!! China cereal bowls with one's name on it in Brittany, ugly wooden barometers in Normandy (yes, very useful in Paris!), and so on. So when in Alsace two weeks ago, how could I resist the attraction of the ceramic kougelhopf molds? There were so many of them everywhere, in every color!!
Conclusion: If I had known, I would have thought twice before buying it! My god, what a punishment for me, the non-patient girl!! Let me explain to you : it takes at least 5 hours to make a decent kougelhopf : you have to let the yeast mixed with milk rise for an hour, then when the dough is done, it needs to sit an other hour in a bowl and 2 extra hours in the mold, before baking it 35 to 45 minutes !! And when you think you can finally enjoy your kougelhopf, just warm from the oven, you realize that it is finally much better to wait until it is at room temperature (when warm, it is too soft). To sum up, if you want to enjoy your kougelhopf for an afternoon snack, get up at dawn!!
Please my dear Alsatian friends, forgive my impertinence, it is true that this recipe drove me crazy but, finally, it was worth the time spent. Now that I am psychologically prepared, I think I will make another kougelhopf very soon, and during all those looooooong waiting times, I will cook a good old Alsatian chicken with Riesling !!
En voyage, je deviens d'une naïveté confondante : à moi tous les gadgets à touristes !! En Bretagne, je craque pour les bols-à-céréales-avec-son-prénom-dessus, en Normandie, je fonds devant les baromètres en bois kitschissimes (d'une grande utilité à Paris, comme chacun sait) ! Alors en Alsace, et ben ma foi, avec tous ces moules à kougelhopf qui me faisaient de l'œil, comment vouliez-vous que je résiste ??
Bilan : si j'avions su, j'aurions réfléchi à deux fois avant de l'acheter. Quelle punition, pour qui, comme moi, est loin d'être experte ès patience !! Tenez-vous bien : tout d'abord, avant la toute première utilisation du moule, il faut le beurrer, le faire cuire au four à vide et le laisser refroidir totalement 2 fois de suite (= minimum 2 heures dans la vue). Puis, le levain doit reposer 1 heure, la pâte une heure de plus. Ensuite, on la transfère dans le moule à kougelhopf (re-beurré une 3ème fois soit dit en passant) et on attend qu'elle double de volume, soit 2 heures de plus, soyons folles !! Puis 35 à 45 minutes de cuisson. Et puis, là on se dit, ça y est, je vais le dévorer à la sortie du four, il sera tout chaud, un vrai délice. Détrompez-vous : d'expérience, je peux vous dire que « kougelhopf tout chaud, kouglehopf pâteux ». A température ambiante, c'est bien meilleur. En résumé, si vous souhaitez déguster votre kougelhopf pour le goûter, levez-vous à l'aube !!
Que tous les Alsaciens et Alsaciennes me pardonnent ; ce billet est à prendre au second degré bien évidemment : c'est vrai que je me suis arrachée les cheveux, mais finalement cela valait la peine : quand j'ai vu le résultat, j'étais vraiment ravie (et pas peu fière). Maintenant que je suis psychologiquement préparée, je pense même le refaire rapidement et puis, pendant tous les moments de levée de la pâte, j'aurai le temps de nous mijoter un bon Poulet au Riesling…
Traditional Alsatian Kougelhopf
For a 9 in.diameter kougelhopf mold.
1 lb all purpose flour
7 oz softened unsalted butter
4 oz granulated sugar
¾ oz dry yeast
2 eggs
1 cup milk
1/3 oz salt
3 3/4 raisins
between 12 to 15 whole almonds
Rum (optional)
In a large bowl, mix and stir yeast and half the milk (lukewarm).Cover with 100g flour. Cover the bowl with plastic wrap and allow to rest 1 hour.
Meanwhile, put the raisins in a small bowl filled with warm water (or rum if you prefer).
In the large bowl with yeast /flour/milk, add the remaining milk, eggs, sugar, and salt, then the remaining flour. Mix well with a wooden spoon and knead by hand during 10 minutes or transfer to a food processor and let the machine knead for you on slow speed (just like I did).
Add butter and knead until dough is not sticky anymore.
Stir in drained raisins and continue kneading until dough is homogeneous.
Cover with a plastic film and transfer the bowl to sit one hour in the switched off oven (make sure the oven is not warm at all).
Carefully butter the kougelhopf mold, and arrange the almonds into each indentation in the bottom of the molds. Preheat oven 350°F.
Press on the dough with your hand, and pour it in the buttered mold. Let the dough rise again 2 hours or until doubled in volume (it has to be a bit higher than the mold, see the picture below).
Bake for 35 to 45 minutes. (After 20 minutes, cover the top loosely with foil paper to protect it).
Sprinkle powder sugar on top. Serve at room temperature.
I am bringing that dish for Peabody's Housewarming Party. I am sure she will enjoy this traditionnal recipe from Alsace, France.It symbolizes friendship.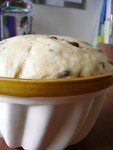 Kougelhopf sucré traditionnel
Pour un moule de 23cm de diamètre
500g de farine
200g de beurre mou
120g de sucre
25g de levure du boulanger
2 œufs
¼ de litre de lait
10g de sel
100g de raisins secs
Entre 12 et 15 amandes entières, non mondées
Rhum (facultatif)
Dans un grand saladier, délayer la levure avec la moitié du lait, tiédi (pas chaud). Recouvrir de 100g de farine, couvrir avec un film plastique et laisser reposer pendant 1 heure. La surface de la farine va craqueler, c'est normal.
Pendant ce temps, faire gonfler les raisins secs dans de l'eau tiède (ou du rhum, si vous préférez).
Après l'heure de repos, ajouter dans le saladier du « levain » le reste de lait, les œufs, le sucre et le sel puis le reste de farine. Bien mélanger avec une cuiller en bois puis travailler avec la main pendant une bonne dizaine de minutes, ou comme moi, transvaser dans le bol d'un robot et mélanger avec le crochet du robot sur vitesse lente.
Ajouter le beurre, et continuer à travailler ou battre la pâte jusqu'à ce qu'elle se décolle des parois. Incorporer les raisins égouttés et malaxer quelques minutes jusqu'à ce que la pâte soit homogène.
Couvrir d'un film plastique ou d'un torchon propre et laisser lever 1 heure dans le four éteint (et pas chaud d'une précédente cuisson, bien sûr).
Beurrer les moules à kougelhopf généreusement et déposer au fond une amande entière par cannelure. Préchauffer le four à 180°C.
Dégazer la pâte en l'écrasant avec le plat de la main puis la verser dans le moule beurré, et laisser lever encore deux heures ou jusqu'à ce qu'elle dépasse le bord du moule (voir la petite photo u peu plus haut).
Faire cuire 35 à 45 minutes en protégeant le dessus avec du papier alu au bout de 20 minutes.
A servir saupoudré de sucre glace.