Tender Potato bread/Pain à la pomme de terre :
Linseeds Six-strand Braided loaf /Pain tressé à six branches aux graines de lin
Onion marmalade and coarse herbs sea salt Focaccia/Focaccia au confit d'oignon et gros sel aux herbes
Poppy seeds dinner rolls/Petits pains aux graines de pavot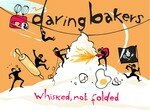 I am a brand new member of the Daring Bakers. When I got registered lat month and received the email announcing the new challenge, I totally panicked ahem- got a bit anxious! Tender Potato Bread! But I had never made bread before!! After all, why would I bother making my own bread: I live in Paris, the city of more than 1,200 great bakeries !! A bread beginner, plus English not being my mother tongue (instructions for bread are not that easy to follow) made this first challenge quite complicated for me. Actually, I did not really get if we had to make all three breads or just one of our choice. As it was my first DB Challenge, I wanted to be faultless and I made all of them. Finally, I am so glad I did it! Actually, I think I have always wanted to make my own bread but did not have the courage to do it, I just needed a little "push" and I got it from the DB. The challenge has totally freed my anxiety and since that day, I have made other breads or brioches (See my kougelhopf and my Challah ). I am aware my potato breads are not perfect (I think they did not rise enough), but they were edible, lol !! I am particularly proud of the dinner rolls, I think they look pretty.
I cannot wait to see other DB's recipes!
Je vous avais bien dit qu'en ce moment, je m'étais transformée en boulangère ! Pour ceux/celles qui ne connaissent pas les « Daring Bakers » (que l'on pourrait traduire par « les Boulanger(e)s Audacieux(ses) »), il s'agit d'un groupe de bloggeurs culinaires anglophones qui se challengent sur des recettes de pâtisserie et boulangerie. Le principe est le suivant : en début de mois, les membres se connectent sur le blog communautaire des DB pour découvrir la recette que chacun doit réaliser, en suivant des ingrédients et instructions bien précis, chaque membre devant poster sa recette le même jour (en fin de mois, le plus souvent) ! Une certaine liberté est cependant laissée dans la présentation. Cela faisait un certain temps que j'admirais les douceurs réalisées par les DB (ah, les Saint-honoré et les Tartes Chocolat-Caramel !!) et c'est pourquoi je me suis finalement inscrite en Novembre. Lorsque, en début de mois, j'ai vu qu'il s'agissait de réaliser des pains à base de pomme de terre, j'ai paniqué été envahie d'un petit doute : A ce moment-là, je n'avais jamais fait de pains moi-même !! Après tout, je vis à Paris, la ville aux 1 200 boulangeries ! Pourquoi s'embêter à faire son propre pain ? (Là, je sais que bcp d'entre vous ont d'excellentes réponses à cette question assez stupide, je le reconnais). Bon, voilà les résultats, j'ai fait de mon mieux, ce n'est pas parfait (notamment je pense que ma pâte n'a pas assez levé) mais j'espère que ces recettes vous inspireront. Il fallait, avec la même pâte à pain de base, réaliser un grand pain, une focaccia et des pains individuels. Je suis assez fière de mes petits pains, je les trouve très mignons, pas vous ?

Tender Potato Bread
For the dough :
For 1 large loaf, one tender 10x15 inch focaccia and 6 soft dinner rolls (the recipe said 12, but with my dough I could make only 6 !)
4 medium to large floury (baking) potatoes or 8 oz, peeled and cut into chunks (Idaho, Russet & Yukon gold)
4 cups water
1 tablespoon plus 1 teaspoon salt
2 teaspoons active dry yeast
6 ½ cups to 8 ½ cups unbleached all-purpose flour
1 tablespoon unsalted butter, softened
1 cup whole wheat flour
Specific toppings :
Large bread loaf :
One handful Linen seeds
1 egg yolk beaten with 1 tsp water
Focaccia :
2 cups Onion marmalade
Coarse herbs sea salt
Olive oil
Small dinner rolls :
One handful Poppy seeds + 1 pinch for the decoration
1 egg yolk beaten with 1 tsp water
Make the dough :
Put the potatoes and 4 cups water in a sauce pan and bring to boil. Add 1 teaspoon salt and cook, half covered, until the potatoes are very tender.
Drain the potatoes, save the potato water, and mash the potatoes well.
Measure out 3 cups of the reserved potato water (add extra water if needed to make 3 cups). Place the water and mashed potatoes in the bowl you plan to mix the bread in – directions will be for by hand.
Let cool to lukewarm – stir well before testing the temperature – it should feel barely warm to your hand. You should be able to submerge you hand in the mix and not be uncomfortable.
Mix & stir yeast into cooled water and mashed potatoes & water and let stand 5 minutes.
Then mix in 2 cups of all-purpose flour and mix. Allow to rest several minutes.
Sprinkle on the remaining 1 tablespoon salt and the softened butter; mix well. Add the 1 cup whole wheat flour, stir briefly.
Add 2 cups of the unbleached all-purpose flour and stir until all the flour has been incorporated.
At this point you have used 4 cups of the possible 8 ½ cups suggested by the recipe.
Turn the dough out onto a generously floured surface and knead for about 10 minutes, incorporating flour as needed to prevent sticking. The dough will be very sticky to begin with, but as it takes up more flour from the kneading surface, it will become easier to handle; use a dough scraper to keep your surface clean. The kneaded dough will still be very soft.
At this point, add flour to the counter slowly, say a ¼ cup at a time. Do not feel you must use all of the suggested flour. When the dough is soft and smooth and not too sticky, it's probably ready.
Place the dough in a large clean bowl or your rising container of choice, cover with plastic wrap or lid, and let rise about 2 hours or until doubled in volume.
Turn the dough out onto a well-floured surface and knead gently several minutes. It will be moist and a little sticky. Divide the dough in a proportion of one-third and two-third.
The lines above were the instructions for all the DB. Now, the rest of the recipe is under my "responsibility":
To make the large loaf :
Flatten the large piece of dough on the floured surface, then roll it to form a loaf then cut six equal portions. Flour each portion and braid like shown on this video or in these pictures. Cover with plastic wrap and let rise 35 to 45 minutes or doubled in volume. Bake 40 minutes in a 450°F oven together with the rolls (remove the rolls earlier from the oven, see below).
To make the dinner rolls (source : epicurious.com):

Incorporate poppy seeds to the dough until soft. Butter six 1/3-cup nonstick muffin cups. Turn dough out onto floured surface; knead briefly until smooth and elastic, about 3 minutes. Place dough on work surface and roll out on floured surface to 13x11-inch rectangle (about 1/8 inch thick). Cut rectangle lengthwise into 6 strips, each scant 2 inches wide. Stack strips atop one another, forming 6 layers and pressing slightly to adhere. Cut strips crosswise into 3 equal stacks, each about 42 inches long. Place 1 dough stack, 1 cut side down, into each muffin cup (dough will fan out slightly and fill muffin cups as dough rises).
Cover rolls with kitchen towel. Let rise in warm draft-free area until rolls are puffed and doubled in volume, about 1 hour and 15 minutes.Brush rolls gently with egg glaze. Sprinkle with poppy seeds. Bake until rolls are golden brown, about 25 minutes. Transfer pans to rack and cool rolls 5 minutes. Remove rolls from pans and cool on racks
To make Focaccia:
Flatten out the dough to a circle (25cm diameter) with your palms and fingertips.Tear off a piece of parchment paper and line a round shaped cake mold. Transfer the flatten dough to the mold, brush the focaccia with olive oil and onion marmalade and sprinkle little herbs sea salt. Dimple the bread all over with your fingertips.Cover with plastic and let rise for 20 minutes. Just before baking, dimple again the bread all over with your fingertips.
Bake for 10 minutes.
Pains à la Pomme de Terre
Pour la pâte à pain
Pour un grand pain, une focaccia et 6 petits pains individuals.
4 pommes de terre de taille moyenne, pelées et coupées en gros tronçons
95 cl d'eau
1 Cs + 1 cc de sel
2 cc de levure sèche de boulanger
1 kilo de farine ordinaire
130g de farine complète
1 CS de beurre doux pommade
Déclinaisons spécifiques
Pour le grand pain
Une poignée de graines de lin
1 jaune d'œuf battu dans un peu d'eau
Pour la Focaccia :
1 pot de confit d'oignon
Gros sel aux Herbes de Provence
Huile d'Olive
Petits pains individuels
Une poignée de graines de pavot + 1 pincée pour la déco
1 jaune d'œuf battu dans un peu d'eau
Faites la pâte à pain :
Recouvrir les pommes de terre de 80cl d'eau dans une casserole et amener à ébullition. Ajouter une cc de sel et faire cuire jusqu'à ce que les pommes de terre soient tendres. Sortir les pommes de terre avec une écumoire, les réserver et conserver l'eau de cuisson.
Ecraser les pommes de terre avec un moulin à légumes.
Placer les pommes de terre écrasées et 70cl d'eau de caisson dans un grand saladier et laissez refroidir jusqu'à ce que le liquide soit à peine tiède. Bien mélanger.
Ajouter la levure dans le mélange et laisser agir 5 minutes.
Ensuite, ajouter le tiers de la farine ordinaire. Mélangez et laisser reposer quelques minutes.
Ajouter la CS de sel, et le beurre pomade. Bien mélanger. Puis la farine complète.
Ajouter encore un tiers de la farine et remélanger jusqu'à ce que la farine soit bien incorporée (le tiers restant de la farine sera utilisé lors du pétrissage à la main de la pâte, celle-ci étant très collante et nécessitant l'ajout à la louche de farine jusqu'à ce qu'elle ne le soit plus).
Disposez la pâte sur un plan de trvail généreusement fariné. Pétrissez pendant 10 minutes, en ajoutant de la farine au fur et à mesure. Quand la pâte n'est plus trop collante, elle est probablement prête ! La placer dans un saladier propre, couvrir et laisser lever pendant 2 heures ou jusqu'à ce qu'elle double de volume.
Après levée, la dégazer en la pétrissant quelques instants de nouveau sur un plan fariné. Diviser en trois.
Pour le grand pain :
Pétrir et fariner légèrement le tiers de pâte. Le diviser à nouveau en 6 morceaux égaux. Rouler chaque morceau entre les 2 paumes de façon à former des « cordes » de 20 à 25cm. Les tresser comme indiqué sur ces images . Laisser gonfler encore 35 à 45 minutes.
Brosser le pain avec un jaune d'œuf mélanger à un peu d'eau. Décorer avec des graines de lin et faire cuire au four préchauffé à 220°C pendant 40 minutes (à surveiller, cependant).
Vous pourrez cuire les petits pains en même temps, en les retirant du four plus tôt.
Pour faire les petits pains :
Mettre les grains de sésame dans la pâte et pétrir. Aplatir au rouleau la pâte jusqu'à ce qu'elle soit bien plate. Pour 6 petits pains, couper 6 bandes de pâte de 4 cm de large et recouper chaque bande en trois carrés (ou rectangles). Disposer 3 carrés ou rectangle par alvéole dans un moule à muffins en silicone. Badigeonner le dessus du jaune d'œuf battu et parsemer quelques graines de pavot sur le dessus. Faire cuire au four en meme temps que le grand pain mais les retirer au bout de 25 à 30 minutes.
Pour la Focaccia :
Aplatir le tiers restant de pâte en un disque de 25cm de diamètre. Recouvrez un moule à manqué de 25cm de papier sulfurisé. Transférer la focaccia ronde dans le moule. Badigeonnez généreusement le dessus d'huile d'olive, étalez le confit d'oignon avec une cuiller et saupoudrez de fgros sel aux herbes. Avec l'extrémité de vos doigts, faites des trous un peu partout. Couvrez le moule et laissez lever 20 minutes. Retrouez avec les doigts après la levée et faites cuire 10 minutes au four chaud (220°C). .