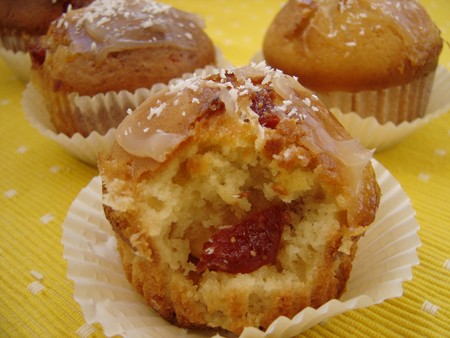 When you read these lines, I will be in London for a 4-day stay. And it is in the honor of this amazing city (which warmly hosted me for 6 months when I was a student in 1989-90), that I have made this recipe of British Inspiration. Hard to believe, but I haven't set foot in London for 15 years (and it is only 2 hours by train from Paris!!). Why ? It is all my hubby's fault : At the age of 11, he had the bad luck of being hosted for a week by a rather sadistic British family. Poor A. is still upset by these not-really-fond memories and now it is my mission (and I chose to accept it) to make him fall in love with London. With this objective in mind, I booked a nice hip hotel (just the style he likes) and some good restaurants, plus a fun little surprise (but Sssh, can't say more, he reads my blog. ).
Well, back to the recipe : muffins with lemon curd both inside and on top !! Did you say "Too many calories" ? So, let me answer, with a very British phlegm : "Yes indeed, and this is precisely why they are so good, my dear !!".
Lorsque vous lirez ces lignes, je serai à Londres. C'est en l'honneur de cette ville envoûtante, qui m'a gentiment hébergée pendant 6 mois en 1989-90 lorsque j'étais étudiante, que la recette du jour a un petit goût de Perfide Albion. Incroyable mais vrai, cela faisait 15 ans que je n'y étais pas retournée, la faute à un époux encore tout retourné de son séjour désastreux dans une famille britannique sadique…lorsqu'il avait 11 ans ! Charge à moi, donc, de lui faire oublier tous ses mauvais souvenirs : j'ai choisi un hôtel « hype » comme il les aime et j'ai concocté un petit planning très romantique avec bons restaus, afternoon tea dans un grand hôtel, et une petite surprise rigolote (mais pas un mot aujourd'hui, de peur qu'il ne lise ce billet).
De jolis muffins, du lemon curd à l'intérieur et à l'extérieur !! oui, je sais, vous allez me dire : « que de calories » !! C'est vrai, mais « c'est bien pour cela que c'est si bon, my dear », vous répondrai-je avec un flegme tout britannique…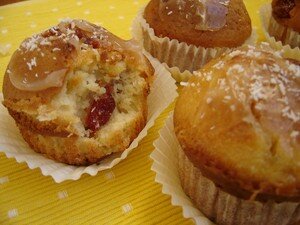 Lemon Curd and Dried Strawberry Muffins
For 10 Muffins (from e-dining)
1 ½ cups all-purpose flour
½ cup granulated sugar
¼ cup whole wheat flour
2 tsp baking powder
¼ teaspoon salt
1 egg
¾ cup milk
¼ cup cooking oil
2/3 cup purchased lemon curd
¼ cup dried strawberries, cut into small pieces
2 tablespoons toasted coconuts
Pre-heat oven 400°F.
Grease 10 2 -1/2 inch muffin cups (not necessary if they are made with silicon).
Prepare muffin batter : stir together AP flour, sugar, whole wheat flour, baking powder and salt in a mixing bowl. Set aside.
In another mixing bowl, combine wet ingredients : egg, milk and oil.
Add wet ingredients mixture to dry ingredients. Stir until moistened.
Add strawberries and mix again.
Spoon 1 round tablespoon of the batter in each muffin cup, then 1 teaspoon of lemon curd and top with 1 tablespoon of the muffin batter. Each cup should be filled to 2/3.
Bake for 18 to 20 minutes or until golden brown.
Cool muffin pans on a wire rack for 5 minutes, remove muffins from the pan and top with remaining lemon curd and toasted coconut.
Muffins au Lemon Curd et Fraises Séchées
Pour 10 muffins
220g farine ordinaire
110g sucre en poudre
60g farine complète
2 cc levure
1 pincée de sel
1 oeuf
20cl lait
7 cl huile d'arachide
150g lemon curd tout prêt (de bonne qualité)
50g de fraises séchées, coupées en petits morceaux
2 CS noix de coco râpée et torréfiée au four quelques secondes

Préchauffer le four à 200°C.
Beurrer 12 moules à muffins si ils ne sont pas en silicone.
Préparer la pâte à muffin : mélanger les ingrédients secs entre eux : la farine ordinaire, la farine complète, le sucre, la levure et le sel. Laisser reposer quelques instants.
Dans un autre saladier, mélanger les ingrédients « humides » : l'œuf, le lait et l'huile.
Mettre les ingrédients humides dans le saladier des ingrédients secs et mélanger.
Ajouter les fraises séchées et remuer.

Dans chaque alvéole des moules à muffins : verser 1 CS de pâte à muffin, puis 1 cc de lemon curd, puis recouvrir de 1 CS de pâte (l'alvéole doit être remplie aux 2/3).
Faire cuire 18 à 20 minutes. Retirer du four et laisser refroidir sur une grille, puis démoulez les muffins.
Recouvrir chaque muffin d'1 cc de lemon curd et de noix de coco râpée et torréfiée.