Left : Christmas window at Fortnum&Mason. Click to enlarge.
Still in a « London State of Mind »… I think I am having a serious PLD (Post London Depression). As a remedy, I have decided to celebrate a British Christmas. Menus and decorations will be of English Inspiration (with a slight french twist, If I may do so). So, if you are whether a London addict or just interested in this theme, keep an eye on my blog on the next few days : you will learn everything you always wanted to know about…festive UK food. I am starting this "mini-saga" today, so you will not be in a rush for food shopping and cooking.
Let's start with the Cocktail : You probably have heard of the Bellini, from the famous Harry's Bar in Venice ! This recipe is a festive version with pomegranate as a substitution to the peaches. It is the seasonal fruit, with a shimmering color and intense flavor, what more do you want ? I know what you are thinking : "wait a minute, Bellini is not a British cocktail !". Well, if the recipe comes from Nigella Lawson, the Domestic Goddess, will it do the trick ?
Et oui, mes rêveries anglaises ne me quittent pas, je crois que je suis en train de faire une DPL (Dépression Post-Londres). Comme il faut soigner le mal par le mal, j'ai décidé de célébrer des fêtes de fin d'année aux couleurs de cette joyeuse Capitale. Le menu et la déco seront 100% British (bon d'accord, avec une petite touche française quand même). Alors si le cœur vous en dit, suivez mon blog de près dans les prochains jours, vous saurez tout, tout, tout pour préparer un British Christmas Menu comme si vous y étiez. Je m'y prend un peu à l'avance, ainsi vous ne serez pas pris(e) au dépourvu au moment des achats et des préparatifs.
On commence cette « mini-saga » par le Cocktail ! Vous connaissez certainement le Bellini du Harry's Bar de Venise à base de pêches, et bien en voici une déclinaison festive à base de Grenades : fruit de saison, couleur chatoyante et goût intense, que demander de plus afin de bien démarrer la soirée…Vous allez me dire que ce n'est pas très anglais comme cocktail, oui, mais si cette recette vient de Nigella Lawson, la star des fourneaux outre-manche, est-ce que cela fera l'affaire ?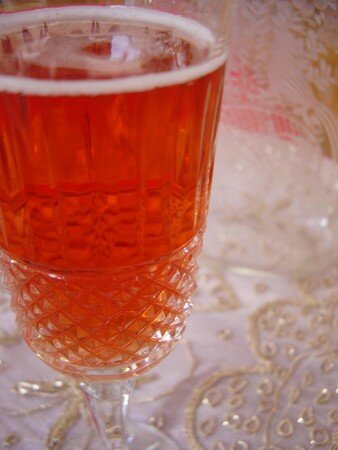 Pomegranate Bellini
Recipe by Nigella Lawson.
For 6 bellinis
3 1/3 cups of Prosecco wine
1 1/3 cup chilled pomegranate purée or concentrated juice

Proportions : 1 part chilled pomegranate for 3 parts chilled prosecco.
Pour 1/4 cup pomegranate purée or juice into a glass
Top with prosecco
Bellini à la Grenade
Recette de Nigella Lawson.
Pour 6 bellinis
1 x 75cl bouteille de Prosecco ou, version plus onéreuse, de Champagne bien frais
30cl de jus ou purée de grenades (passez les graines au presse-légumes)

Proportions : 1 portion de grenade pour 3 de prosecco ou champagne.
Versez 5 cl de jus ou purée de grenades dans un verre à cocktail ou une flûte

Recouvrez avec le prosecco jusqu'à niveau.