Finger sandwiches : Cucumber & cream cheese / egg & chives
Mini blinis with Scottish Smoked salmon and horseradish sour cream
Stilton and Porcini Mushroom bite-size pies
Mini sandwiches : Concombre & St moret / oeufs & ciboulette
Mini blinis et Saumon Fumé d'Ecosse
Mini tartelettes au fromage Stilton et Cèpes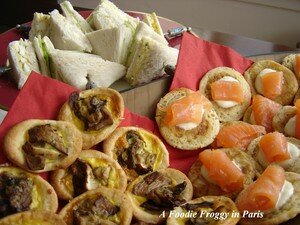 I am lucky enough to spend all my Christmas vacations in the French Alps, in my parents' warm and cozy chalet. I particularly enjoy that moment, when, you know, on the 24th of December, we all dress up for the evening, gather around the fireplace and sip a good glass of cocktail or champagne with tasty finger foods. We are all as excited as the kids and are exhilarated by the wonderful smells emanating from the kitchen, foretelling a superb meal.
In order to continue my English mini saga, I took the risk -and I hope my British readers won't be mad at me- to convert tea sandwiches and pies into aperitif snacks. After all, they look a lot like our little "canapés". I tried to remember what was being served to us during our wonderful afternoon tea at the Lanesborough hotel, in London.
For 6 people, the portions below will make 2 cucumber sandwiches and 2 egg sandwiches, 3 mini-blini and 2 mini pies per person.
J'ai la chance de passer toutes les fêtes de fin d'année à la montagne, dans le chalet cozy de mes parents et j'adore ce moment de veillée de Noël où l'on se retrouve tous sur notre 31, autour du feu de cheminée, en sirotant un bon cocktail ou une flûte de champagne et surtout, en dégustant des petites mises en bouche, grisés par les effluves s'échappant de la cuisine, annonciatrices d'un repas divin.
Dans la lignée de mes festivités anglaises, je me suis risquée (very shocking !) à détourner les finger sandwiches traditionnellement servis avec le thé. Pourquoi pas, après tout, ils sont très proches de nos petits canapés. J'ai fidèlement reproduit les tea sandwiches et pies qui nous ont été servis lors d'un afternoon tea au Lanesborough hotel, sur Hyde Park Corner.
Pour 6 personnes, les portions indiquées vous donneront, 9 amuse-bouches par convive soit 2 mini sandwiches au concombre, 2 aux œufs&cresson, 3 mini-blini et 2 mini-tartelettes.
Finger sandwiches
Source : shopenglandonline
For 12 triangles of cucumber and 12 of egg
12 slices of White Bread
Whipped cream Cheese
1 cucumber
3 hard-boiled eggs, peeled and mashed
1 tablespoon chopped fresh chives
2 tablespoons fine quality mayonnaise
Sea Salt
Freshly ground pepper
Peel cucumber and slice very thin.
Sprinkle the slices with a little salt and lay on paper towel to drain
For each sandwich, spread a little cream cheese on two slices of bread, layer the cucumber slices on one side. Season to taste.
Make 3 sandwiches, cut crust off and cut each one into 4 triangles. That will make 12 cucumber triangles.
In a mixing bowl, combine eggs and chopped chives with mayonnaise. Season with salt and pepper.
Make 3 sandwiches, cut crust off and cut each one into 4 triangles. That will make 12 egg&chives triangles.
Mini blinis with Scottish Smoked Salmon and horseradish sour cream
For 18 mini 2 –inch blini (source : Joy of Cooking)
1/2 cup buckwheat flour
1/2 cup all-purpose flour
1 tsp salt
1 tbs sugar
3 tbs unsalted butter
3/4 c whole milk
1 tsp and 1/8 tsp dry active yeast (half a packet)
2 eggs
1 cup Sour cream mixed with 1 tsp horseradish
Smoked salmon
Heat milk in a small saucepan, add butter and heat just until butter melts. Remove from heat and add yeast, let stand 5 minutes, then stir to ensure yeast is dissolved.
Meanwhile, mix all dry ingredients in a large bowl. Pour milk mixture over dry mixture and stir to incorporate. Cover tightly with plastic wrap and let stand for 1 hour in a warm place.
After 1 hour, batter should be almost doubled in size. Stir down batter and add 2 eggs. Let stand 5 minutes, then make blinis using a tablespoon to ensure they are the same size. Cook in the same manner as pancakes.
Serve topped with horseradish sour cream and smoked salmon.
Stilton and Porcini Mushroom bite-size Pies
For 12 mini pies
1 already-made shortcrust pastry, refrigerated or frozen and thawed
12 small porcini mushrooms, minced
1 tablespoon freshly chopped parsley
1 tablespoon stilton or blue cheese
1 egg, beaten
1 tablespoon heavy double cream
Unroll the pastry, and using a cookie cutter or a small glass, cut 12 small circles.
Put the circles in a mini-tartlet mold. Evenly pierce with a fork.
In a skillet over medium heat, sauté the mushrooms until cooked through. Add parsley and cook one more minute. Reserve.
In a mixing bowl, combine beaten egg, stilton and heavy double cream.
On each tartlet, arrange one teaspoon mushroom mixture, cover with egg mixture.
Bake for 15 minutes or until golden brown.
Petits Sandwiches Triangles
Source : shopenglandonline
Pour 12 triangles au concombre et 12 aux oeufs
12 tranches de pain de mie
St Moret
1 concombre
3 oeufs durs, pelés et écrasés
1 bouquet de cresson, nettoyé, queues retirées et grossièrement hachées
1 Cs de ciboulette fraîchement hachée
2 Cs de mayonnaise fine
Sel marin
Poivre du moulin
Pelez le concombre et coupez le en tranches très très fines,
Saupoudrez de sel et disposez sur du papier absorbant afin de faire dégorger les tranches.
Pour chaque sandwich, étalez du st moret sur chaque tranche, disposez une couche de concombres sur un côté et fermez le sandwich. Faites 3 sandwiches de cette façon.
Retirez les croûtes du pain et coupez chaque sandwich en 4 petits triangles. Vous obtiendrez 12 mini-sandwiches.
Dans un saladier, mélangez les oeufs, le cresson et la ciboulette, ainsi que la mayonnaise.
Rectifiez l'asaisonnement.
Faites 3 sandwiches avec ce mélange.
Retirez les croûtes du pain et coupez chaque sandwich en 4 petits triangles. Vous obtiendrez 12 mini-sandwiches aux œufs&cresson.
Mini Blini au Saumon Fumé d'Ecosse et crème fraîche au raifort
Pour 18 mini blini
110g farine complète
110g farine ordinaire
1 cc sel
1 CS sucre en poudre
45g de beurre
20cl de lait
1 cc and 1/8 cc de levure sèche)
2 oeufs
Crème fraîche au raifort (1 cc de raifort dans une tasse de crème fraîche)
Saumon fumé d'Ecosse
Chauffer le lait dans une casserole, ajouter le beurre jusqu'à ce qu'il soit fondu.
Retirer du feu et ajouter la levure, laisser agir 5 minutes et remuer ain de bien dissoudre la levure.
Pendant ce temps, mélanger tous les ingrédients secs dans un saladier. Ajouter le mélange de lait, et mélanger. Couverez d'un film plastique et laissez reposer 1 heure dans un endroit chaud. Mélanger et ajouter les œufs, laisser reposer encore 5 minutes puis faites les blinis à la poêle en utilisant 1 cs rase de pâte par blini.
Etaler la crème au raifort puis disposez le saumon fumé par-dessus.
Mini-tartelettes aux Cèpes et Stilton
Pour 12 mini-tartelettes
1 pâte brisée toute prête ou maison
12 petits champignons de Paris, émincés
1 CS de persil frais haché
1 CS de stilton ou Roquefort ou fourme d'ambert
2 oeufs, battus
1 Cs de crème fraîche
Déroulez la pâte, et découpez 12 petits cercles à l'aide d'un emporte-pièce ou d'un petit verre renversé.
Foncez les mini cercles de pâte dans un moule à tartelettes en silicone et piquez avec une fourchette.
Dans une poêle sur feu moyen, faites sauter les champignons jusqu'à ce qu'ils soient cuits. Ajoutez le persil et faite cuire une minute de plus. Réservez.
Dans un bol, mélangez les œufs battus, le stilton et la crème fraîche.
Sur chaque tartelette, versez 1 cc de champignons cuits, recouvrez avec le mélange aux œufs jusqu'aux 2/3.
Faites cuire 15 minutes ou jusqu'à ce que les tartelettes soient bien dorées.