Left : Tea House, Neal Street, London

From the very beginning of this English saga, I knew the dessert would be a trifle. Yum, yum, I am so fond of layered creamy desserts! The great advantage is that it can be prepared a day ahead, which will save some of your precious time on an extremely busy day in the kitchen.
According to the great Pierre Hermé, passion fruit makes a perfect pairing with milk and also white chocolate, but an awful couple with dark chocolate! Well, I think we can trust him on that one. After all, isn't he the man with "a computer in his mouth"???
Don't miss my post on saturday 22nd. Why? Can't tell you, but be there (please)!!
Depuis le début de cette mini-saga anglaise, je savais que le dessert serait un Trifle. Miam, je raffole des desserts crémeux « à étages », présentés dans des verrines. L'avantage est que l'on peut les préparer la veille, atout non négligeable pour un repas de fête déjà très chronophage ! Selon le grand Pierre Hermé, le fruit de la Passion se marie admirablement avec le chocolat blanc ou au lait, mais pas du tout avec le noir ! Si c'est lui qui le dit, je crois qu'on peut lui faire confiance. N'est-ce pas lui dont on dit qu'il a « un ordinateur dans la bouche » ??
Ne manquez pas mon billet du 22 décembre, je vous promets qu'il vaut le coup d'œil, mais je ne peux vous en dire plus…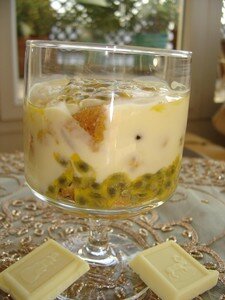 White Chocolate and Passion fruit Trifle
For 6 servings. To be made one day ahead.
7 oz White chocolate
1 cup liquid whipping cream
6 passion fruits
24 Lady fingers
You will need 6 whisky glasses.
Put the liquid cream, and the mixing bowl in the freezer for 15 minutes.
Beat the cream in the cold bowl until it forms a chantilly (whipped cream).
Melt white chocolate with 1 tablespoon water in a sauce pan over low heat. When melted, remove from the heat and let cool a few minutes.
Mix together melted chocolate and whipped cream, until smooth.
Taste and carefully add sugar if necessary.
In each glass, arrange one layer of ladyfingers, sprinkle with half the pulp of 1 passion fruit, top with white chocolate cream and another layer of ladyfingers.
Finally, cover with white chocolate and a tablespoon of the remaining half of passion pulp.
Renew the operation with the 5 other glasses.Refrigerate for, at least, one night.
Trifle Chocolat Blanc/Passion
Pour 6 personnes. A faire la veille.
200g chocolat blanc
25cl crème liquide entière
6 fruits de la passion
24 biscuits à la cuiller
6 verres transparents.
Entreposez la crème liquide, le saladier et les batteurs du mixer au congélateur pendant 15 minutes.
Battre la crème dans le saladier froid jusqu'à former une chantilly.
Faire fondre le chocolat blanc dans une casserole sur feu doux avec une CS d'eau.
Lorsque le chocolat est fondu, le réserver, le laisser refroidir quelques minutes puis le mélanger délicatement avec la chantilly. Goûter et sucrez si vous le jugez nécessaire.
Dans chaque verre, entreposez une couche de biscuits. Recouvrez de la moitié de la pulpe d'un fruit de la passion. Puis mettez une couche de crème au chocolat, puis une nouvelle couche de biscuits. Terminez par une seconde couche de crème au chocolat et enfin une cuillerée de la seconde moitié de la pulpe de fruit.
Renouvelez l'opération avec les 5 autres verres et entreposez au frais toute la nuit et le lendemain jusqu'au moment du dîner.