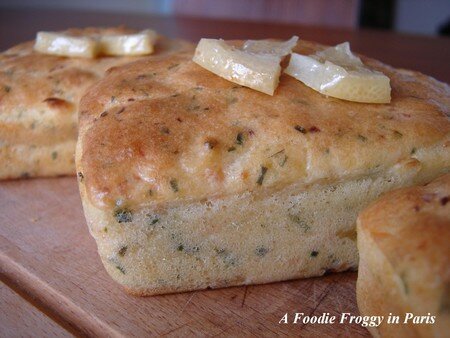 No 2007 « best of » for me ! I have to admit that I do not feel very comfortable looking back over my shoulders and self-congratulating me for the accomplished work !! On the other hand, I am so glad I launched this foodblog a year ago : I 've experienced so many intense feelings this last year : joy in reading your comments and your oh-so-nice emails, some pressure too in keeping my blog regularly updated and in achieving "technical" recipes, and frustration sometimes when I realized that I definitely was not gifted with photography talent. Above all, I feel everyday more "at home" in the culinary blogosphere, I even met "for real" some foodbloggers with a tremendous pleasure. I cannot start the year without a little wink at Lili, whose talent for writing and food photography always impresses me. Another personal Hello to Robin, my best American friend, whose blog is also a joy to read.Thank you Robin for the great days we spent together when you were in Paris last September, our walks around Aligre Market and Canal Saint Martin will always be remembered…I wish you both a fantastic new Year, you deserve it !!
Well, now, as one says, the show must go on !! I chose to start 2008 with those extremely simple Smoked Salmon and Preserved Lemon loaves. But January will be full of surprises thanks to the great cookbooks I received for both my birthday (yikes, I have to change my age on my introduction post) and the New Year (yes, I have been totally and indecently spoilt) : what about recipes from famous French Chefs like Pierre Hermé, Jean François Piege (Chef at Le Crillon) and Thierry Marx ??
Pas de « best of 2007 » pour moi, j'avoue avoir un peu de mal à me retourner en arrière et m'auto-congratuler pour le travail accompli, lol ! En revanche, je ne regrette pas un seul instant avoir lancé ce blog il y a un an : beaucoup de joie à lire vos commentaires et, plus encore, vos emails me faisant part de votre plaisir à découvrir certaines recettes, du stress parfois lors de la conception de plats plus "techniques", de la rage lorsque décidément je me rendais compte que je n'avais pas le talent de certain(e)s pour la photo,… Pour ma part je me sens chaque jour plus à l'aise dans la blogosphère culinaire, j'ai même rencontré « pour de vrai » certains et certaines d'entre vous avec un très grand plaisir. Je ne peux pas débuter cette année sans un petit clin d'œil à Lili, qui a été ma toute première amie bloggeuse et qui m'épate chaque jour par ses talents rédactionnels, son don pour la photographie et sa personnalité très entière. Une grosse bise à toi Lili et une année superbe, tu le mérites bien !! Un coucou aussi à Robin, ma meilleure amie américaine !
Bon, et bien maintenant, que le spectacle continue : je commence cependant « petitement » 2008 avec ces modestes mini-cakes au saumon fumé et citrons confits. Pour ce mois de janvier, en revanche, je vous promets quelques recettes de « derrière les fagots » tirées des livres reçus pour les fêtes (oui, j'ai été très gâtée) : Pierre Hermé, Jean-François Piège, Thierry Marx,…cela vous tente ???
Smoked Salmon and Preserved Lemon Mini Loaves
(For 3 mini loaves or 1 large, a recipe by Didier Elena, Chef at « Les Crayères » in Reims, Régal Magazine, december 2007)
3.75 oz (1/2 cup) smoked salmon
3 eggs
5 oz (2/3 cup) all-purpose flour
1/2 oz (1 tablespoon) baking powder
3.75 oz (1/2 cup) melted unsalted butter
1/2 cup milk
1 pinch of salt
1 ounce (2 tablespoons) fresh chives, cleaned and put on absorbing paper
3 slices preserved lemon
Preheat oven 400°F.
Butter and flour 3 small or one large loaf pan.
Dice the smoked salmon, chop the chives and the preserved lemons.
Beat the eggs and assemble all ingredients.
Pour the batter in the prepared pan(s) and let rise at room temperature for an hour.
Bake for 12 to 20 minutes, according to the size.
Remove from the oven, transfer to a rack to cool and unmold.
Petits cakes au Saumon fumé et au Citron Confit
(Pour 3 mini-cakes ou 1 grand, recette de Didier Elena aux Crayères, Magazine Régal de décembre 2007)
100g de saumon fumé
3 œufs
150g de farine
11g de levure
100g de beurre fondu
10cl de lait
1 pincée de sel
25g de ciboulette
3 rondelles de citron confit
Préchauffez le four à 200°C.
Beurrez et farinez les moules si ils ne sont pas en silicone.
Coupez le saumon fumé, hachez la ciboulette et les citrons confits.
Battez les œufs et mélangez tous les ingrédients.
Versez la pâte dans les ou le moule(s) à cake et laissez reposer une heure à température ambiante.
Faire cuire 12 à 20 minutes selon la taille.
Retirez du four, transférez sur une grille pour refroidir puis démoulez.