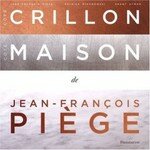 For those of you who are not familiar with the name « Jean-François Piège », let me enlighten you : he is the Chef at « Les Ambassadeurs », the restaurant of the high-end Hotel de Crillon in Paris. After 12 years at the side of Ducasse, he has been the only "Master" at Les Ambassadeurs for 4 years now. A few weeks ago, I stumbled upon a TV report about the making-of of his first recipe book and wow... I found it totally fascinating. Now guess who 's been offered his book as soon as it was released, mmhh ?? It is a wonderful cookbook, with gorgeous pictures and amazing recipes, divided in two parts : the first one "côté Crillon » describes the highly sophisticated recipes from his restaurant, but the second part « côté maison » deals with homey recipes, easier and using cheaper ingredients.
The orange and Grand Marnier Soufflé quickly caught my attention. I love citrus fruits : they are winter's superstars with their flavours at their peak. Moreover, not only are they good for one's health (vitamin C), but they are also easily digestible which is a great thing after all those rich holiday meals. Don't be intimidated with the technical aspect of soufflés : I can ensure you that If I can do it, You can too. However, taking a photo of a soufflé : now, that is what I call a real challenge : you just have a few seconds before they deflate !! I did not even have time to clean the outside of the ramequins !!
Pour celles et ceux qui ignorent qui est Jean-François Piège, il s'agit tout simplement du Chef du restaurant « Les Ambassadeurs » de l'Hôtel de Crillon à Paris. Collaborateur pendant 12 années d'Alain Ducasse, il vole de ses propres ailes au Crillon depuis 2004. J'ai suivi avec grand intérêt un reportage diffusé par « Envoyé Spécial » l'an dernier sur le making-of de son livre de recettes et devinez qui se l'est fait offrir dès sa sortie, mmh ? Le livre est magnifique, avec des photos sublimes, et est divisé en deux parties : « Côté Crillon » propose les recettes sophistiquées de son restaurant et « Côté Maison », autour du même ingrédient de base, suggère une version plus « abordable » d'un point de vue à la fois financier et technique. Le soufflé chaud à l'orange (côté maison), a immédiatement attiré mon attention : je raffole des desserts à base d'agrumes en hiver : ils sont de saison, donc au top de leur saveur, ils sont bénéfiques pour la santé de par leur teneur en vitamine C et enfin, ils sont archi-digestes, ce qui est tout à fait appréciable en cette période post-festive.
Ne soyez pas effrayé(e)s par l'aspect technique des soufflés ; en toute sincérité, si moi, j'y arrive, vous aussi !! En revanche, les prendre en photo avant qu'ils ne retombent à plat, là, c'est une autre paire de manches !! Même pas eu le temps de nettoyer convenablement les ramequins avant la prise de vue...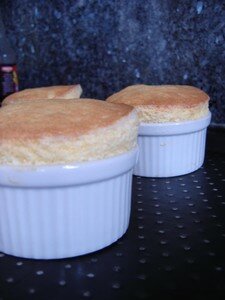 Orange and Grand Marnier Soufflés

For 4 to 6 servings
4 egg yolks
6 egg whites
5 tablespoons granulated sugar
1 orange
The juice of ½ lemon1 tablespoon butter, softened
2 tablespoons Grand Marnier or any orange-flavoured alcohol (For an alcohol-free version, substitute with orange blossom water) Kitchen ustensils : 4 to 6 individual ramequins, buttered and sugared (excess sugar removed)
Preheat oven 350°F

Zest the orange, using a grater or a zester.

Beat yolks with 4 tablespoons sugar until pale yellow.

Add orange zests, then Grand Marnier and finally the lemon juice. Reserve.

In another mixing bowl, beat the whites, starting with ½ t

350°F.

ablespoon sugar and adding the other half once the whites are stiff.

Assemble the two batters.

Pour the batter in the molds to the top.


Using a spatula, flatten the top. Using your thumb, mark the border so that the soufflés will rise straight.

Bake for 9 to 10 minutes for individual soufflés. Serve at once !!
A savoury soufflé ? Click here !
Soufflés à l'Orange et Grand Marnier
Pour 4 à 6 personnes
4 jaunes d'œufs
6 blancs d'œufs
5 CS de sucre en poudre
1 orange non traitée
1 citron
Beurre mou
2 CS de Grand Marnier (ou version sans alcool, d'eau de fleurs d'oranger). Sur la recette, il est indiqué d'en mettre 4, mais je trouvais cela excessif.
Ustensiles : 4 à 6 Ramequins individuels, beurrés et sucrés (excédent de sucre retiré)
Préchauffer le four à 180°C.

Prélever le zeste de l'orange à l'aide d'une râpe.

Battre les jaunes avec 4 CS de sucre jusqu'à ce que l'ensemble « blanchisse ».

Ajouter le zeste d'orange, puis le Grand Marnier, puis le jus d'un demi-citron. Réserver.

Dans un autre saladier, monter les blancs en neige avec ½ CS de sucre au départ puis rajouter l'autre ½ CS une fois les blanc montés.

Mélanger délicatement le contenu des 2 saladiers.

Verser dans les ramequins à ras bord.

Important : Lisser le dessus avec une spatule puis réaliser une bordure avec le pouce afin que les soufflés montent droit.

Cuire 9 à 10 minutes. Servir aussitôt !!