Petite Corolle de Tartare de Cabillaud à la Mangue
Cod Tartare and Mango in a flower-shaped Brick* Pastry
Oh no, what is this dreadful weather ? If I didn't have my kids to pick-up at school, the holidays dirty laundry to catch up and the meals to prepare, I would have loved to stay in my comfy, cozy bed. Just like when I was a teenager : a pile of IQ-zero magazines, the ugliest pajamas (you know the ones that usually are tucked at the bottom of the drawer), a huge bag of candies that would last no longer than 15 minutes, and I was ready for a full day of idleness. Ah, regression can be so good sometimes…
Well, otherwise, one can also cook a cute little exotic dish and dream about his/her next vacations under the sun. A flower-shaped brick pastry for the classy touch and lightness, freshly bought cod fillets and lime zests for the health, and finally mango and curry for the change of scene. Easy and Quick ! Good-bye wintery sadness !!
* Sheets of Brick are phyllo-like pastries (only thinner and usually round-shaped) that can be found in middle-eastern groceries.
Bouh, c'est quoi ce temps pou-rri ?! N'étaient les enfants à accompagner à l'école, les lessives des vacances à rattraper et…les repas à préparer, je serais bien restée au fond de mon lit douillet, moi ! Comme quand j'étais ado : une pile de magazine à QI zéro, un pyjama en pilou-pilou (ou en « poly-acétate d'angoisse », comme dirait mon cher et tendre. J'adore cette expression !!), un sachet de bonbons acheté en cachette, et j'étais parée. Ah, la régression a vraiment du bon…
Bon, sinon, on peut aussi se concocter un petit plat léger, mignon, exotique et rêver à ses prochaines vacances au soleil. Une petite corolle en feuille de brick pour la touche « classy » et la légèreté, un cabillaud bien frais et des zestes d'agrumes pour la santé et enfin de la mangue et une pointe de curry pour le dépaysement. Aussi rapide que facile ! Adieu déprime hivernale !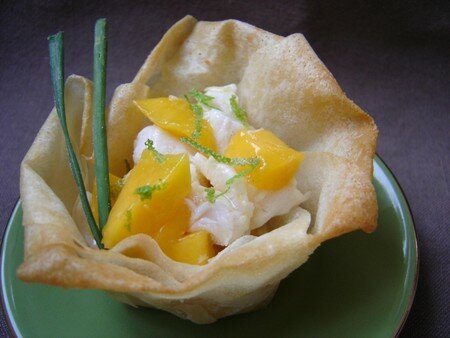 Cod Tartare and Mango in a flower-shaped Brick* Pastry
For 6 servings
1 lb cod fillets, cleaned and put on a absorbing paper
1 ripe mango
6 sheets of brick pastry
2 tablespoons fresh grated ginger
The juice of 2 limes
1 teaspoon curry powder
Sea Salt and freshly ground pepper
Preheat oven 350°F.
Cut the cod fillets and the mango in small dices. Assemble in a large mixing bowl.
Prepare the marinade : in a small bowl, assemble ginger, lime juice, curry, salt and pepper.
Mix well and let sit 1 to 2 hours in the fridge.
Brush a sheet of pastry brick with olive oil. Cut 8 sunrays around a 5cm center. Fold the rays back towards the center, and place the « brick flower » in a muffin mold. Repeat the operation with the 5 remaining pastries. Bake for 5 to 8 minutes.
Put the fish mixture in the pastries qt the last ;minute to prevent humidity< . divide the fish ;mixture into 6 portions and fill the pastries using q fork 5to avoid liquid.
Decorate with lime zests and chives.
Petite Corolle de Tartare de Cabillaud à la Mangue
Pour 6 personnes
500g de filets de cabillaud bien frais, nettoyés et essuyés
1 mangue mûre
6 feuilles de brick
2 càc de gingembre frais râpé
2 citrons verts
1 Càc de curry
Sel marin et poivre du moulin.
Préchauffer le four à 180°C.
Coupez les filets de cabillaud et les mangues en petits dés. Les mettre ensemble dans un saladier.
Préparez la marinade : dans un bol, mélangez le gingembre frais râpé, le jus des 2 citrons verts, le curry, le sel et le poivre.
Versez la marinade dans le saladier des dés de poisson et de mangue. Salez, poivrez, mélangez bien. Faire mariner 1 à 2 heures au réfrigérateur.
Enduire une feuille de brick d'huile d'olive, au pinceau .Découper 8 rayons de soleil autour d'un cercle imaginaire de 5 cm de diamètre.Rabattre les rayons vers le cercle, puis placer la feuille de brique pliée en corolle dans un ramequin. Renouveler l'opération avec les 5 autres feuilles de brick.
Enfournez les ramequins pour 5 à 8 minutes (les corolles doivent être dorées). Retirez du four et laisser refroidir.
Dressez les corolles au tout dernier moment, sinon l'humidité peut les percer au fond. Pour cela, divisez le tartare en 6 et prélevez à la fourchette (afin d'éviter la sauce) la quantité nécessaire à chaque ramequin.Décorez avec des zestes de citrons verts et des brins de ciboulette.