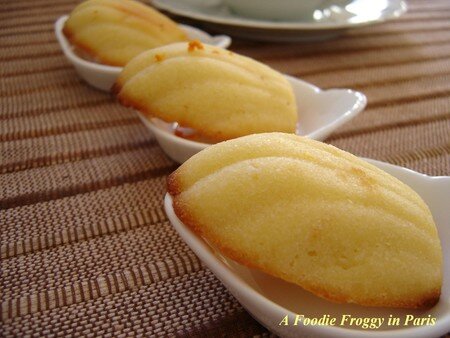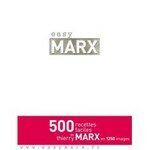 Between you and me, this post is more a pretext to write a review about Thierry Marx' latest cookbook than to share an easy (but delicious, though) Madeleine recipe with you.
Well, what can I say… This book has simply left me…disconcerted. Its "beauty" cannot be beaten : it is gorgeous, with its white and silver, very sober, cover (a washable cover, great idea, isn't it ?). The size, the quality of paper, everything is top classy. As for the recipes, there are 500 of them, so I let you imagine what a great choice there is (and how heavy the book is !!) !! For each recipe, you can add your comments, write who were your guests and how they found the dish. It is interactive and fun. As Marx first cookbook « planete MARX » got some bad reviews because the recipes were "too complicated", he wanted to make something totally different this time with "easy MARX" : simple and fast dishes. And it is true that many of them are basic, and do not need more than 30 minutes.
But the explanations are really too short : when you are used to cooking, it is OK, but I can imagine the perplexity of a beginner confronted to this lack of empathy. Moreover, the pictures are ultra modern and therefore, in my opinion, very cold and intimidating. They don't make you crave for the dish. I have no doubt Marx is a genius in his kitchen (some very good friends came back from a gastronomic week-end at Cordeillan-Bages and they raved about it) and I will certainly make many other recipes but it is not a cookbook I will cherish. I much preferred Jean-François Piège's "Côté Crillon, Côté Maison ».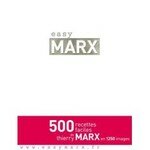 Entre nous, ce billet est plus un prétexte pour vous parler du dernier livre de recettes de Thierry Marx, « easy MARX », que pour partager une recette de madeleines, certes délicieuse mais somme toute assez banale.
Alors, voyons, que vous dire…Et bien, en fait, ce livre m'a décontenancée. D'aspect, rien à dire, il est superbe avec une épaisse couverture blanche et argent, lavable qui plus est. Ingénieux, non ? Le format, le papier, tout est à l'avenant : la grande classe. En ce qui concerne les recettes, elles sont au nombre de 500, c'est dire s'il y a le choix. Pour chaque recette, on peut écrire pour qui on l'a réalisée, ce qu'en ont pensé les convives, c'est interactif, sympa, bien dans l'air du temps. Marx a voulu faire amende honorable par rapport à son précédent livre « planète marx », jugé trop sophistiqué et technique par de nombreux gourmets amateurs. C'est vrai que la plupart des recettes sont hyper simples, on révise même ses basiques, ça ne fait pas de mal.
Mais voilà, les explications sont lapidaires : pour une cuisinière « aguerrie », cela passe mais je n'ose imaginer la perplexité d'un débutant. D'autre part, les photos sont ultra léchées et sophistiquées et du coup, super froides (à mon avis). Moi, elles ne me donnent pas envie et la présentation des plats ne correspond pas au descriptif. Je trouve qu'il y a un trop gros contraste entre la simplicité des recettes et le côté très « design » voire intimidant des photos. C'est vraiment dommage, ce sont des amis qui sont revenus em-ba-llés de Cordeillan-Bages qui m'ont donné envie de ce livre et j'étais ravie de l'avoir reçu pour les fêtes. Bien évidemment, cela ne m'empêchera pas de faire plusieurs de ses recettes, mais j'avoue avoir nettement préféré le « Côté Crillon, côté maison » de Jean-François Piège, autre magicien des fourneaux.
« easy MARX » Madeleines
For about 25 madeleines
8 oz (1 cup) granulated sugar
4 eggs
8 oz (1 cup) all-purpose flour
8 oz (1 cup) unsalted butter
My little personal touch : the grated zests of one orange
Put butter at room temperature 2 hours in advance. Cut into small dices.
Preheat oven 425°F.
Butter and dust with sugar the Madeleine molds if they are not silicon-made.
Beat eggs and sugar. Add flour, butter and orange zests and beat firmly until all ingredients are well incorporated.
Let the dough sit for 10 minutes then pour the batter in the molds (you can use a pastry bag or simply a spoon).
Bake for 10 to 12 minutes.
Repeat the operation until you have no more dough.
Madeleines « Easy MARX »
Pour environ 25 madeleines
250g de sucre en poudre
4 œufs
250g de farine
250g de beurre
Ma petite touche perso : les zestes râpés d'une orange non traitée.
Sortez le beurre du frigo 2 heures avant afin qu'il ramollisse. Coupez-le en petits morceaux.
Préchauffez le four à 220°C.
Beurrez et sucrez les moules si ils ne sont pas en silicone.
Fouettez le sucre avec les œufs, énergiquement. Puis incorporez la farine, le beurre et les zestes d'orange. Mélangez bien afin que le beurre soit totalement incorporé.
Laissez reposer la pâte 10 minutes puis versez-la dans les alvéoles, à l'aide d'une poche à douille ou à la cuiller.
Enfournez 10 à 12 minutes.
Si votre moule ne contient que 10 empreintes, faire 3 fournées.