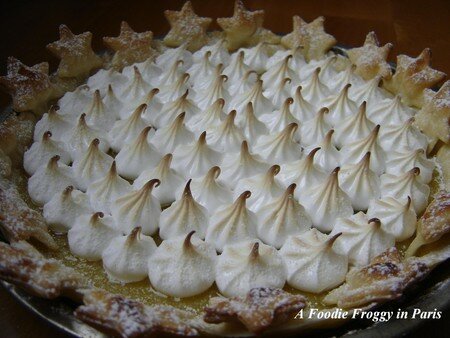 Thank you dear Daring Bakers, I have finally found the perfect recipe for Lemon Meringue Pie ! The sweet crust is pleasantly flaky, the lemon filling is perfectly balanced between sweetness and tartness, and the Meringue is tasty and not too sticky. But, I admit that my first attempt was a disaster : the lemon cream was runny, way too liquid ! So I made it without water nor cornstarch, and …voilà ! A great hit !! Please don't shoot me ! I also had to reduce ingredient quantities as my pie pan was smaller than 10 inches. Moreover, this was the occasion for me to finally make a "starry tart", using crust leftovers. I got the idea from Lili's blog, who herself got it from Vanessa, and so on...Extremely easy but very impressive.
And what about a "hearty" tart for the soon-to-come Valentine's day ??
Merci merci chers Daring Bakers ! Je me suis éclatée à faire ce nouveau défi et surtout je, ou plutôt, nous nous sommes ré-ga-lés ! J'ai enfin la recette de Tarte au Citron idéale, ni trop acide ni trop fade, un appareil au citron à la consistance crémeuse mais qui se tient et une pâte sucrée bien croustillante. Pour y arriver, j'ai du procéder à certains changements par rapport à la recette imposée car certains éléments me semblaient vraiment bizarres comme par exemple quasiment 50 cl d'eau dans la crème au citron !!
De plus, grâce à Lili, qui elle-même tient le « truc » de Vanessa, j'ai enfin réalisé une jolie tarte étoilée, envie qui me turlupinait depuis que j'avais flashé dessus sur son blog. La prochaine fois que vous faites une tarte, essayez cette présentation (et pour la Saint Valentin, pourquoi pas une version romantique avec des coeurs ?), vous verrez que ce n'est pas plus de travail, et le résultat en vaut la chandelle.
Starry Lemon Meringue Pie
Makes one 8-inch pie. Make about 5 hours in advance.
Sweet crust
7 oz (3/4 cup + 2 tablespoons) all-purpose flour
4 oz (1/2 cup) cold butter, cut into 1/2 inch pieces
2 oz (1/4 cup) granulated sugar
1 egg
Some ice water
Powder sugar
Lemon cream
The juice and zests of 3 lemons
3 eggs
5 oz (5/8 cup) granulated sugar
1 ounce (1/8 cup) unsalted butter
Meringue
3 egg whites
1 tablespoon vanilla extract
5 oz granulated sugar
1 pinch of salt
Sweet crust
Using a food processor, combine flour, sugar and cold butter Process until the mixture resembles coarse meal. Add the egg, sprinkle with water and process until the dough begins to stick together and come away from the sides of the bowl. Wrap in plastic and chill for at least 20 minutes.
Line a pie plate with parchment paper. The parchment paper has to be much larger then the plate.
Allow the dough to warm slightly to room temperature and roll the dough to a thickness of 1/8 inch, on a floured board. Cut a circle about 2 inches larger than the plate and transfer into the lined plate by rolling it onto the rolling pin.
Use the dough leftovers to cut about 15 little stars, using a star-shaped cookie cutter. Pierce the stars with a fork. "Stick" them on the tart, all around the border, using your wet fingers. The parchment paper under the tart will help the stars stay in place.
Refrigerate for 1 to 2 hours. Preheat oven 350°F. Cover the starry tart with parchment paper rand dried beans. Bake for 12 to 15 minutes.
Remove dried beans and paper and let cool completely before filling.Dust the stars with powder sugar.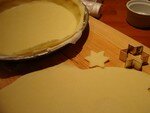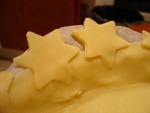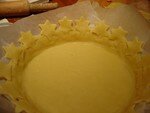 Lemon filling :
While the dough is chilling, assemble lemon zests and juice, sugar and eggs in a heavy sauce pan. Cook over medium heat whisking constantly until the mixture boils and gets thicker. Remove from the heat, add butter and continue whisking until smooth.
Pour into the prepared crust and let sit for 10 minutes at room temperature.
Meringue :
Preheat oven on grill position.
In a large mixing bowl, beat the egg whites and a pinch of salt, using an electric mixer. When egg whites are stiff, pour sugar and vanilla extract and continue beating for 5 minutes (yes).You will feel that the mixture gets thicker.
Using a pastry bag, arrange the meringue onto the cooled pie.
Bake until meringue is golden. Be extremely careful, it can burn fast !
Refrigerate for 5 hours.
Tarte au Citron Meringuée Etoilée
Pour une tarte de 20-22cm de diamètre environ. Faire quelques heures à l'avance afin qu'elle soit bien froide au moment de servir.
Pâte sucrée
200g de farine
125g de beurre
50g de sucre
1 œuf
Un peu d'eau froide
Sucre Glace pour la déco
Appareil au citron 3 citrons (jus + zestes)
3 œufs entiers
150g de sucre en poudre
30g de beurre
Meringue
3 blancs d'œufs
1 CS d'extrait de vanille
150g de sucre en poudre
1 pincée de sel
La pâte sucrée :
Dans un robot, mettez la farine, le sucre et le beurre froid coupé en morceaux. Actionnez jusqu'à ce que le mélange ressemble à une poudre grossière. Ajoutez l'œuf, mélangez puis un petit peu d'eau froide et actionnez jusqu'à ce que la pâte forme une boule.
Disposez un grand morceau de papier sulfurisé dans le moule à tarte. Je vous conseille d'étaler la pâte de suite sur un plan fariné puis de l'abaisser dans le moule à tarte . Et de la mettre au frais pendant une ou deux heures. Ainsi, elle ne se rétractera pas à la cuisson.
Dans les chutes de pâte, découpez des étoiles à l'aide d'un emporte-pièce de petite taille. Percez-les avec une fourchette afin qu'elles ne gonflent pas à la cuisson.
Disposez-les tout autour du bord de la tarte. Appuyez bien pour faire tenir les étoiles, à l'aide d'un doigt humide. Le papier sulfurisé dépassant du moule doit aider les étoiles à tenir.
Après le moment de repos, préchauffez le four à 180°C. Disposez du papier sulfurisé recouvert de haricots secs par-dessus la tarte et faites cuire à blanc pendant 12 à 15 minutes.
Au terme de la cuisson, retirez les haricots secs et le papier sulfurisé du dessus. Laissez refroidir.
Saupoudrez les étoiles avec du sucre glace.

La crème au citron :
Pendant le temps de refroidissement de la pâte, réunissez dans une casserole le jus et le zeste des 3 citrons, le sucre et les œufs entiers.
Cuire sur feu moyen jusqu'à ébullition et sans cesser de mélanger avec un fouet. Au bout d'un moment, vous sentirez que le mélange s'épaissit. Retirez du feu et incorporez le beurre, continuez à bien fouetter jusqu'à ce que le beurre soit bien incorporé.
Versez l'appareil au citron sur le fond de pâte refroidi. Laisser reposer (« croûter ») 10 minutes.
La meringue :
Dans un grand saladier, montez les blancs en neige ferme avec une pincée de sel. Puis ajoutez le sucre et l'extrait de vanille et continuez à battre vite pendant 5 bonnes minutes, vous sentirez que le batteur rencontre de plus en plus de résistance.
A l'aide d'une poche à douille, dressez la meringue sur la tarte au citron.
Faites dorer sous le grill en surveillant très attentivement, la meringue dore très vite et peut rapidement brûler.
Mettez au frais pendant 5 environ 5 heures.