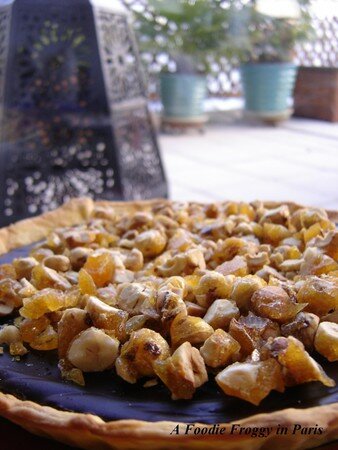 If there was a contest for the « richest dessert » ever, this Chocolate and Caramelized Hazelnuts Tart would have won First Prize, hands down! But it is part of its charm : "to be eaten with moderation" does not mean "with frustration". Moreover, unless you want your guests to literally explode like in a memorable scene from the movie "Monthy Python", this tart is to be served in small portions. It means that more guests can enjoy it, isn't it great ? You can also make "amuse-bouche" size tartlets.
S'il y avait un concours du dessert le plus riche du monde, cette tarte au chocolat et aux noisettes caramélisées gagnerait haut la main ! Mais c'est justement cela qui fait tout son charme : à déguster avec modération ne rime pas forcément avec « frustration » ! En plus, elle est super économe ma p'tite tarte chérie : sa « richesse » fait qu'on n'en sert qu'une fine part à ses invités (à moins que vous ne soyez fan des implosions de fin de repas comme dans une scène mémorable des Monty Pythons) donc on peut faire plus d'heureux !! Vous pouvez d'ailleurs aussi la décliner en version mini-tartelettes. Alors, convaincu(e)s ??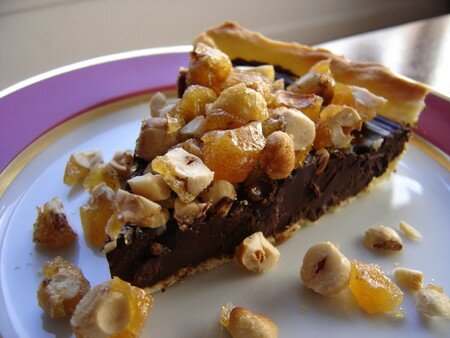 Chocolate and Caramelized Hazelnuts Tart
For 8 to 10 servings (a 10 in-pie pan)
Sweet crust (or you can use purchased crust)
8 oz or 1 cup all purpose flour
5 oz salted butter
2.6 oz or 1/3 cup granulated sugar
1 egg
Chocolate Ganache
10 oz dark chocolate (70% cocoa)
3 oz unsalted butter
2 cups sour cream
3 tablespoons granulated sugar
3 tablespoons milk
1 tablespoon coffee extract
Caramelized hazelnuts
5 oz shelled and skinned hazelnuts
5 oz granulated sugar
Make sweet crust
Using a food processor, combine flour, sugar and cold butter Process until the mixture resembles coarse meal. Add the egg and process until the dough begins to stick together and come away from the sides of the bowl.
Line pie plate with parchment paper. Roll the dough to a thickness of 1/8 inch, on a floured board. Cut a circle about 2 inches larger than the plate and transfer into the lined plate by rolling it onto the rolling pin. Chill the pie crust for at least 30 minutes.
Make the caramelized hazelnuts while the pastry is sitting in the fridge : read below.
Reduce oven heat from 450°F to 410°C. Cover the tart with parchment paper and dried beans. Bake for 20 minutes. Remove dried beans and paper, remove tart from pie plate and let cool completely on a rack before filling.
Make caramelized hazelnuts
Heat oven 450°F. Arrange the hazelnuts on a single layer over a pastry sheet. Roast for about 5 minutes. Remove from the oven and let cool at room temperature.
In a skillet, make a caramel with sugar and 5 tablespoons water. When caramel starts to get golden, add hazelnuts and mix with a wooden spoon. Spread the caramelized hazelnuts on a silicon sheet or parchment paper and let cool until tough. When caramel is tough, chop coarsely, using a large knife.
Make chocolate ganache
Chop chocolate into shavings using a large knife. Put chocolate in a large bowl. In the same bowl, arrange butter cut into small dices.
In a sauce pan, bring sour cream and sugar to a boil. Then pour onto chocolate and butter and stir until mixture is smooth. Add milk and coffee extract and stir again. .
To serve
Pour ganache onto the baked sweet crust (which will still be on a rack). Let cool about 2 hours and when ganache is quite « solid », sprinkle with chopped caramelized hazelnuts. Carefully transfer pie from the rack to a nice plate (sliding it rather than lifting it, in order not to break it).Serve at once.
If you make the tart in advance, put the hazelnuts over the tart at the last minute. You will have kept caramelized hazelnuts in a vacuum container at room temperature (never in the fridge).
Tarte au Chocolat et aux Noisettes Caramélisées

Pour 8 à 10 personnes, pour un moule de 25cm de diamètre
Pâte sablée (ou achetez une pâte sablée toute prête)
225g de farine
150g de beurre demi-sel
75g de sucre
1 oeuf
Ganache au Chocolat
300g de chocolat noir à 70%
80g de beurre
50cl de crème fraîche épaisse
3 CS de sucre en poudre
3 CS de lait
1 CS d'extrait de café
Noisettes Caramélisées
150g de noisettes décortiquées
150g de sucre en poudre
Faites la pâte sablée sucrée
Dans un robot, disposez la farine, le sucre et le beurre froid en morceaux. Pulsez jusqu'à obtention d'un mélange sableux. Ajoutez l'œuf et re-mélangez jusqu'à obtenir une boule.
Etalez la pâte sur un plan fariné et disposez-la dans le moule. Laissez-la ensuite reposer ainsi au frais au moins une demi-heure.
Faites les noisettes caramélisées pendant cette pause : voir ci-dessous.
Baissez le four que vous aurez chauffé pour torréfier les noisettes, de 225°C à 210°C.
Recouvrez le fond de pâte de papier sulfurisé et de haricots secs, ou billes de cuisson.
Enfournez vers le bas du four, sur une grille et faites dorer environ 20 à 25 minutes.
Retirez du four, démoulez la tarte avec précaution et laissez refroidir sur une grille (afin de conserver son croustillant).
Préparez les noisettes caramélisées
Préchauffez le four thermostat 225°C. Etalez les noisettes sur une plaque à pâtisserie. Faites torréfier pendant environ 5 minutes. Retirez du four et laisser refroidir à température ambiante.
Dans une poêle, préparez un caramel avec 170g de sucre et un peu d'eau (5 CS). Lorsque le caramel commence à blondir, y verser les noisettes torréfiées. Bien mélanger. Versez et étalez grossièrement le mélange sur un tapis Silpat en silicone ou la plaque du four huilée. Lorsque le mélange est bien dur, le disposer sur une planche à découper et le hacher grossièrement avec un gros couteau.
Faites la ganache
Hachez le chocolat et mettez-le dans un saladier. Dans ce même saladier, ajoutez le beurre coupé en morceaux.
Dans une casserole, faites bouillir la crème fraîche et le sucre en poudre, puis versez sur le chocolat et le beurre. Fouettez énergiquement afin d'obtenir un mélange bien lisse. Ajoutez le lait et l'extrait de café et continuez à bien mélanger. Vous obtenez une ganache bien brillante.
Assemblage
Versez la ganache dans le fond de tarte précuite, toujours disposée sur sa grille. Parsemez d'éclats de noisettes sur le dessus. Faites glisser la tarte très délicatement de sa grille vers un plat de service. Servez.
Si vous faites cette tarte à l'avance, ne décorez avec les noisettes qu'au dernier moment. Ces dernières se conservent d'ailleurs dans une boîte hermétique à température ambiante (surtout pas au frais).